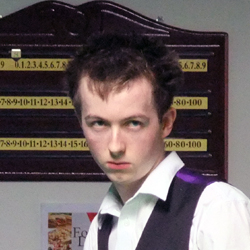 Name: Scott Donaldson
DOB: 19th March 1994
Nationality: Scottish
Turned Pro: 2012
Highest Ranking: 65th (2014)
Highest Break: 137 (2012)
Career Highlights: 2014 Welsh Open last 16, 2013 Wuxi Classic & UK Championship last 32, 2013 AT1 semi-finalist, 2013 ET1 quarter-finalist, 2013 Australian Goldfields Open last 48, 2012 EBSA European Champion, Former Scottish Under 16, 19 & 21 champion
Website: http://scottdonaldson.pro/
Junior Career
Widely regarded as one of Scotland's brightest young stars for a number of years, Scott Donaldson has amateur titles to his name including becoming the Scottish national champion at under-16, under-19 and under-21 level.
Turning Pro
Scott's first attempt to turn professional in 2011/12 came at the European Under-21 Championship, where he reached the semi-finals, only to be denied by 14-year-old prodigy Shane Castle, a 5-3 winner.
Scott during his professional debut at the 2012 UKPTC1 event
At the end of the campaign, Scott entered the Q School and in the third of three events, came agonisingly close to securing a place on the main tour, losing out in the final round to former pro Jamie O'Neill.
It was however to prove third time lucky for Scott as he defeated Ireland's Brendan O'Donoghue 7-3 to become the 2012 EBSA European Champion and become the final man to book his ticket on the professional circuit for the following season.
2012/13
Having turned pro, Scott was to make an immediate impression on the main tour as he won his first match against Liam Highfield at the UKPTC1 event, before reaching the third qualifying round of the Shanghai Masters qualifiers with victories against Chinese duo Chen Zhe and Yu Delu.
Scott came close to recording an impressive victory at the UK Championship qualifiers as he led Luca Brecel 5-3 in his opening round match, only to see his opponent win back-to-back centuries on his way to a comeback victory and eventually, a run to the quarter-finals.
In 2013, Scott was to continue to gain experience, though was unable to win a further match, ending his debut season with a 10-6 defeat against Thepchaiya Un-Nooh at the opening round of the World Championship.
2013/14
Scott was to enjoy a much-improved second season on tour, winning 36 matches in total as he sought to retain his professional place at the end of the season.
In full ranking events, his best run was to come at the Welsh Open, where he defeated Robert Milkins, David Gilbert and Andrew Higginson to reach the last 16, before losing out to former champion Ding Junhui.
Last 32 runs also came at the Wuxi Classic and UK Championship events, while he also won three matches to reach the last 48 of the Australian Goldfields Open tournament.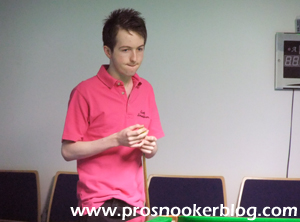 Success was also to come for Scott in both the European and Asian Tour events, a quarter-final run at the ET1 event in June being bettered only by his semi-final run a week later in the first Asian Tour event of the season, where he lost 4-0 to Leicester's Mark Selby. His performances were enough to see him qualify for the Players Championship Grand Finals in Preston, where he lost out to Ronnie O'Sullivan in the first round.
For Donaldson, the only disappointment was to come at the end of the season, as his second round defeat at the World Championship qualifiers saw him narrowly miss out on a place in the world's top 64. As a result, although Scott was able to remain on tour thanks to his performances in the European Tour events, he would have to do so on a fresh two-year tour card, starting the 2014/15 season with zero ranking points.