Name: Tony Drago
DOB: 22nd September 1965
Nationality: Maltese
Turned Pro: 1985
Highest Ranking: 10th (1998/9)
Highest Break: 147 (2002 B&H Championship)
Career Highlights: 1997 International Open finalist, 1988 World Championship quarter-finalist, 1993 Strachan Challenge (leg 1) winner, 2009 EBSA Play Off winner, 1984 Maltese National Championship winner, Twice Mosconi Cup Champion (Europe)


In Short
Nicknamed the Tornado, there are few more entertaining sights in snooker than an on-form Tony Drago whose speed around the table can be summed up by the fact that he is the holder of the record for the fast century break in a ranking event tournament, timed at a ridiculous three minutes and 31 seconds back in 1996.
As well as his at times suspect temperament however, one of Tony's major failings has always been his play with the rest which surely prevented him from winning quite as many matches he might have otherwise have done.
Still, Tony has enjoyed not only a successful snooker career, but also an impressive stint in pool as he has helped Europe to victory in the Mosconi Cup on two occasions, notably being named as the tournament's Most Valuable Player back in 2007.
Early Career
Tony first came to the attention of snooker fans when as well as taking victory in the 1984 Maltese Amateur Championship, he went all the way to the quarter-finals of the IBSF event, making a then tournament record break of 132 in the process.
Following this success he decided to turn professional for the 1985/6 season and with runs to the last 16 and the last 32 of the Grand Prix and UK Championship respectively, did enough to enter the rankings in 37th place. Though he did not improve significantly during his second season, a quarter-final run at the UK Championship where he lost out 9-8 to eventual winner Steve Davis was enough to see him move up five players to 32.
World Championship Début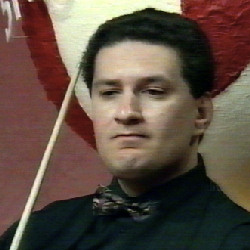 Having seen his third season go much the same as his first with only a last 16 defeat to Willie Thorne at the Grand Prix really to show for it, he needed a good result at the season-ending World Championship to be absolutely sure of his top 32 spot for the following season.
This is exactly what happened as not only did Tony qualify to play at the Crucible Theatre for the first time in his career, but once there he caused a sensation by hammering former world champions Alex Higgins and Dennis Taylor 10-2 and 13-5 respectively to reach the quarter-finals.
Though he was himself brushed aside by the all-conquering Steve Davis, his run pushed him up to number 20 and as it turned out, has proven to be his best Crucible showing to date.
Dip in form
Perhaps surprisingly following this successful run, the next couple of seasons were to prove disappointing for Tony as he struggled for results and despite a run to the final of the Pontin's Professional tournament, failed to make it back to the Crucible in 1989. Though he did qualify for a second time the following year, he lost out 10-4 to Thorne and dropped to 30th in the rankings as a result.
The 1990/91 season was to be a slight improvement as he reached one quarter-final, as well as the final of the World Masters, but he could not quite find the consistency to really push on and make finals, meaning that he remained just outside the top 16 for much of the early 1990's.
Improvement
Things were to improve in 1993 however as he won the Strachan Challenge, so far the only ranking event of his professional career, as well as enjoying strong enough results in the other events to just sneak into the top 16 for the first time in his career for the 1994/5 season.
Though he lost out 13-6 to Stephen Hendry at the last 16 stage of that season's World Championship, he had at least done enough to retain his place among the elite and even move up two places to 14th. He saved his best result however for the invitational Malta Grand Prix where he managed to go all the way to the final before coming unstuck against John Parrott.
Falling a spot to 15th the following year following another last 16 exit at the Crucible, this time to a young Ronnie O'Sullivan, he again made the final in Malta the next year only to lose out to Nigel Bond. While he went down 10-9 to Welshman Dominic Dale in the first round at the Crucible in 1997, he did manage to reach his first and so far only ranking event tournament (the Strachan Challenge being a 'minor' event) in the International Open, though he was soundly beaten 9-1 by a dominant Stephen Hendry.
This helped Tony up to 11th in the rankings, a position he would better the following year as he peaked at number 10 in the list.
Decline and Relegation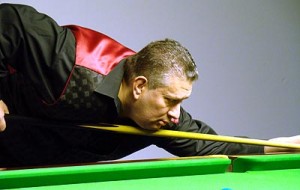 Sadly for Tony this new high not only proved to be short-lived, but it actually marked the last time he would be among the elite as a terrible 1998/9 season in which he lost several opening round matches ended his five-year spell in the top 16.
He continued to qualify for the World Championship on a regular basis but during 1999-2001 he ran into the up and coming Welsh talent Matthew Stevens who showed no mercy and lost just 11 frames in their three successive Crucible meetings combined.
For the next few years while he did not set the world alight, he did manage to retain his top 32 status until the end of the 2004/5 season and despite his declining fortunes, on his day remained a real thrill to watch. From there however he began to really struggle and a poor 2007/8 season in which he made just one television appearance saw him lose his place on the main circuit for the first time since 1984.
EBSA Play Off
Having not made it back onto the main tour via the PIOS, Tony arrived at the European play-offs in Belgium looking to take the title and secure a return to the main tour via an alternate route. Though he nearly came unstuck against Maurice Le Duc at the last 16 stage, he was otherwise untroubled on his way to the final where he would meet fellow former professional Roy Stolk for a professional place.
Though he trailed 2-0, 4-3 and at one point needed a snooker to stay in the match, Tony managed to come through to take a victory that clearly meant the world to him. As he told Snooker Scene Blog:
"After 25 years as a professional, I can't tell you how much I missed it.
"I couldn't have done any of this without Jimmy White. He gave me the keys to his club so I could go and practice and he reignited my love for the game. We practised together a lot and I fell in love with the game again. He was always my hero and I want to thank him publicly.
"When you come to a tournament and you know you have to win it that is huge pressure. If anyone doubted before that I do have the bottle, then I have proved to them and myself that I have a big heart and the bottle to stand up under the pressure."
2009/10
Back on the tour and with his love for the game renewed, Tony received a further boost at the season-opening Shanghai Masters as round one opponent Li Hang was denied a visa, moving Tony into the second round without potting a ball! There it looked like he would be stopped by David Morris as the Irishman moved 4-1 ahead, but breaks of 69, 86 and 74 brought Tony back level before he won a scrappy decider to reach the third round.
This was a feat that he managed to repeat at the following Grand Prix tournament, as well as the UK Championship as by the season's halfway point Tony was well set to retain his tour place for 2009/10 already.
At the Welsh Open though Tony was to perform even better, defeating Simon Bedford, Peter Lines, Jimmy Michie and Gerard Greene to qualify for the venue stages! There he would meet home favourite Ryan Day and although he was to lose the match in a tense deciding frame, he did not look out of place and by reaching that stage had boosted his ranking position further.
Tony in action at the 2010 World Championship qualifiers
Remarkably at the China Open qualifiers in Pontin's Tony was again able to win his four qualifying matches to ensure that he would have another appearance on the big stage, before he entered the World Championship qualifiers in Sheffield hoping to secure a spot in the top 64, a notable achievement for any tour newcomer or returnee. Drawn against Chinese talent Xiao Guodong, he was pushed all the way by the youngster before prevailing in a deciding frame to earn himself a tie with another player from China, Liu Song in the second round. Again Tony was able to win, this time 10-7 before  his run was finally ended by former World Championship semi-finalist Ian McCulloch in the third round.
Still though, by winning at least two matches in each of the six ranking events played, Tony had enjoyed a dream season which saw him not only retain his tour status, but finish with a ranking well inside the top 64. With a one-year ranking even higher, he was well placed to move up further if he could maintain such consistent form.
2010/11
The start to Tony's 2010/11 season was not quite as impressive as that which had gone before as he struggled to win consistently during the Players Tour Championship, but wins during both the Shanghai Masters and World Open qualifiers earned him some all-important ranking points.
A classic Tony Drago moment during the 2011 World Championship qualifiers!
Further opening round wins came at the UK Championship, German Masters and Welsh Open as Tony moved up into the top 48 but his season was to end on a disappointing note as he lost early in both the China Open and then the World Championship tournaments. In the latter he staged a creditable comeback against Jimmy Robertson before eventually going down 10-8 to his fellow On Q Promotions player.
Thanks to his results earlier in the season however Tony had done enough to remain ranked inside the top 48, finishing 46th.
2011/12
Tony was to experience a tough start to the 2011/12 season as he lost his opening round qualifying matches at the Australian Goldfields Open tournament as well as the Shanghai Masters, while failing to progress beyond the last 32 stage of a PTC event.
Tony at the 2011 UK Championship qualifiers
As a result Tony was to fall out of the world's top 48 at the first mid-season seedings revision, though an opening round win against Andrew Norman at the UK Championship qualifiers did earn him crucial ranking points.
Tony continued to struggle in 2012, indeed he won just one match in ranking event competition with his season coming to an end with a 10-7 defeat to amateur player Justin Astley at the World Championship qualifiers in Sheffield.
As a result of this defeat, Tony lost his place inside the top 64 and looked set to lose his main tour place, however at the Crucible Theatre Barry Hearn announced that along with Belgian youngster Luca Brecel, Tony would be given one of two European nominations onto the main tour for the following season.
2012/13
Tony was to experience a mixed first half to the 2012/13 season, winning his opening match in the season's first three full-ranking events, while reaching the last 16 of the UKPTC4 event in Gloucester in some style, before narrowly losing out to world number two Mark Selby.
Aside from those events however, Tony was to find himself on the wrong end of a few deciders, notably against Alan McManus and Sam Baird in qualifying events.
Tony played in just three events during the opening half of 2013, reaching the third qualifying round of both the China Open and World Championship tournaments, losing to Nigel Bond and David Gilbert respectively.
2013/14
For Tony, the 2013/14 season was to be defined by his battle to retain his place on the main tour, which ultimately saw his attention focus on the eight European Tour events, with a place in the top eight, not already qualified for the following season on the main ranking list, the goal.
His best run was to be a last 16 run at the ET7 event in Antwerp, while he also reached the last 32 earlier in the season in Rotterdam, losing to Mark Davis.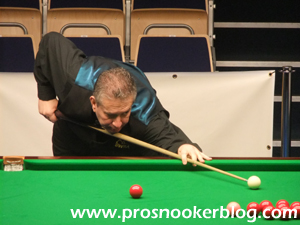 Though it would not be until the final stages at the World Championship that his place was to be finally confirmed, these results, combined with a further four wins in European Tour events, were to prove enough to see him take the final place on the European Tour list and survive on the tour for another two seasons.
As far as the season's full-ranking events were concerned, it was to be a year to forget for Tony, just five wins, four of which came by early August, to show for his campaign. By successfully managing to stay on tour however, Tony had achieved his season's target.
2014/15
The 2014/15 season was to prove difficult for Tony as he failed to progress beyond the last 64 of a ranking event, while he also reached the last 32 of the Asian Tour one event in China.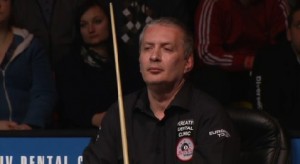 His World Championship was to come to an end against Sam Baird in the first round however as he finished the season ranked 98th.
Tournament victories
Ranking Event wins (1)
| | |
| --- | --- |
| Event | Year |
| Strachan Challenge (Minor) | 1993 |
Other wins (9)
| | |
| --- | --- |
| Event | Year |
| Maltese Amateur Championship | 1984 |
| EBSA Play Off | 2009 |
| World Matchplay | 1992 |
| Guangzhou Masters | 1996 |
| World Pool Masters (Pool) | 2003 |
| Mosconi Cup (Pool) | 2007-8 |
| French Open (Eurotour) (Pool) | 2008 |
| Predator International 10-ball Championship (Pool) | 2008 |