Name: Issara Kachaiwong
DOB: October 4th, 1983
Nationality: Thai
Turned Pro: 2006
Highest Ranking: #86 (2011)
Highest Break: 142 (2006 Grand Prix)
Career Highlights: 2006 and 2010 ACBS Asian Champion, 2004 Asian Games Gold Medal, 2002 National U-20 Champion, 2008 World Championship last 64
..
Career Summary
One of a number of Thai players who have qualified for the professional circuit during recent times, Issara Kachaiwong first came to public attention back in 2002 when he became the Thai national under-20 champion. He continued to impress on the amateur scene as he captured a gold medal at the 2004 Thai Games before he finally qualified for the main tour by winning the 2006 Asian championships, defeating Mohammed Shehab 6-3 in the final.
His best performance during 2006/7 came at the Grand Prix as he qualified for the venue stage in Aberdeen with six wins from seven during the qualification phase. At the venue he again impressed, winning four of his five matches only to find himself edged out on frame difference by Scottish duo John Higgins and Alan McManus.
Having failed to retain his main tour place as of right at the end of the season, Issara was handed a wildcard place for the 2007/8 campaign but despite impressive victories over Tom Ford and Tony Drago at the season-ending World Championship qualifiers he was again unable to retain his place among the top 96.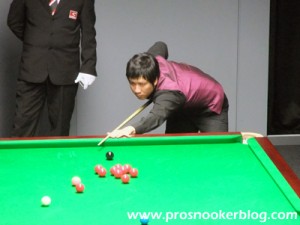 Issara during the 2011 World Championship qualifiers
Following a couple of years off the radar, Issara regained his tour place for 2010 by winning the Asian Championship for a second time with a 7-3 victory against Mohammed Sajjad.
2010/11
Issara endured a tough start to the 2010/11 season as he won just one match from the first eight ranking events staged. Although his consistency did improve in the second phase of the campaign as he won his opening match at four consecutive events, it was not enough to help him to retain a place on the tour.
His strongest run was to come in qualifying for the China Open when he defeated Thanawat Thirapongpaiboon, Andy Hicks and Tony Drago before losing 5-0 to Ireland's Ken Doherty in the final qualifying round.