Name: Liu Chuang
DOB: 6th June 1990
Nationality: Chinese
Turned Pro: 2007
Highest Ranking: 47th (2012)
Highest Break: 139 (2012 World Championship)
Career Highlights: 2008 & 2012 World Championship last 32, UK Championship last 48, 2011 World Championship last 48, 2010 UK Championship last 48, 2012 Wuxi Classic last 48, 2012 International Championship last 48, 2010 Asian U-21 Champion.
Career Summary
Liu first showed glimpses of his talent at the China Open in 2007 where, having been awarded a wildcard spot, he defeated former world semi-finalist Andy Hicks 5-4 in his opening match. Though he lost out in the last 32 to Ronnie O'Sullivan, he had impressed many and found himself on the main tour for the following season as a result of receiving the Asian nomination.
His début season was largely poor however as he failed to win a single match until the China Open, where he defeated both Tian Pengfei and Joe Delaney to reach the last 64 before losing out to Andrew Higginson.
Liu at the 2011 World Championship qualifiers
At the World Championship however he was to cause a real sensation by defeating Colin Mitchell, Lee Walker, Joe Delaney, David Gray and Dominic Dale to become only the fourth 17-year-old ever to qualify for the Crucible. Eventually his run was ended again by Ronnie O'Sullivan in the last 32, but he put up a great fight and picked up a more than respectable five frames against the eventual champion.
Considering his age, experience and the season he had just endured, his last 32 run was a fine effort and as a result he was awarded the WPBSA wildcard at the end of the season to stay on the main tour for another year, despite having only finished 80th in the rankings.
2008/9
Having earned a reprieve in such outstanding style, the following season was to be a disappointing one for Liu as he began by losing his opening match in three of the first four ranking tournaments.
His strongest performance was to come at the UK Championship where he defeated James McBain, Mark Joyce and Dave Gilbert to reach the last 48 before losing out to Ken Doherty. This was to be as good as it would get for Liu and following three first round defeats during the final three events of the season, he finished 92nd on the tour and lost his place as a result.
Liu at the 2011 World Championship qualifiers
2009/10
Back among in the amateur ranks, Liu was the runaway favourite for the IBSF World U-21 Championship early in the season as many of his main rivals were prevented from competing due to the political unrest in host nation Iran. Surprisingly however, Liu was to lose out in a deciding frame to eventual champion Noppon Saengkham from Thailand.
Liu was to have a second chance at securing an immediate return to the main tour in April 2010 at the Asian U-21 Championship in India and this time he was to make no mistake, edging a close final with Thanawat Thirapaipongboon 6-5.
2010/11
Liu made a solid if not spectacular start to the 2010/11 season as he regularly won matches during the new Players Tour Championship without making it to the latter stages. This changed however at the EPTC4 event in Gloucester where he made it through to the quarter-finals to boost his chances of remaining on the main tour.
While his performances during the shorter ranking events were largely unspectacular, Liu again saved his best performances for the two longer-format tournaments. The first was the UK Championship where he defeated Igor Figueiredo, Jimmy Michie and Alan McManus before losing out to Ricky Walden in the final qualifying round.
Liu at the 2011 World Championship qualifiers
Even more impressive however was his World Championship run where he defeated David Gray, Jimmy White and Tom Ford to again reach the last 48. There he would meet Ryan Day and having fallen behind early on, he gave the Welshman a real scare by winning three frames in a row to make it 8-7 before Ryan eventually broke free to secure a 10-7 victory.
Still, Liu had done more than enough to move up into the top 64 for the first time in his career, finishing the season ranked in 60th position.
2011/12
Liu Chuang made a quiet start to the 2011/12 season, his best result during the PTC events being a run to the quarter-finals of PTC7 in Gloucester, where he would lose out to eventual winner Ronnie O'Sullivan.
Improvement was to come however with runs to the last 48 of both the German Masters and China Open qualifiers, before he was then able to defeat Rod Lawler, Jimmy White and Jamie Cope to qualify for the final stages of the World Championship for the second time.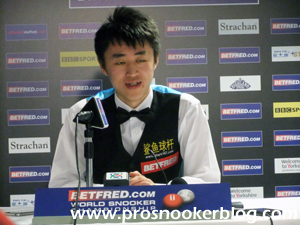 Liu at the 2012 World Championship
Though Liu was to lose 10-6 to Mark Williams at the venue, his run was enough to see him finish the season ranked at a career-high 66th position.
2012/13
Liu was to make a solid start to the 2012/13 campaign, reaching the final qualifying round of three of the season's first four full-ranking events, notably taking Robert Milkins to a deciding-frame during the season-opening Wuxi Classic.
He was to suffer a disappointing defeat to Luca Brecel in his opening match at the UK Championship qualifiers, however he was to end the year on a high by qualifying for the venue stage of the German Masters tournament, where lost out in a decider to Ding Junhui.
A final qualifying round appearance would follow at the Haikou World Open, before his season was ended by Thailand's Dechawat Poomjaeng, who won a thrilling match 10-9 at the EIS, Sheffield.
2013/14
Liu was to struggle for results during the 2013/14 season, winning just six matches and failing to progress beyond the last 64 stage of any full-ranking event.
His poor form, combined with the change to a prize-money based ranking system, meant that Liu would finish the campaign ranked down in 81st place, outside of the top 64 bracket required to stay on tour as of right.
Liu would nevertheless retain his professional place for the 2014/15 season, thanks to his results during the campaign's four Asian Tour events, two quarter-finals ultimately enough to see him finish as one of the top four players on the Asian Order of Merit, not already qualified for the tour.
2014/15
Liu would enter just a handful of events during the 2014/15 season, winning only two matches at the Asian Tour 1 event as he finished with a ranking of 121st.