Name: Michael Leslie
DOB: 28th January 1993

Nationality: Scottish

Turned Pro: 2012

Highest Ranking: 91st (July 2012)

Highest Break: 139 (2013 UK Championship)

Career Highlights: 2015 China Open last 32, 2014 Australian Goldfields Open last 48, 2013 International and UK Championship last 64, 2012 EBSA European U-21 Champion, 2011 EBSA European U-21 finalist, 2014 Q School qualifier
Amateur Career
One of Scotland's most talented young players, as demonstrated during his break of 147 against friend and fellow player Eden Sharav, Michael Leslie first came close to earning a place on the main tour during 2011 when he reached the final of the EBSA European Under-21 Championship, losing to Poland's Kacper Filipiak.
A year later however Michael was able to make amends, defeating 14-year-old prodigy Shane Castle 6-2 to capture the biggest title of his career to date and earn a two-year tour card beginning in 2012/13.
2012/13
Michael was to endure a baptism of fire on the main tour in 2012/13, as he lost his first 16 matches of the season leading up until Christmas. He was however able to break his duck in the final event of 2012, with a 5-3 victory against Michael Wasley in the 2013 Haikou World Open qualifiers, before losing out to Thailand's Thepchaiya Un-Nooh in the second round.
He would finish the season with defeats to Thai duo Thepchaiya Un-Nooh and finally Dechawat Poomjaeng at the World Championship qualifiers.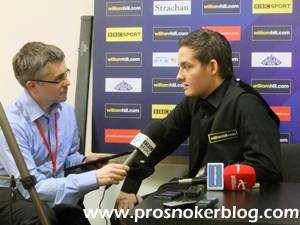 2013/14
During his second season on the main tour, Michael was to show signs of improvement as he reached the last 64 of three full-ranking events, including the UK Championship, where he came back from 4-0 down against Jack Lisowski to win 6-4 in York.
Though he was unable to retain his place on the tour as of right, Michael was able to successfully bounce back at the Q School event in Gloucester, with a deciding frame victory against fellow Scot Eden Sharav in his final match earning him a fresh two-year card.
2014/15
Michael would win during five matches during the 2014/15 season, but was able to reach the last 32 of a full-ranking event for the first time at the 2015 China Open with wins against Mark Allen and Joe O'Connor.
He also made it through to the final qualifying round of the Australian Goldfields Open with victories against Hammad Miah and Sam Baird, before losing to countryman Marcus Campbell.
As a result Michael was able to finish the season ranked 105th.