Name: David Morris
DOB: 27th November 1988
Nationality: Irish
Turned Pro: 2006
Highest Ranking: #55 (2010)
Highest Break: 141 (2007 World Championship)
Career Highlights: 2013 Wuxi Classic quarter-finalist, 2013 & 2014 UK Championship last 16, 2010 World Open last 32, 2012 World Championship last 48, 2007 UK Championship last 48, 2008 Shanghai Masters & Bahrain Championship last 48, 2013 Shanghai Masters last 48, 2013 Q School qualifier, 2004-6 Irish National Champion
Junior Career
There have been a number of strong players in snooker's junior ranks but you will have to look hard to find many with a better record than young Irishman David Morris. At national level he was a winner at under-14, 16, 17, 18, 19 and 21 level, as well as at senior level three times (becoming the youngest winner of that event in 2004).
Internationally he made the last 16 of the European under-19's Championship as a 14 year-old, repeating the feat a year later before making the quarter-finals in 2004. That year he also entered the European Championships where he made the last 32, as well as the tournament high break of 139, exceptional for a 16-year-old.
In his last major tournaments before turning professional, he reached the last 16 of the IBSF World under-21 Championship in Thailand before losing out in the semi-finals of the European Championship in 2005 to Malta's Alex Borg.
Going Pro
Though this defeat prevented him from making his tour début in 2005/6, he was not to be denied a year later and received the Irish national nomination for promotion to the tour for 2006/7. As with many youngsters, his first season was to be a learning experience, though crucially good runs in the UK and World Championships ensured that he kept his spot on the tour for the following season.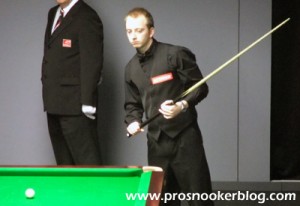 David at the 2011 World Championship qualifiers
2007/8 was a similar story as though his season was unspectacular in the main, he peaked at one of the biggest tournaments of the year as he made the last 48 of the UK Championship qualifiers in Sheffield. Having defeated Kevin van Hove, Rod Lawler and Rory McLeod though, he was hammered 9-2 by Preston's Ian McCulloch in his next match..
2008/9
At barely 18 years of age, David made an encouraging start to the 2008/9 season as he reached the last 48 of two events early on and suffered just three round one exits as the season progressed.
Having seen off James McBain in his first World Championship qualifier, he then gave 2008 quarter-finalist Liang Wenbo a real challenge before eventually going down 10-8. It had been another positive season on the whole however and he moved up to a career high ranking of 58th at the end of the season.
2009/10
The following season however was to prove a tough one for David as he lost three of his six opening matches played, including a match with Tony Drago at the Shanghai Masters having at one staged led 4-1.
David at the 2011 World Championship qualifiers
His best results were runs to the final qualifying round of firstly the Grand Prix, and also the end of season World Championship. There he managed to defeat Mei Xiwen and Jamie Burnett before succumbing to Nottingham"s Michael Holt.
2010/11
David enjoyed a mixed start to the 2010/11 season as he struggled for form during the Players Tour Championship events but did finally manage to qualify for the television stages of a ranking event at the World Open. A 3-1 defeat to Neil Robertson however ensured that he would remain in a real fight to retain his place amongst the top 64 heading into the second half of the season.
Ultimately it was to be a fight that he was to lose as following his World Open run he was able to win just one more match during the season, a 4-1 victory against Bjorn Haneveer during the Welsh Open qualifiers. As a result he was not only to fall out of the top 64, but he was to lose his position on the main tour.
David at the 2011 World Championship qualifiers
His absence was not to be for long however as following an early exit from the first event of the new Q School against Alex Davies, David then defeated Manish Jain, Mei Xiwen, Gary Wilson, Adam Duffy and finally Michael Wild to regain a place on the tour. His victory against Wild in the third round was to prove particularly dramatic as having recovered from 2-0 and 3-1 down to force a decider, David looked set to take it comfortably before his opponent began an attempted clearance to snatch it on the black.
As it would turn out however, Wild was to falter on the final pink which David then duly potted to secure a crucial victory and ensure that he would be a professional during the 2011/12 season.
2011/12
David made a solid, if not spectacular start to the 2011/12 season, winning his opening match in three of the first four full ranking events staged, but failing to go beyond the next round in any of them.
David at PTC2 2011
His best performance in the PTC events came at PTC9 when he won matches against Stuart Carrington, Peter Lines and Barry Hawkins to reach the last 16, before losing out to Jack Lisowski.
The second half of his season was to prove consistent, as he won his opening matches in each of the last five full-ranking tournaments, notably reaching the final qualifying round of the World Championship where he lost 10-4 to Barry Hawkins.
Unfortunately for David, despite this run, he was unable to retain his place on the main tour for the 2012/13 season.
2012/13
Having entered the 2013 World Championship as an amateur, losing 5-1 to Joe Swail in the opening round, David then entered the Q School in Sheffield in an attempt to regain a main tour card for the following season.
Following a fourth round run at the first event, David then made it to the quarter-finals of the second before losing out to Scotland's Ross Muir with a two-year tour card at stake.
By far the heaviest scorer across the three events however, Morris was not to be denied a return to the professional circuit as he defeated Dylan Craig, Alex Taubman, Antony Parsons and Gareth Greene to qualify from its third event.
2013/14
David was to begin the 2013/14 season with a bang, defeating Michael Holt, Gary Wilson, Gerard Greene and Ali Carter to reach the first ranking event quarter-final of his career at the Wuxi Classic in China.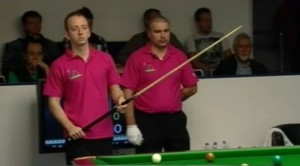 Though he would lose out 5-2 to Welshman Matthew Stevens at the last eight stage, he would maintain his impressive form during the coming months with last 16 runs at the ET4 and ET6 events, as well as winning three matches to reach the last 16 of the prestigious UK Championship in York before running into an inspired Stuart Bingham.
His results during the second half of the season were not to be as strong, as he won just one match following the turn of the year, but his early-season exploits had been enough to see him finish the campaign ranked 71st, an impressive position having started on zero.
2014/15
In the main the 2014/15 campaign would prove to be a challenging one for David, but there was to be one clear high point as he defeated reigning world champion Mark Selby 6-4 in the second round of the UK Championship in York on his way to the last 16 for a second successive season in York.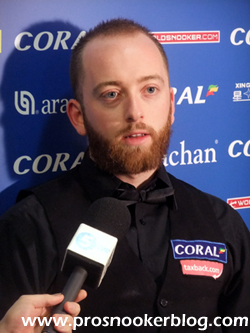 Though he would lose there to Scotland's Stephen Maguire, the result would bring him into contention to qualify for the 2015 World Cup to represent Ireland, only for his hopes to be ended by a surprise 10-9 defeat to Lee Walker at the season-ending World Championship qualifiers.