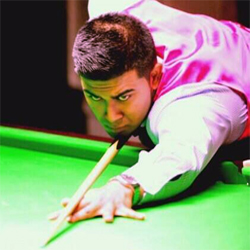 Name: Hammad Miah

DOB: 6th July 1993

Nationality: English

Turned Pro: 2013
Highest Ranking: 78th (2014)
Highest Break: 119 (2013 ET2)
Career Highlights: 2013 Indian Open last 32, 2013 ET2 last 32, 2013 Q School qualifier, 2013 IBSF World U-21 Championship semi-finalist
Tour Qualification
Following a semi-final run at the 2012 IBSF U-21 World Championship in Wuxi City, Hertford's Hammad Miah was able to win five matches at the first event of the 2013 Q School to secure a two-year tour card beginning in 2013/14.
Hammad told World Snooker:
"It feels amazing to be on the tour. I have put in a lot of hard work for this. A few players were saying this week they thought I would get through, but I just had to avoid distractions and try to win matches. There were a few nerves today but I am mentally strong.
"I know it's going to be really tough on the tour and I have seen other players struggle. But I want to do something, I won't be there just to make the numbers up."

2013/14
Hammad's debut season on the main tour was to prove a learning experience for the 20-year-old, as he won just four matches in full-ranking events and a further five European Tour matches.
His best result was to come at the inaugural Indian Open, where having qualified for the venue stages with victory against Jimmy Robertson, he then defeated China's Chen Zhe 4-3 to reach the last 32 stage, before he lost out to eventual finalist Aditya Mehta.
Following that event however, he would win only one more match during the second half of the season and finished his first campaign ranked 104th.
2014/15
The following season was to prove similarly difficult for Hammad as he won just one match at the Shanghai Masters qualifiers in August 2014.
As a result he would finish ranked 100th and was relegated from the tour at the end of the campaign.