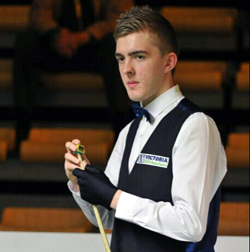 Name: Ross Muir
Nickname: The Glove From Above

DOB: 6th October 1995

Birthplace: Edinburgh, Scotland

Residence: Musselburgh, East Lothian
Turned Pro: 2013
Highest Ranking: 87th (2014)
Highest Break: 130 (2014 Haining Open)
Career Highlights: 2013 AT2 last 16, 2014 AT2 last 16, 2013 Australian Goldfields Open last 64, 2013 Q School qualifier. 2013 Scottish National champion
Background
Having hit his first tournament century break shortly after his 12th birthday, Ross continued to gain experience as a junior, winning the Pontin's Star of the Future U-14's event back in 2010, before reaching the final of the 15-20's bracket the following year.
Easily recognisable as a player who wears a glove to combat sweat during matches, Ross is also a former winner of the Junior Pot Black tournament at the Crucible Theatre in Sheffield and in 2013 earned a two-year main tour card by winning five matches at the second event of the Q School.
Following his success, he told the East Lothian Courier:
"To be perfectly honest I can't describe how I feel. It will not sink in until I show up next week and I'm part of the tournament. It is incredible; to be classed as a professional sportsman is a great feeling. It is a dream come true to play on a tour against my idols,"
"When I shook [Morris'] hand and knew I was on the pro tour I couldn't help but smile. My dream had been achieved. It's something I have always aspired to do. I've always wanted to be part of it; travelling the world, playing against great players, the TV coverage. It doesn't get any better."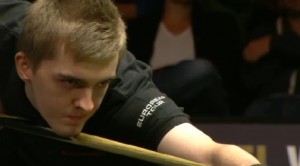 "The amount of messages I have received is phenomenal. My phone packed in and I believe it is to do with the amount of messages and phone calls!
"I really wanted to achieve it not just for myself but the people around me, my mum and dad. They have put so much into my snooker. It gave me even more momentum to qualify. I wanted to achieve it for my mum and dad."
"I'm not setting myself any aims in my first season. If I play my game I'll have good results and progress up the rankings.
"I don't really know what to expect from touring the world. It will be much more demanding than being an amateur."
"My dream to be in the top 16 in the world and win a pro ranking tournament."
2013/14
The strongest run of Ross' debut season tour was to come at the Asian Tour 2 event in September, where he defeated three players including home favourite Ding Junhui to reach the last 16 stage before losing out 4-0 to Dai Hailin.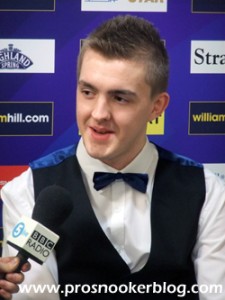 In the full-ranking events, Ross was able to win two matches at the Australian Goldfields Open qualifiers, while he also defeated David Grace 10-6 at the World Championship qualifiers before losing to Nigel Bond in the second round.
Overall however, the season was to prove a typical learning experience for a young tour player and he finished ranked 113th in the rankings.
2014/15
Although Ross was only able to win 11 matches during the course of the 2014/15 season, with seven of them coming during the year's three Asian Tour events, the Scot was able to do enough to secure a fresh two-year tour card from the start of the 2015/16 season.
Still only 19, Ross will now be hoping to use the experience that he has gained over the previous two years to challenge at the latter stages of some of snooker's bigger events.