Name: Jimmy Robertson
DOB: 3rd May 1986
Nationality: English
Turned Pro: 2002
Highest Ranking: 38th (2015)
Highest Break: 142 (2013 China Open)
Career Highlights: 2011 & 2015 World Championship last 32, 2012 Haikou World Open last 32, 2013 China Open last 32, 2013 Wuxi Classic last 32, 2014 AT2 semi-finalist, 2015 ET6 semi-finalist, PTC7 semi-finalist, EASB Pro-Ticket Tour Number 1 2007 & 2009..
Career Highlights
Jimmy first qualified for the main tour back in 2002/3 as a 16-year-old but perhaps unsurprisingly his spell in the top flight was to be relatively short-lived. It was to be a similar story later in 2007/8 when having won his place back on the tour following a strong campaign in the EASB Pro-Ticket Tour, he won just five matches all season, three in the round-robin phase of the Grand Prix..
Now back on the professional tour for a third time, again via the Pro-Ticket Tour rankings, he will be hoping that his previous experience will help him go on to better things and allow him to maintain a long-term place among the 96…
2009/10
Jimmy got his 2009/10 season off to a flying start as he defeated Stephen Rowlings, Barry Pinches and Mike Dunn to reach the final qualifying round of the Shanghai Masters tournament. Facing former world champion Graeme Dott who was struggling both to adapt to the Prestatyn venue and a new cue following the destruction of his previous model, Jimmy moved into a 4-1 lead and looked set for the biggest win of his career. It was to be Dott who had the last laugh however, taking the last four frames to end Robertson's run and deny him an appearance in Shanghai.
Jimmy in qualifying for the 2011 World Championship
An opening round exit followed at the Grand Prix but Jimmy was back to winning ways in qualifying for the UK Championship as he again defeated Rowlings and then Welshman Paul Davies to reach the third qualifying round where he lost out to Anthony Hamilton.
A second round defeat at the Welsh Open followed before he reached the third round of the China Open, again defeating Rowlings along the way before eventually going down 5-1 to Rory McLeod.
Heading into the World Championship Jimmy was well-placed to retain his tour status and thanks to a comprehensive 10-4 victory over Atthasit Mahitthi, moved up inside the top 64 on the two-year list, no mean feat for a player starting with the minimum starter points. Though his bid for a Crucible debut was ended in the next round by Mark Joyce in a deciding frame, the 2009/10 campaign was by far the best of Jimmy's pro career today and he now has a real opportunity next season to push on and consolidate his main tour status.
2010/11
Jimmy made a strong start to 2010/11 as a run to the quarter-finals of the second Players Tour Championship event, followed by three further runs to the last 16 helped to secure his position in the top 64 of the rankings heading into the UK Championship.
Jimmy in qualifying for the 2011 World Championship
The best was yet to come however as he was to successfully qualify for the final stages of the World Championship for the first time with qualifying victories against Xiao Guodong, Tony Drago and finally former champion Ken Doherty having at one stage trailed the Irishman 6-3.
His Crucible début was to prove a match to forget however as he slumped to a 10-1 defeat against 2007 finalist Mark Selby at the last 32 stage.
2011/12
Jimmy was to make a quiet start to the 2011/12 season but this was to change at the PTC7 event in Gloucester as he defeated the likes of Jimmy White and Jamie Jones en route to the semi-finals where he would eventually lose to Welshman Matthew Stevens.
He followed this with qualification for the final stages of the 2012 Haikou World Open, victories against Andrew Norman, Ken Doherty and Rory McLeod seeing him through to a clash with wildcard Zhou Yuelong at the venue. Though Jimmy was able to avoid that banana skin with a 5-2 victory, he could do little about eventual winner Mark Allen in the last 32 as the Northern Irishman won a deceptively even match 5-1.
Jimmy's next match was to come at the World Championship qualifiers but this time he was unable to repeat his heroics of 2011, losing 10-9 to David Gilbert.
2012/13
Jimmy made a solid start to the 2012/13 season, runs to the final qualifying rounds of the Wuxi Classic and Shanghai Masters qualifiers getting some useful ranking points on the board, while his best result at a PTC event was to be a last 16 run at the ET5 event in Ravenscraig.
Jimmy's strongest performance during the second half of the season was to come at the China Open, as he qualified for the tournament with victories against Robbie Williams and Joe Perry, before losing out to namesake Neil 5-0 in Beijing.
2013/14
Jimmy's strongest performances of the 2013/14 season were to come during its European Tour events, as he reached the quarter-finals in both Sofia and Doncaster early in the season, results that would ultimately help him to qualify for the Players Championship Grand Finals, where he lost out to John Higgins.
Results were to prove harder to come by in the full-ranking events however, a last 32 run at the Wuxi Classic representing his best result, while he also reached the final qualifying round of the World Championship qualifiers, before being denied a return to the Crucible by David Gilbert for a second successive season.
Jimmy finished the season ranked 54th following the change to a prize money based ranking system.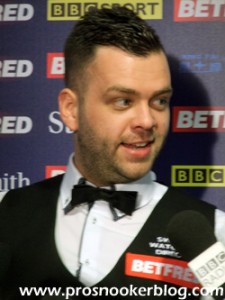 2014/15
Jimmy was to enjoy perhaps his most consistent season to date during 2014/15, highlights including semi-final runs at both the AT2 and ET6 events which helped him climb to a career-high ranking of 38th in March 2015.
He was also able to make it back to the venue stages of the World Championship four years after his debut, defeating Thor Chuan Leong, Thanawat Tirapongpaiboon and Xiao Guodong, before losing 10-6 against former semi-finalist Marco Fu at the Crucible.
Other highlights included last 32 runs at the Shanghai Masters and German Masters, as he continued his climb up snooker's world rankings.