Name: Noppon Saengkham
DOB: 15th July 1992
Nationality: Thai
Turned Pro: 2010
Highest Ranking: 84 (2014)
Highest Break: 134 (PTC5 2010)
Career Highlights: 2013 UK Championship last 32, 2014 International Championship last 32, 2014 Haikou World Open last 32, 2013 Australian Goldfields Open last 32, 2014 Lisbon Open quarter-final, 2009 IBSF World U-19 Champion, Three Gold Medals at the 2008 Thailand Student Games, 2009 Asian U-21 Championship Finalist
Amateur Career
Thailand's Noppon Saengkham first gained public attention with his excellent run to the final of the Asian Under-21 Championship in April 2009 where he was to suffer a 5-1 defeat at the hands of talented Chinese youngster Zhang Anda.
Better was to come for Noppon at the subsequent IBSF World Under-21 Championship however when he again made it through to the final, notably defeating Liu Chuang in the semi-finals by a 7-6 scoreline before capturing the title with a 9-8 victory over Soheil Vahedi. Not only was this the biggest triumph of Noppon's career to date but it was also the result that saw him earn promotion to the main tour for the first time for the 2010/11 season.
2010/11
Noppon experienced a poor start to the season as he struggled for victories during the Players Tour Championship events, winning just two from the opening 11 events.
His best run came at the Welsh Open where he defeated Matt Couch and Adrian Gunnell before losing 4-1 to Nigel Bond in the third qualifying round. Otherwise however wins were to prove hard to come by and he eventually finished his maiden season ranked 92nd, not high enough to retain his tour card for the following season.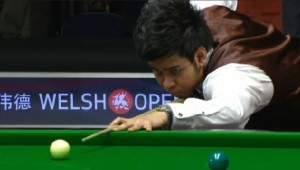 2012/13
Noppon regained his place on the main tour for 2013/14 by capturing the 2013 Asian U-21 Championship in India, with a 6-5 victory against Pakistan's Mohammad Majid Ali.
2013/14
Noppon's return to the main tour in 2013/14 was to prove relatively impressive, as he reached the last 32 stage of three ranking events, including the Australian Goldfields Open, where he won four qualifying matches to do so.
Perhaps most impressive was the fact that Noppon rarely lost to a player ranked around or below him in the rankings, it generally taking an established name to put him out of a tournament, while he also shone at the invitational Six Red World Championship, defeating Ricky Walden and Ken Doherty before losing to eventual winner Mark Davis.
As a result of his results, Noppon was to finish the season ranked 84th.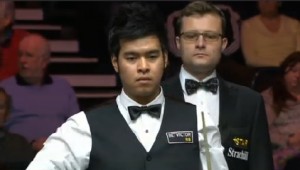 2014/15
Noppon's strongest result during the 2014/15 season at a full-ranking event was to come at the International Championship, as he defeated Alfie Burden and Stephen Maguire to reach the last 32, before losing a deciding frame against China's Xiao Guodong.
He was though able to reach the quarter-finals of a European Tour event for the first time in Lisbon, before Maguire was able to avenge his defeat in Chengdu on his way to the title.
Despite defeat, the run was enough to help him retain his main tour status for the next two seasons as he finished inside of the top eight players on the European Order of Merit, not already ranked inside the top 64 at the end of the season.