Name: Thanawat Tirapongpaiboon
DOB: 14th December 1993
Nationality: Thai
Turned Pro: 2010
Highest Ranking: 67th (2012)
Highest Break: 147 (EPTC3 2010/11)
Career Highlights: 2011 German Masters last 32, 2013 Indian Open last 32, 2012 Australian Goldfields Open and Shanghai Masters last 48, 2012 ET5 quarter-finalist, 2010 Asian Championship Semi-Finalist, 2014 Asian U-21 Champion, Becoming the youngest ever player to make a maximum break in professional competition.
In Short
One of a number of Thai players to have competed on the professional circuit, Thanawat Tirapongboon earned his place for 2010/11 by defeating the likes of former professional Supoj Saenla to reach the semi-final stage of the 2010 Asian Championship in his home country. Although he lost out there to Mohammed Sajjad, he had done enough to impress the powers that be and secure one of coveted spots on the main tour.
2010/11
Thanawat struggled to make an impact on the professional circuit early in his career, particularly during the Players Tour Championship events. The young Thai player did however become the youngest player to make a maximum break in professional competition during a 4-1 defeat to Barry Hawkins at the EPTC3 event, doing so at just 16 years and 312 days old, by far beating the previous record set by Stephen Maguire.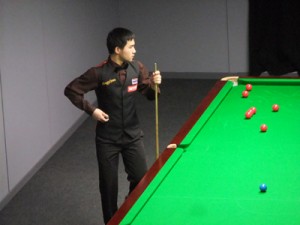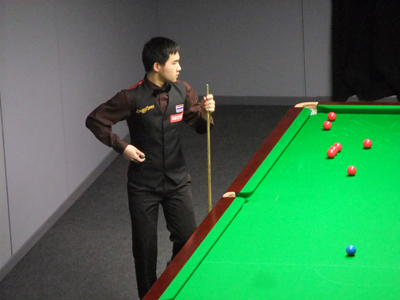 Thanawat at the 2011 World Championship qualifiers
Thanawat also performed impressively during both of the major ranking events staged early in the season, defeating Justin Astley, Mark Joyce and Nigel Bond to reach the final qualifying round of the Shanghai Masters before also doing well in the World Open.
His best run was to come at the German Masters where he was able to qualify for the venue stages of a ranking event for the first time with victories against Patrick Wallace, Alfie Burden and Barry Hawkins before losing to Graeme Dott in Berlin.
Unfortunately for Thanawat however he was not to win another match during the season's remaining three ranking events and was relegated from the tour following the World Championship as a result.
2011/12
In the summer of 2011 Thanawat captured the IBSF World Under-21 title with a 9-3 victory against countryman Noppon Saengkham in Montreal, thus ensuring that he would return to the main tour in 2012/13.
2012/13
Back on the main circuit, Thanawat made an encouraging start to the 2012/13 season by winning his opening match at the Wuxi Classic qualifiers, before defeating Adrian Gunnell, Craig Steadman and Peter Lines to reach the last 48 of the Australian Goldfields Open qualifiers.
Thanawat was to repeat this feat in qualifying for the Shanghai Masters, notably whitewashing both Dechawat Poomjaeng and Mike Dunn, before falling to Jamie Cope in a deciding frame.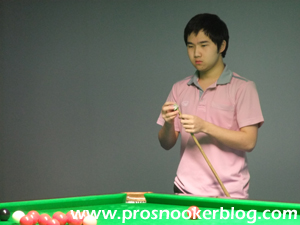 In action at the 2012 UKPTC4 event
His best performances were still to come, a last 16 appearance at the UKPTC4 event, being followed by a quarter-final appearance at the ET5 tournament in Ravenscraig. Both runs could have been even better however, as he led both his final matches 3-0 against Judd Trump and Anthony McGill, only to eventually lose both to the eventual tournament finalists.
During the second half of the season, Thanawat's strongest performances were to come at the China Open and World Championship qualifiers, as he won two matches at each, before losing to Liang Wenbo and Matt Selt respectively.
2013/14
The 2013/14 campaign was to prove a surprisingly difficult season for Thanawat, as he won just two matches at full-ranking events, two of which seeing him through to a season-best last 32 berth at the Indian Open, before he lost out to Stuart Bingham.
Thanawat's season was to be marred by a controversial 5-0 defeat to Ross Muir in qualifying for the Shanghai Masters, a match which was subsequently investigated by the WPBSA, it being decided that Thanwat had no case to answer.
As a result of his poor results, Thanawat was to be relegated from the tour at the end of the season, although he was able to earn an immediate reprieve by winning the 2014 Asian U-21 Championship in India, ensuring that he will remain on the circuit for at least a further two years.
2014/15
Thanawat was to experience another difficult season in 2014/15, winning just two matches, including a surprise 10-3 defeat of Kyren Wilson at the opening round of the 2015 World Championship qualifiers.
As a result, the Thai player was to finish ranked down in 103rd position.