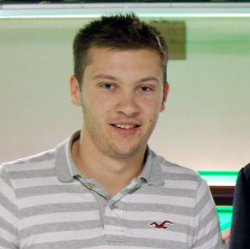 Name: Zak Surety
DOB: 4th October 1991
Nationality: English
Turned Pro: 2014
Highest Ranking: 93rd (2015)
Highest Break: 133 (2015 German Masters qualifying)
Career Highlights: 2015 China Open last 32, 2014 EBSA play-offs qualifier
Early Career
Zak Surety attempted to earn a main tour card in 2011, 2012 and 2013 through the Q School, coming particular close in 2013 as he made it through to the final round of event two, before losing out 4-1 to Ryan Clark.
In 2013/14 however, thanks to his strong performances during the Amateur Cup events, staged alongside the main European Tour, Zak did not need to enter the Q School as he defeated Michael Tomlinson and Michael Georgiou at the EBSA play-offs to earn a two-year tour card from the start of the following season.
Zak told the EBSA website:
"It feels great, I've been in Q School the last three seasons and played in various PTC events.
"It was nice way to do it, through the play-offs, as I can sit back and let everyone else worry about Q School."
2014/15
The 2014/15 season was to prove a typical learning experience for a tour debutant as Zak won just five matches, his best performance coming at the China Open where he defeated Li Hang and Joe Swail before narrowly losing to Robert Milkins at the last 32 stage.
Zak's performances were enough to see him finish his first term ranked in 97th position.