Name: Adam Wicheard
DOB: August 23rd, 1985
Nationality: English
Turned Pro: 2010
Highest Ranking: #85 (2011)
Highest Break: 142
Career Highlights: 2012 Welsh Open last 32, 2009/10 Pro Ticket Tour Number 1, 2000 EASB Under-18 Championship runner-up, 2003/4 EASB Junior Tour runner-up
.
.
In short
At 20 years of age, Adam Wicheard was knocking on the door of a professional place and had just been selected to represent England at the 2006 European Under-21 Championship. Unfortunately however, Adam was to suffer a huge set-back when he was diagnosed with a ruptured tumour at the top of his spine and following a subsequent seven-hour operation to remove it, was unable to play competitive snooker for a period of 18 months.
Happily though Adam has now made a full recovery and will be looking to follow in the footsteps of fellow Trowbridge professional Stephen Lee by enjoying a successful career in snooker.
2009/10
Adam earned his promotion to the main tour for 2010/11 by finishing top of the English Pro Ticket Tour Rankings with a total of 1366 points ahead of nearest challenger Stephen Craigie.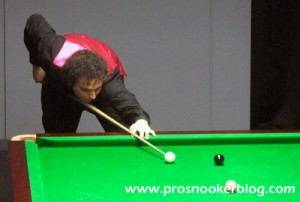 Adam during the 2011 World Championship
2010/11
Adam struggled upon his ascent to the professional circuit as he lost his opening match in seven of the opening 11 PTC tournaments as well as at both the Shanghai Masters and World Open tournaments.
His best results were to come at the UK Championship and German Masters tournaments as he defeated Irish duo Joe Delaney and Fergal O'Brien in his opening matches. He was not to win another match during the season's remaining three events however and was relegated from the circuit from the end of the season as a result.
Following the establishment of the new Q School which would give players an opportunity to make an immediate return to the main tour, Adam took full advantage by reaching the semi-finals of the first event with victories against Tony Else, Michael Leslie, John Astley, Tian Pengfei and Fraser Patrick to ensure that he would remain a professional for 2011/12.
2011/12
The start to Adam's second season on the main tour was to be a marginal improvement on the previous campaign, as he won his opening match at three of the season's first four full ranking events, including at the UK Championship against the experienced Paul Davison.
He again struggled for results during the PTC events however as he won just three matches from the 12 events staged.
After Christmas, Adam was to qualify for his first venue with a brilliant run at the Welsh Open qualifiers, which saw him defeat Andrew Pagett, Liu Song, Jamie Jones and Marcus Campbell. Though he lost out to Stephen Maguire in Newport, it was by far the most impressive run of Adam's professional career to date.
His season however was to be ended by Anthony McGill at the World Championship qualifiers, the Scot recording a 10-0 win after Adam had himself sprung a surprise by defeating Tian Pengfei in his opening match. As a result, Adam was again relegated from the tour.