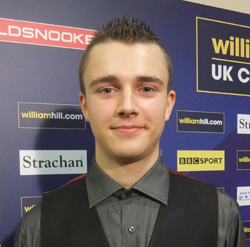 Name: Alexander Ursenbacher

DOB: 26th April 1996

Nationality: Swiss

Turned Pro: 2013
Highest Ranking: 102 (2014)
Highest Break: 140 (2013 Q School)
Career Highlights: 2013 Q School qualifier, 2012 & 2013 Swiss National champion

Background
A Swiss national champion at the age of 16, Alexander Ursenbacher earned a place on snooker's main tour for the 2013/14 season, by coming through the second event at the 2013 Q School in Sheffield.
Defeating former professionals Reanne Evans, Adam Wicheard and Paul Wykes, Alexander lost just one frame along the way and ensured that he would become just the second ever professional from Switzerland, following in the footsteps of Darren Paris nearly 20 years ago.
2013/14
Alexander's first season on tour was to prove a difficult one for the Swiss youngster, as he won just two matches along the way.
Most impressive was his victory at the season-ending World Championship qualifiers, where he came back from 6-2 down to defeat the in-form and much more experienced David Morris to reach the second round, before losing out to Thepchaiya Un-Nooh in the second round.
2014/15
Unfortunately for Alex his second season as a professional was to prove a similar story as he won just two matches, both at the start of the season at the Australian Goldfields Open qualifiers and Wuxi Classic qualifiers.
As a result he was relegated from the main tour at the end of the season, choosing to enter Q School to try and regain his professional card.