Name: Chris Wakelin

DOB: 16th March 1992

Nationality: English

Turned Pro: 2013
Highest Ranking: 69th (2015)
Highest Break: 136 (2014 Wuxi Classic)
Career Highlights: 2015 Indian Open quarter-finalist, 2014 Ruhr Open quarter-finalist, 2013 ET6 quarter-final, 2015 Players Championship last 16, 2014 Riga Open last 16, 2013 Q School qualifier
Q School qualifier
Chris qualified for the main tour for the first time in 2013, as he came through the third event of Q School in dramatic circumstances.
Having already made it to the final round of the first event of the Q School, Chris made it through to the third round of the second, before then defeating Charlie Walters, Christopher Keogan and Darren Bond to reach the final event of Event Three.
There he would face former professional Adam Wicheard, who made the stronger start to lead 2-0, before Wakelin hit back to lead 3-2 and move just one frame away from a main tour place.
As Chris explained to World Snooker following the match however, victory was to come in the most unusual circumstances:
"I potted a long red and finished on one of the baulk colours, Adam was standing near the table leaning on his cue, when suddenly it snapped. He just came over the shook my hand. I suppose he could have gone to borrow another cue but perhaps he felt he couldn't win after that.
"It has been a lifetime dream to turn pro. I haven't had a chance to think about what it means yet or what my targets might be for next season. It's surreal to think that I will be playing in the Wuxi Classic qualifiers in a few days and before long I could be playing my heroes like Ronnie O'Sullivan."
"I developed the 'yips' and it got so bad that I couldn't deliver the cue. At one point if I had a straight black off the spot I would have to play it with the rest because otherwise I had no chance. Then as I got better I decided to go to the English under-21 qualifiers in Leeds and I got through that.
"That gave me some of my belief back and I decided to enter Q School. Three months ago I would have said it was impossible for me to qualify for the tour but now here I am. Before coming to Sheffield I had three days of solid practice with my coach Gary Morris and he gave me the confidence I needed. I have not been at my best this week but I have played some good matchplay snooker."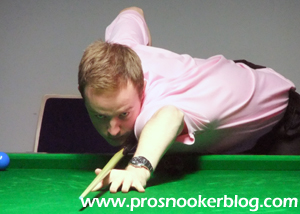 2013/14
In the main, Chris' début season on tour was to prove a typical learning experience for a rookie professional, but it was not without highlights, notably as he won four matches against higher ranked professionals to reach the quarter-finals of the European Tour 6 event in Gloucester, before losing out to Judd Trump.
He was also to claim a notable scalp at the UK Championship in York, defeating Ryan Day 6-5 in the opening round, before he himself then lost in a deciding frame to Jamie Burnett in the last 64.
Chris was to finish the campaign ranked 106th.
2014/15
Chris was to again show continued improvement during his second professional season, his best result coming at the 2015 Indian Open as he reached his first ranking event quarter-final in Mumbai, before losing 4-2 to eventual champion Michael White.
Although his results were otherwise unremarkable at full-ranking events, he was to enjoy a particularly strong season at European Tour level, winning 11 matches across six events, notably reaching the quarter-finals of the Ruhr Open, before losing out to Judd Trump.
His results were enough to see him not only qualify for the Players Championship for the first time, but also to finish inside of the top eight of those players on the European Order of Merit, outside of the top 64 on the main two-year ranking list. This meant that Chris would earn a fresh two-year tour card from the start of the 2015/16 season.