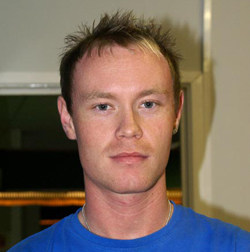 Name: Gary Wilson

DOB: 11th August 1985

Nationality: English

Turned Pro: 2004
Highest Ranking: #N/A
Highest Break: #N/A
Career Highlights: 2004 IBSF World U-21 Champion, 2005 Irish Masters last 48, 2005 China Open last 64, 2006 Welsh Open last 64
IBSF World U-21 Champion
Widely regarded as one of the most promising juniors in the game, Gary Wilson made his international début at the European U-19′s Championship in Latvia, before he then captured the prestigious IBSF World U-21 Championship in Ireland.
Having won all seven of his round robin matches, dropping just two frames along the way, to ensure that he would become the top seed as the tournament reverted to a knockout format.
Following a 5-0 victory against Scotland's Mark Owens, Gary then defeated reigning world amateur champion Pankaj Advani in the last 16, before seeing off future professionals Aditya Mehta and Liang Wenbo to reach the final.
Once there, Gary was able to see off Thailand's Kobkit Palajin, top breaks of 142 and 135 helping him to an 11-5 victory.
First Tour Spell 2004-6
During his first two years on the main tour, Gary's best performance was to come at the 2005 Irish Masters, where he defeated Paul Wykes, David Roe and Nick Dyson, before losing to Ian McCulloch at the last 48 stage.
He followed this up with a further two victories at the China Open qualifiers to ensure that he would remain on the circuit for a second season, but his subsequent performances were not enough to keep him on tour beyond 2006.
PIOS Years, Q School
After his relegation from the tour, Gary was to spend the next four years attempting to regain his place via the PIOS tour, coming close without quite being able to finish inside the top eight.
Following the introduction of the Q School Gary again came close to turning pro, twice reaching the fourth round in 2011, before again making it that far at the second event in 2012. He also reached the final of the IBSF World Championship that summer, losing 10-8 to Muhammad Asif.
He was not to be denied in 2013 however, as thanks to his consistent performances at PTC events during the 2012/13 season, he was able to finish as one of the top eight amateurs on the circuit and earn a two-year card from 2013/14.
Gary told the Chronicle
"Because I finished top of the English amateur rankings, I had the chance to go to the World Amateur Championships in Bulgaria in November. If I won there I was guaranteed professional status so I wanted to win – not only just to turn professional but because it is the biggest amateur title you can win. I reached the final and lost 10-8 but I had a good go at it and it was the first time I had ever played in the event.
"I was also involved in the PTC Series. All of the professionals play in that and I had been taking part in all of them throughout the year. In those events I was not playing brilliantly but good enough to beat certain players here and there. I was defeating the likes of Dave Harold and in the last one in Scotland I reached the last 16 before losing 4-3 to Mark Joyce. I had had two centuries and a 70 break to win three frames in that match – and I still lost 4-3."
"I knew if I went quite far in that last event I would be able to turn professional off that, so losing the world amateur final did not end my dreams. Out of all the amateurs in the PTC I finished joint second behind Joe Swail."
"My goal is to gain sponsorship. It would be great paying for entry fees and the expenses – it would be a massive help."
"I just want to show people what I can do this time, more than I did first time."