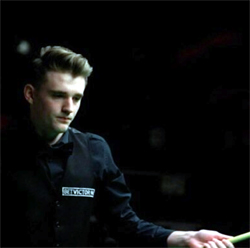 Name: Joel Walker
DOB: 16th March 1994

Nationality: English

Turned Pro: 2012

Highest Ranking: 80th (2014)

Highest Break: 129 (2011 Q School)

Career Highlights: 2014 Welsh Open quarter-finalist, 2014 UK Championship last 32, 2014 German Masters last 32, 2013 Wuxi Classic last 32, 2013 ET7 quarter-finalist, 2012 Q School qualifier, 2010 Rileys Future Stars winner
Amateur Career
Sheffield prospect Joel Walker first made a name for himself at the 2010 Rileys Future Stars competition, seeing off the likes of Zac Barton, Jamie Rhys Clarke, Lewis Hargreaves, Joseph McLaren, Sean O'Sullivan, Jordan Rimmer and Jake Stewart to win the competition and the top prize of £5,000.
In 2011 he came close to qualifying for the main tour with a fourth round run at the second of the three Q School events, before losing to eventual qualifier Simon Bedford.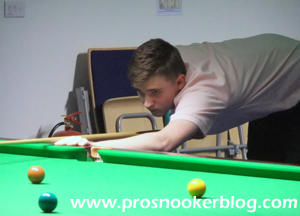 Joel at the 2012 UKPTC4 event
A year later however Joel was to go all the way, victories against Shaun Wilkes, Adrian Ridley, Adam Wicheard, John Sutton and Justin Astley seeing him earn a two-year tour card.
2012/13
Joel was to show flashes of his talent during what would prove to be a tricky 2012/13 season, winning just seven matches, but defeating players of the calibre of Stuart Bingham, Fergal O'Brien and Cao Yupeng along the way.
2013/14
Joel was the show significant improvement during the 2013/14 campaign, most notably at the Welsh Open in Newport, where he defeated Pankaj Advani, Mark Davis, James Wattana and Stephen Maguire to reach the quarter-finals of a full-ranking event for the first time in his career.
For a while, it looked as though he might be able to cause another upset as he led Ding Junhui 4-2, before the fifth seed hit back to claim a deciding frame victory on his way to the final.
Joel was also able to reach the last 32 of the Wuxi Classic and German Masters events, but despite those runs it was at the season's European Tour events where Joel's most important victories were to come, as he won a total of 10 matches across the campaign.
With his best showing being a quarter-final run at the ET7 event in Antwerp, Joel had done more than enough to secure a further two-year tour card from the 2014/15 season.
2014/15
The 2014/15 season was to prove a solid one for Joel as he re-established himself on the tour, having started the season back on zero points on the world ranking list.
His best run at a full-ranking event was to come at the UK Championship where he defeated Alan McManus and Tom Ford to reach the last 32, before losing out 6-5 to eventual semi-finalist Stuart Bingham.
He also reached the last 16 of the Lisbon Open before Christmas, but from that point was to win just two more matches during the second half of the season, losing 10-6 at the World Championship qualifiers to Stuart Carrington.