Name: Kyren Wilson
DOB: 23rd December 1991
Birthplace: England
Turned Pro: 2010
Highest Ranking: #72 (2011)
Highest Break: N/A
Career Highlights: 2009/10 PIOS Event Six Winner, former National Silver Waistcoat Champion, 2008 Rushden Snooker Pro-Am Winner, multiple English Premier and Pro Ticket Tour Event Winner
Twitter: @KyrenWilson
Junior Career
One of a number of talented youngsters to have been born in 1991, Kyren has progressed well during the last five years as he has gained a significant amount of experience at junior and national level.
His most notable achievements include becoming the National Silver Waistcoat U18 champion in 2005 before he defended the title the following year. In 2009 he recorded his first 147 break before going on to qualify for the World U-21 Championships for the first time.
2009/10
For all the junior titles that Kyren has won however, the biggest of the 2009/10 season was surely the sixth event of the PIOS which he won with a 6-4 victory over fellow prospect Liam Highfield. Combined with his points from his earlier run to the final of event three, this result was enough to see Kyren finish inside the all=important top eight and secure his main tour status for 2010/11.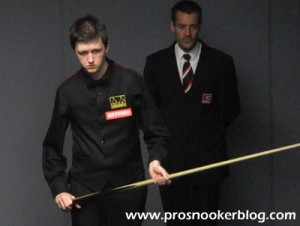 Kyren during the 2011 World Championship qualifiers
2010/11
Although Kyren did not immediately set the professional circuit alight on his first spell on the tour, he did win matches during the Players Tour Championship events as well as the World Open to move up to 76th position when the seedings were first revised in October 2010.
Though he was not able to retain his place on the tour for the following season, strong runs to the third round of both the UK Championship and the World Championship tournaments demonstrated both his talent and temperament and saw him finish the season in 72nd place.
2012/13
Competing on the main tour as an amateur during 2012/13, Kyren Wilson excelled in the PTC events, reaching the last 16 of the UKPTC4 event in Gloucester, as well as reaching the last 32 of the ET6 event in Munich to ensure that he would return to the main tour in 2013/14 as one of the top performing amateurs on the PTC Order of Merit.
2013/14
A more rounded player than when he was first on tour, Kyren made an encouraging start to the 2013/14 season, winning two matches at the Australian Goldfields Open qualifiers, before going on to win four to qualify for the final stages of the Shanghai Masters.
Once there, Kyren was to stun top 16 duo Stuart Bingham and Marco Fu to reach the last eight, before ultimately falling to Michael Holt.
Further impressive victories would follow, notably a first round win against Stephen Maguire at the International Championship, before he was to suffer a heart-breaking black-ball defeat to Anthony McGill at the UK Championship, from which he struggled to recover from.
Arguably his best tournament of the season however was to come at the end of the season, as he defeated Chris Norbury, Rod Lawler, Alfie Burden and most impressively 2006 world champion Graeme Dott to qualify for the final stages of the World Championship for the first time.