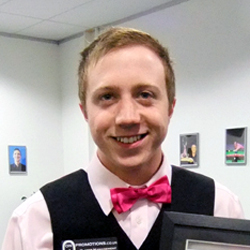 Name: Michael Wasley
DOB: 23rd February 1990

Nationality: English

Turned Pro: 2012

Highest Ranking: 72 (May 2014)

Highest Break: 142 (2010 EPTC1)

Career Highlights: 2014 World Championship last 16, 2012 German Masters last 32, 2013 Shanghai Masters last 48, 2012 Australian Goldfields Open last 64, 2012 Q School qualifier, 2009 European U-19 Championship finalist
Amateur Career
Gloucester youngster Michael Wasley has a list of amateur achievements including a 36th placed finish on the PIOS tour in 2009/10 as well as a run to the final of the 2009 European Under-19 championship.
In 2011 he entered the inaugural Q School event, his best run coming at the second event where he was able to defeat both Alex Borg and Jamie Burrett, before losing out to On Q stable-mate Kyren Wilson.
In 2012 however he was able to go all the way, first reaching the final qualifying round of event two, before going one step further at the third event with wins against Christopher Keogan, Vinnie Calabrese, James Cahill, Allan Taylor and Fraser Patrick to secure a two-year tour card.
2012/13
Michael made an encouraging start to the 2012/13 season, an opening round victory at the Wuxi Classic qualifiers being followed up by a third round run at the Australian Goldfields Open qualifiers.
Following his strong start, he was to struggle for consistent results, however a last 16 run at the UKPTC4 event in Gloucester was to prove another high, while he ended the year strongly by qualifying for his first venue at the 2013 German Masters.
During 2013, Michael's strongest run was to come at the Welsh Open, as he qualified for the venue stages with wins against Anthony McGill and Mark Davis, before he lost 4-2 to Andrew Higginson at the Newport Centre.
2013/14
Although Michael was to reach the final qualifying round of the Shanghai Masters early in the season, eventually losing out to Mark King, the most significant results of the season for him were to come during the eight European Tour events, as he looked to secure his tour place for the following season.
Though the battle was to go to the wire in Gdynia, a total of 11 match wins, highlighted by a last 16 run at the ET6 event in Gloucester were ultimately enough to see Michael finish inside the top eight players and earn a fresh two-year tour card from the 2014/15 season.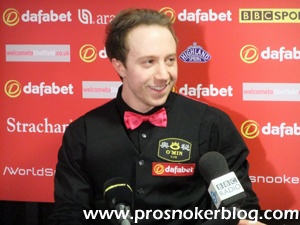 There was also to be a final highlight for Michael, as at the season-ending world Championship he defeated Sydney Wilson, Rory McLeod, Mark Joyce and then Robert Milkins, the latter in a local derby match that remarkably required a re-spotted black in order to settle it.
From there, he then caused one of the greatest Crucible upsets of all-time, defeating Chinese number one Ding Junhui to reach the last 16, before he lost out 13-4 to Welshman Dominic Dale.