Name: Patrick Wallace
DOB: 20th September 1969
Nationality: Northern Irish
Turned Pro: 1994
Highest Ranking: #34 (2001/2)
Highest Break: 141 (1999 UK Championship)
Career Highlights: 2001 World Championship quarter-finalist, 2010 PTC5 quarter-finalist, 2010 UK Championship last 32
.
…

Crucible Charge
A professional between 1998-2011 (barring a year off the tour in 2006/7), the high point of Patrick's career undoubtedly was to come at the 2001 World Championship when the then world number 59 went on a remarkable run to the quarter-finals at his first only Crucible appearance.
Having qualified for the final stages he was able to defeat Alan McManus and Mark King in his first two matches before losing out to his countryman Joe Swail in a tight match. Nevertheless, this result lifted him up to a career high of 34 in the rankings, where he would remain for a single season.
Recent Form
More recently, Patrick enjoyed a decent return to the main tour in 2007/8, winning the first match in five of the seven ranking events he competed in and making the third round in three. Though he has been unable to secure a place inside the top 64, he had performed well enough on the one-year list to finish as of the top 8 players ranked outside and thus retain his place on the tour.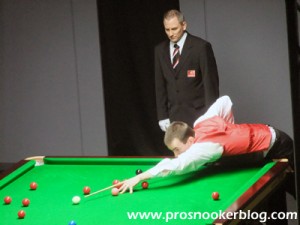 Patrick during the 2011 World Championship qualifiers
2008/9
Before Christmas, Patrick's 2008/9 campaign was unremarkable and it looked like he would be certain to again lose his main tour place at the end of the season. At the China Open qualifiers in January 2009 however he managed to go on a terrific run to the final qualifying round and following further good results in the Welsh Open and World Championship qualifiers, he just hung onto his tour place, again via the one-year list.
2009/10
During the first half of 2009/10 Patrick was able to continue his strong form by defeating Jordan Brown, Paul Davies and Rory McLeod to reach the last 48 of the Shanghai Masters before his run was ended by Matthew Stevens. Though he was not able to go quite as far in the following Grand Prix and UK Championship tournaments, he was able to win his opening match in each event and lift his provisional ranking to number 48 at the season's halfway point.
From there however he began to struggle and although he won his opening match at both the Welsh and China Open tournaments, a round one exit at the World Championship to Scot Mark Boyle proved to be costly as he missed out on the chance of a top 64 place. He did however manage to survive on the tour thanks to his excellent start to the season as he finished second on the one-year list.
2010/11
Barring a quarter-final run in the PTC5 tournament, Patrick experienced an average start to the 2010/11 campaign but was able to find his A-game during the UK Championship qualifiers as he defeated Jamie O'Neill, Anthony McGill, Michael Holt and Mike Dunn to qualify for a rare venue.
Patrick during the 2011 World Championship qualifiers
Unfortunately for Patrick however he was to lose 9-5 to 2008 champion Shaun Murphy in Telford and was then to lose his opening match during the following three ranking event tournaments.
With his relegation from the tour all but confirmed, Patrick was able to finish strongly with victories against Del Smith and then Rod Lawler following a real slog that took four hours to complete just the first four frames at the EIS in Sheffield. Defeat in a deciding frame to Matt Selt however was to mark not only his current spell on the main tour, but his career as Patrick elected not to enter the new Q School at the end of the season.
Despite that, Patrick has continued to play during some PTC events as an amateur in 2011/12 and won two matches at the World Championship qualifiers as an amateur, before losing 10-9 to Yu Delu.