Name: Yu Delu
DOB: 11th October 1987
Nationality: Chinese
Turned Pro: 2011
Highest Ranking: 49th
Highest Break: 140×2 (2012 APC2, 2013 World Championship qualifiers)
Career Highlights: 2012 German Masters last 16, 2012 World Championship, 2012 UK Championship, Haikou World Open and China Open last 48, 2007 IBSF World U-21 Championship quarter-final
Wildcard Wrap
A veteran of the wildcard stages of the ranking events staged in China, Yu's first appearance came at the 2006 China Open in Beijing where he saw off Andrew Norman before losing in the last 32 to Graeme Dott.
A year later at the same event he was again to be a winner, this time defeating Joe Jogia to set up a last 32 tie with Ali Carter which he would lose 5-3. Again in Shanghai later in the season he was to win his wildcard match against Mike Dunn, before in Beijing he would finally lose a wildcard match at the hands of Ricky Walden. A further defeat to Tom Ford followed at the 2008 Shanghai Masters before he defeated Rod Lawler at the 2009 China Open only to lose to Graeme Dott for a second time in Beijing.
During 2009/10 he would lose to both Nigel Bond and Bjorn Haneveer during the wildcard rounds of the respective tournaments, both in deciding frames, before his final appearance at that stage ended in a 5-2 defeat to Gerard Greene at the 2011 China Open.
At the end of the 2010/11 season Yu was handed one of the four wildcard spots onto the circuit for the following season by the WPBSA.
2011/12
Yu made a strong start to the 2011/12 season as he defeated Michael White, Joe Swail and Joe Jogia to reach the final qualifying round of the Australian Goldfields Open before losing out to former world number 6 Ryan Day.
Yu was to follow this run up with a number of impressive performances at the PTC events, reaching the quarter-finals of both PTC2 and PTC4 only to lose to Judd Trump and Ronnie O'Sullivan respectively, whilst he also made it through to the last 16 stage of both PTC8 and PTC11.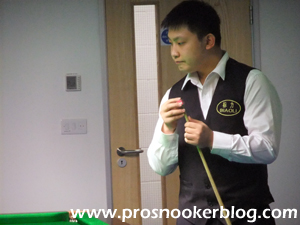 Yu at the 2012 UK Championship qualifiers
The second half of Yu's season was to prove hugely impressive, a last 16 run at the German Masters which included a first-round victory against countryman Ding Junhui, together with three further runs to the final qualifying rounds of events, helping him up into the top 64 and a career-high ranking of number 58 by the end of the campaign.
2012/13
Following his strong finish to the previous season, Yu was to struggle during the first half of the 2012/13 season, losing his opening three matches in full-ranking events, whilst failing to make a strong impression during the PTC events staged in 2012. He was however able to finish the year ranked inside the world's top 48 for the first time in his career.
His best run during the second half of the season was to come at the 2013 World Championship qualifiers, where he defeated Ian Burns and Jamie Burnett, before losing a deciding frame against the experienced Mark King in the final round.