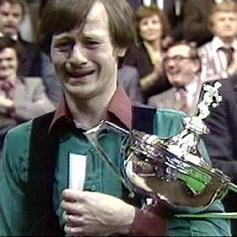 Name: Alex Higgins
DOB: March 18th, 1949
Nationality: Northern Irish
Professional Career: 1971-1997, 2005-6
Highest Ranking: #2 (1976/7, 1982/3)
Highest Break: 147
Career Highlights: 1972 & 1982 World Champion, 1983 UK Champion, 1978 & 1981 Masters Champion, 1989 Irish Masters Champion.
.
In Short
Despite, or in truth partly because of his numerous off-table controversies, Alex 'Hurricane' Higgins was one of the most popular players ever to have played the game and undoubtedly played a significant role in the revival of the game during the 1970's and 1980's.
Renowned for his spectacular playing style, on the table at least he was a joy to watch and someone who entertained like nobody before or arguably since. Although he did not win the trophies that perhaps his talent deserved, those who watched him at his peak will certainly never forget what he could do on a snooker table.
Early Career
First picking up a cue at the age of nine, Alex Higgins developed his game to the point where in 1968 he was able to capture both the Northern Ireland Amateur Championship and the All-Ireland Amateur Championship. Following a successful run of exhibitions against John Spencer who at the time was at the peak of his powers, he subsequently turned professional for the 1971/2 season.
World Champion
Entering the World Championship for the first time in 1972, Alex had to come through two qualifying matches to even get to the first round. This he duly did however with comfortable wins over Ron Gross and Maurice Parkin to set up a tie with fellow Northern Irishman Jackie Rea. As it transpired this would be something of a changing of the guard as Higgins triumphed 19-11 to progress to the quarter-finals where he recorded a similarly comfortable win against the ageing John Pulman.
His semi-final against Rex Williams was anything but comfortable however as at one stage Higgins found himself 14-8 down before coming back to force a decider at 30-30. Crucially for Alex it was he who managed to take that and all of a sudden he was in the World Championship final at his first attempt, an incredible feat regardless of what happened next.
He was not going to stop there though and as he overcame the reigning champion Spencer in the final with a 37-32 victory, he had not only won the biggest prize of all at the first attempt, but in doing so he had become the youngest player ever to have lifted the trophy at the time.
Peak Years
Like many before and since though, his world title defence was to end in disappointment the following year as having beaten Pat Houlihan and Fred Davis to reach the semi-finals, he was then hammered 23-9 by Australian Eddie Charlton. Further defeats came to Davis and Reardon during the next couple of years before having made the final again in 1976, he again was to be denied at the hands of Reardon.
Though he continued to struggle as the World Championship moved to Sheffield, he was at least winning other trophies including the B&H Masters in 1978 and 1981 as well as the Canadian Open.
Second World Title
It was the big one that he really wanted to get back however and in 1982 he did exactly that. Having come through a couple of tight matches against Doug Mountjoy and Willie Thorne to reach the semi-finals, what was to follow was one of the all-time classic matches against his heir to the throne as the people's champion, Jimmy White.
At 15-14 up and with a significant lead in what he hoped would be the final frame, it looked like it would be Jimmy's day but what followed was arguably the most famous clearance of all-time as Higgins knocked in a simply ridiculous break of 69 to snatch it. Following that the result was inevitable and Alex duly completed a memorable victory with 59 in the decider to win the match and get into his third final. We will never know what would have happened to Jimmy had he managed to complete this victory but surely he would have gone on to take the title on at least one occasion.
As it was though the chance fell to Higgins and against old foe Reardon in the final, he managed to hold his nerve and come through to take his second world title with a hugely popular 18-15 win.
With his place among the greats secure, Higgins then reaffirmed his return to form with another astounding performance to win the UK Championship final 16-15 from 7-0 down against the all-conquering Steve Davis the following year.
Decline
Unfortunately for Alex however, the inconsistency that had dogged him for much of his career would resurface and his various off-table problems would begin to take their toll. He did enjoy a final major success at the 1989 Irish Masters with a 9-8 win over Stephen Hendry but this was to prove a one-off and after various incidents during 1990, he was given a one-year ban from the sport.
Although he did return and in fact managed to continue playing until the end of the 1996/7 season, his ranking never again rose above number 48 and he eventually decided to call it a day.
Despite serious health problems including the onset of throat cancer, he has launched a couple of unsuccessful comebacks in recent years and with Jimmy White alongside him, continues to be involved in exhibition matches.
During 2009 he appeared on the BBC gameshow 'The Weakest Link" but he was the first to be voted off following a wrong answer which cost the team £5,000.
Death
Alex sadly died on the 24th July 2010 at the age of 61 having suffered from ill health for some time.
Tournament Victories:
Ranking Events (1)
| | |
| --- | --- |
| Event | Year |
| World Championship | 1982 |
Non-Ranking Event wins (23)
| | |
| --- | --- |
| Event | Year |
| Wembley Masters | 1978, 1981 |
| UK Championship | 1983 |
| Irish Masters | 1989 |
| World Championship | 1972 |
| Men of the Midlands | 1972-3 |
| Watney Open | 1974 |
| World Cup (Ireland) | 1985-7 |
| Irish Professional Championship | 1972, 1978-9, 1983, 1989 |
| Canadian Open | 1975, 1977 |
| Tolly Cobbold Classic | 1979, 1980 |
| Padmore/Super Crystalate International | 1980 |
| Canadian Club Masters | 1976 |
| British Gold Cup | 1980 |
Other (2)
| | |
| --- | --- |
| Event | Year |
| World Doubles Championship | 1984 |
| Mosconi Cup | 1995 |