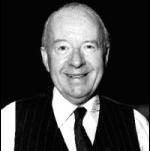 Name: Fred Davis MBE
DOB: August 13th, 1913
Nationality: English
Professional Career: 1929-1992
Highest Ranking: #4 (1976/77)
Highest Break:
Career Highlights: Three Times World Champion, Twice News of the World Championship Winner, Twice World Billiards Championship Winner, Five Times World Matchplay Champion
Early Years
Younger brother of the great Joe Davis, Fred was in his own right a very talented player who as well as winning multiple world titles, was able to set records of longevity that will surely never be broken.
It all started back in 1937 however as after a strong billiards career, he played his first professional snooker match at the 1937 World Championship in London. Surprisingly he slipped to a 17-14 defeat against the relatively unknown William Withers, though it transpired that this owed a lot to his rapidly deteriorating eyesight at the time that he had refused to do anything about.
Armed with a new pair of swivel-lens glasses however, the following year was to see him be much more competitive as he made it all the way to the final before losing 18-13 to Sidney Smith. He repeated the feat in 1939 before in 1940 he managed to go all the way to the final before losing a long match 37-36 to older brother Joe.
Post-War Years
Following a six year hiatus during the Second World War, Fred again made it to the semi-finals where he lost out to Australian Horace Lindrum in 1946 before lining up the following year as one of the favourites following the retirement of his illustrious brother. Unfortunately for Fred though, the trophy was to elude him for a further year as Scotsman Walter Donaldson recorded an 82-63 victory in the final.
World Champion and Donaldson rivalry
This was not to be the last time that Davis and Donaldson would meet, indeed it was to be the start of eight successive finals between the two as snooker struggled to survive in the shadow of its greatest (albeit non-playing), player Joe Davis.
Although Donaldson won the first of their battles, Fred was too good a player to go without the world title for much longer and in 1948 finally got his hands on the trophy with a comfortable 81-64 victory over the Scotsman. While first-time winners in the modern era struggle with the famous curse, Fred did manage to successfully defend his title the following year with an 80-65 win before the Donaldson gained his revenge in 1950 with a close 51-46 win. Davis did manage to take their fifth meeting, and last of the official World Championship era however as the leading players established an alternative World Matchplay tournament.
World Matchplay
As the attention switched to the World Matchplay tournament, there may have been a new name but it was the same faces in the finals as Davis and Donaldson contested the next three, each of which going the way of Fred following hard-fought encounters.
The run was to be broken in 1955 as for the next two years following Donaldson's retirement, Fred came up against the improving John Pulman who posed a genuine threat to his crown. Ultimately though Davis had enough to win those two finals 37-34 and 38-35, the latter proving to be his final world crown as snooker continued to struggle and he began to age.
Challenge Finals
In 1964 the official World Championship was back on a challenge basis and the first match to take place was that between Davis and 1957 champion Pulman, the latter going on to take a 19-16 victory. Two further meetings came between the two in this format but Pulman again won both including a dramatic encounter in 1965 which he edged 37-36 having trailed 36-35.
Modern Era
[youtube=http://www.youtube.com/watch?v=ebtWYhfvcAI]
A remarkable century from a then 65-year-old Davis
As Davis approached 60 the game reverted to a knock-out format once again but it was becoming clear that Davis had inevitably seen his best days and he was not helped by suffering a heart attack in 1970. Nevertheless he remained competitive and in 1974 managed to defeat Bill Werbenuik and Alex Higgins to reach the semi-finals where he was hammered 15-3 by Welshman Ray Reardon.
Four years later as the event moved to its now spiritual home of the Crucible, Fred managed to repeat the feat at the grand old age of 64 and defeat a string of top names before losing narrowly to Perrie Mans.
Decline
Although he had entered the rankings at number four and was able to remain inside the top 16 until the end of the 1981/2 season, Fred was now inevitably on the way down, though remarkably this did not stop him from trying to qualify for events until 1992 when as a 78 year-old he finally hung up his cue. It shows you just how good he was that during his final season he was able to take a frame off a young Ronnie O'Sullivan during the Grand Prix qualifiers in what was the biggest age gap ever recorded in a professional match.
Fred eventually died in 1998 from natural causes at the age of 84 but his achievements on the table and his popularity off it have ensured that he will never be forgotten.
Tournament Victories:
| | |
| --- | --- |
| Event | Year |
| World Championship | 1948-9, 1951 |
| World Matchplay | 1952-56 |
| News of the World Championship | 1958-9 |
| World Billiards Championship | 1980-1 |