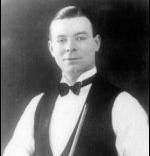 Name: Joe Davis OBE
DOB: April 15th, 1901
Died: July 10th, 1978
Birthplace: Whitwell, England
Professional Career: 1927-1964
Highest Ranking: #N/A
Highest Break: 147
Career Highlights: Fifteen Times World Champion, Three Times News of the World Championship Winner, Four Times World Billiards Champion
Introduction
With an unblemished run of 15 World Championship titles, as well as 12 new record breaks including the first century in 1930 and the first competitive 147 in 1955, Joe Davis will forever be remembered as one of the sport's all-time greats. The only man to beat him on level terms was his brother Fred and even this happened on only four occasions.
How would Joe have fared in the modern era? We will never know but from what various snooker experts who saw him play have said, he played an attractive style, like the modern players choosing to break build around the black spot and looking to split the reds. In any case however, Joe's career was an unqualified success and without his input into the start of the World Championship, who knows where the sport would have been today…

Billiards Career
The legendary Joe Davis was to go on to win an unprecedented 15 world snooker titles, but as he first picked up a cue aged 11 it was to be billiards, not snooker which was to see to the best of him as a youngster. Just two years after he started to play the game he had won the local Chesterfield Championship and by the time he was 18 had turned professional.
It took him a while to fully find his feet but in 1926 he reached his first world final, losing out to Tom Newman who himself would go on to win the tournament on six occasions. Having lost out again to Newman the following year, Davis took his revenge in 1928 to capture the title for the first, but not the last time as he was to hold on to it until 1933 when he lost out to Australian Walter Lindrum in the final. Though he lost out again to Lindrum in the 1934 final, by this stage Joe had already seen that it would be snooker and not billiards which would be the most popular cue sport for years to come and duly turned his attention to that instead.
Snooker Career
While billiards was his favoured sport, Joe recognised that snooker was to be the way forward and played a significant part in organising the first World Snooker Championship in 1927, staged at Camkin's Hall in Birmingham. As it turned out, Joe was to go on to win the trophy with a 20-11 win over Tom Dennis, a win that would start a 14-year winning streak which was ended only by the Second World War following the 1940 tournament. In 1946 however he was able to win the first tournament back after this enforced break, his 15th in all before he was to announce his sudden retirement from the World Championship competition.
During this amazing run of success, the closest Joe came to defeat was in 1940 when facing his brother Fred in the final, he  found himself pushed to a 73rd and deciding frame. He managed to come through to clinch a 37-36 win however and maintain his unbeaten World Championship record. 1936 was also a cracking final as at one point Joe trailed 24-27, only to take the next ten to record the first of three final wins against Australian rival Horace Lindrum.
Post-World Championship Career
Following his retirement from the World Championship following his 1946 triumph, Joe nevertheless continued to play snooker professionally was was able to add a further three News of the World Championships to his CV before his eventual retirement in 1964.
Tournament Victories:
| | |
| --- | --- |
| Event | Year |
| World Championship | 1927-40, 1946 |
| News of the World Championship | 1950, 1953, 1956 |