Name: Joe Johnson
DOB: July 29th, 1952
Birthplace: Bradford, England
Turned Pro: 1979
Highest Ranking: #5 (1987/8 ]
Highest Break: 141 (1992 World Championship)
Career Highlights: 1986 World Champion, 1987 World Final & Scottish Masters Champion, 1997 Seniors Pot Black winner, 1978 World Amateur Finalist, 1989 European Grand Prix Champion
Website: http://www.joejohnson.co.uk/
Amateur Career
As an amateur Joe enjoyed a successful run, winning the English Under-19 Championship in 1971 before going on to win the Yorkshire Championship on three occasions and represent England ten times in the Home Internationals. Although he failed to win the English Amateur Championship in 1978 as he lost out to Welshman Terry Griffiths in the final, he was able to participate in the IBSF World Championship later that year as a result and again went all the way to the final. While he could not stop Cliff Wilson, another Welshman, from earning an 11-5 victory, he had done enough to persuade him that it was time to step up to the professional ranks.
Early Pro Career
For many years Joe struggled to establish himself on the professional circuit however and it was not until the 1983/4 season when he was able to enter the world rankings in 23rd position. Slowly though he began to feel more comfortable, qualifying for the Crucible for the first time in 1984 (though he was to be thumped 10-1 by future champion Dennis Taylor) and reaching the final of the 1983 Professional Players Tournament, as well as the semi-finals of the 1985 Mercantile Credit Classic.
Though he again was beaten in the first round at the Crucible, this time by Bill Werbeniuk, he was just about able to move up into the top 16 in the rankings for the first time in his career.
1986 World Championship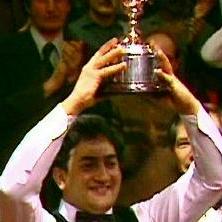 Having not achieved anything of particular note during the rest of the season, Joe came to the Crucible for the third time, still yet to win a match at the venue and as a 150-1 outsider for the title. Furthermore he was seeded to meet reigning champion Dennis Taylor in the second round before coming up against his bogey player Terry Griffiths in the last eight, so he was going to have to play really well to make an impact this year.
Having broken his curse with a 10-3 victory over Dave Martin however, Joe was not to come up against Taylor, but instead Mike Hallett who had caused a sensation in the first round by defeating the reigning champion. As Joe managed to come through with a 13-6 win his odds were shortening but Griffiths in the next round was always going to be a tough one. Knowing how good a player Terry was tactically, Joe decided that he would have to attack him in order to stand any chance of victory and it seemed to work as he moved 9-7 in front after two sessions. Griffiths did manage to hit back to move three ahead with a possible four to play but Joe was not to be denied and won the them all (with two centuries along the way), to come through a 13-12 winner.
Now with the confidence to think about winning the title, Joe managed to comfortably see off fourth seed Tony Knowles in the semis to set up a final with three times champion and clear world number one Steve Davis. As  in his previous matches Joe was the underdog but again this did not seem to faze him and armed with a rather dazzling pair of shoes on his feet, he eventually came through to secure a memorable 18-12 win to secure the World Championship title for the first time. Not only was this a magnificent victory but it ensured that he would move up to number eight in the rankings.
Title Defence

While many players who come through to take a surprise victory are able to push on and maintain a high level however, for Joe the following season was a bit of a struggle as going into the World Championship he was unable to reach the quarter-final stage of any event.
Being back at the Crucible seemed to inspire him however and much to everybody's surprise, he managed to defeat Eugene Hughes, Murdo McLeod, a young Stephen Hendry and the 13th seed Neal Foulds to set up a re-match with Davis in the final. This time however Joe was unable to repeat his heroics of the previous year and Davis was able to win that coveted fourth title, finally laying to rest the ghost of the 1985 final against Dennis Taylor.
Still, Joe could be very proud because although he failed to overcome what has been termed as the 'Crucible Curse', to this day he remains the person to have come closest to defending the World Championship title at their first attempt. In addition he also moved up to a career high of number five in the rankings.
Subsequent Career
Though he was never to win another ranking event title, the 1987/8 season was to be reasonably successful as not only did he reach the semi-finals of both the UK Championship and the Masters, but he again got the better of old rival Terry Griffiths to win the Scottish Masters title with a 9-7 final victory.
This was to be his last major success however as health problems such as his first heart attack began to take their toll and he started to slide down the rankings. He did manage to add the non-ranking European Grand Prix title in 1989 but at the end of the season he dropped out of the to 16 never to return, though he did manage to maintain his place on the tour for another 15 years before a broken foot helped to bring his career to a premature end.
Television and Coaching
Following the end of his playing career Joe has taken up a commentary role with Eurosport that he seems to enjoy and is also involved with various snooker clubs across Yorkshire. He also played a part in the early career of the late Paul Hunter, famously having said that very early on he was able to give him a very good game before in no time he was regularly beating him.
Tournament Victories:
Ranking Events (1)
| | |
| --- | --- |
| Event | Year |
| World Championship | 1986 |
Non-Ranking Event wins (4)
| | |
| --- | --- |
| Event | Year |
| Scottish Masters Champion | 1987 |
| European Grand Prix | 1989 |
| National Under-19 Championship | 1971 |
| Senior Pot Black Trophy | 1997 |