Name: Terry Griffiths OBE
DOB: October 16th, 1947
Nationality: Welsh
Professional Career: 1978-1997
Highest Ranking: #3 (1981/2)
Highest Break: 139
Career Highlights: 1979 World Champion, 1982 UK Champion, 1980 Masters Champion, Three time Irish Masters Champion, 1982 Lada Classic Champion, 1984 Pot Black Champion, Twice World Cup winner (with Wales), Twice national champion
Website: http://www.terrygriffithsmatchroom.co.uk/
Summary
Renowned for his cautious style of play, Terry Griffiths was at his peak a fabulous tactician who but for the emergence of the great Steve Davis, would surely have gone on to take multiple world titles amongst other trophies.
It is not just for his playing ability that Terry is highly regarded though as away from the table he is a popular personality whose sharp wit has enabled him to forge a successful commentary career. Add this to his highly regarded coaching methods in his role for 110sport and it is obvious why Terry is one of the game's leading characters.
Amateur Career
Although Terry had enjoyed some success at an early age in winning the Llanelli and District Championship, the next few years were to see him ply his trade as a bus conductor, insurance salesman and postman.
Aged 25 however he began to compete as an amateur, capturing the Welsh national crown at the first attempt in 1975 before adding the English title to his name in both 1977 and 1978.  On the world stage he was able to reach the quarter-finals early on but having failed to take the Welsh title in 1978, he could not compete that year and decided to turn professional as a result at the age of 31.
1979 World Championship
Having narrowly lost out 9-8 to Rex Williams at the UK Championship having led at one stage 8-2, few could have predicted what was to follow in Sheffield as he entered just his second professional tournament as a qualifier, merely hoping to raise his profile in order to gain exhibition opportunities.
What actually transpired however was a fairytale run to the ultimate prize and for the sport as a whole, a victory that would encourage a whole host of amateur players to turn professional and compete at the highest level.
In the first round he drew the 1978 finalist Perry Mans but he was not to be intimidated by the occasion and he ran out a 13-8 winner to earn a tie with 1972 champion Alex Higgins. Their subsequent quarter-final turned out to be a real thriller and despite having trailed by four frames at one stage, Terry recovered to seal a 13-12 victory with a 107 break in the deciding frame.
From there he overcame three-time finalist Eddie Charlton in an absorbing semi-final and as he famously stated, he was now "…in the final now you know!" There he would meet Dennis Taylor, himself a future world champion of course, but not this year. It was tight early on as they were locked at 15-15, but from there Dennis won just one more frame and Terry completed an unlikely triumph, becoming the first qualifier to win at the venue, an achievement matched since only by Shaun Murphy in 2005.
Peak Years
Though this was to remain the sole ranking event title of Terry's career, he soon proved that he was no one hit wonder as he was part of the Welsh team that captured the first ever World Cup tournament, before going all the way to the UK Championship final at the end of 1979 where he lost out 14-13 to John Virgo.
It was not long before he added more silverware to his collection however as in 1980 he was able to win the Wembley Masters with a 9-5 victory over Alex Higgins at his first attempt, before repeating the feat at the Irish Masters with a 9-8 victory over Doug Mountjoy. Unfortunately though he was to see his World Championship defence come to an abrupt end against the up and coming Steve Davis in the second round which sadly for Terry, was to prove a common occurrence during the decade.
The following season saw Terry again help Wales to retain the World Cup title and again take victory in the Irish Masters with a 9-7 victory over Ray Reardon, but this time he was to lose out at Wembley as Higgins gained his revenge with a 9-6 win. In the ranking events again it was to be Steve Davis who would prove to be an insurmountable obstacle as he beat Terry in both the UK and World Championships, going on to win both.
On the back of his consistent results however he was able to climb to what would be a career high ranking of number 3 in the world at the end of the season.

1981/2 was to be dominated by a number of further clashes between himself and Davis with Steve initially gaining the upper hand by taking victory in the UK Championship final. Terry though soon proved that he could compete with him and won both the Lada Classic and the Irish Masters finals, the latter victory meaning that he had now won the trophy for three successive seasons.
As Steve's world title defence came to a premature end at the hands of Tony Knowles in 1982, Terry was quickly made the favourite in the eyes of most experts but perhaps this pressure worked against him as he himself lost out early to Willie Thorne. This result was to see him drop 11 places down the rankings his lowest position yet of number 14.
Having narrowly missed out on a few occasions previously, 1982 was finally to be the year which saw him add the UK Championship to his CV as he defeated old rival Alex Higgins 16-15 in what was a superb final. During the next few seasons he also managed to add the 1984 Malaysian Masters, 1984 Singapore Masters, 1985 Hong Kong Masters, and the 1986 Belgian Classic tournaments to his CV as he continued to excel in the non-ranking events.
As far as the World Championship was concerned, from 1984-1992 he was able to consistently reach at least the quarter-finals but a second title was never to come as more often than not he ran into an inspired Steve Davis. He did reach the final for a second time in 1988 but Davis was not to be denied as he clinched his fifth title at the Crucible.
1990's Decline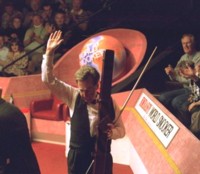 Coming into the 90's the wrong side of 40, Terry was beginning to struggle for form but he did manage to make the World Championship semi-finals once again in 1992 before losing out to the increasingly dominant Stephen Hendry 16-4.
His final win at the Crucible was to come in 1996 as he came back from 9-5 down to beat Scottish débutante Jamie Burnett in dramatic circumstances. At 9-9 it looked like Jamie had the victory secure as he needed just the final brown to leave Terry needing a snooker, but amazingly having potted it, Burnett then screwed back to get on the blue and managed to go in-off. Terry cleared up for another memorable win, though he was to lose out once again to Steve Davis in the next round.
Following this result Terry had announced his retirement but he came back for one last time at the 1997 tournament and put up a great fight before going down 10-9 to fellow Welshman Mark Williams who of course would go on to be a brilliant player himself.
Coaching Career
Since retiring as a player, Terry has been able to offer his expertise to a number of current professionals as part of his role as 110sport Director of Coaching. Notable players that he has helped in the past include Stephen Hendry and Mark Williams who both clearly benefited from his input, as well as Marco Fu and Ali Carter who he has helped turn into ranking event winners. He now spends a lot of his time working with some of the younger players coming through such as Jack Lisowski and Michael White who are also part of the 110sport group.
Tournament Victories:
Ranking Events (1)
| | |
| --- | --- |
| Event | Year |
| World Championship | 1979 |
Non-Ranking Event wins (14)
| | |
| --- | --- |
| Event | Year |
| Wembley Masters | 1980 |
| UK Championship | 1982 |
| Irish Masters | 1980-2 |
| Lada Classic | 1982 |
| Hong Kong Masters | 1985 |
| Belgian Classic | 1986 |
| World Cup (Wales) | 1979-80 |
| Welsh Professional Championship | 1985-6, 1988 |
| Pot Black Trophy | 1984 |
Other (3)
| | |
| --- | --- |
| Event | Year |
| English Amateur Champion | 1977-8 |
| Welsh Amateur Champion | 1975 |
| World Trickshot Champion | 1992, 1994 |