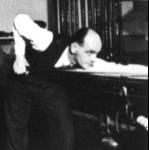 Name: Walter Donaldson
DOB: 1907
Died: 1973
Birthplace: Coatbridge, Scotland
Professional Career: 1923-1953
Highest Ranking: #N/A
Highest Break: 142 (v John Pulman 1946)
Career Highlights: 1947 & 1950 World Champion
.
Overview
It is hard to believe these days but before the likes of Stephen Hendry and John Higgins came around, there was just one previous Scottish world champion in the game. That man was Walter Donaldson who although not having the profile of some of his contemporaries, was a very strong player at his peak, renowned for his gritty determination and grinding qualities. As well as his safety play though, his long potting was excellent and in addition he was able to make a break or two as evidenced by his then record run of 142 made in 1946.
In many ways it is a shame that he is among many snooker fans, one of the most easily forgotten world champions as like most of the other players from his era, he was competing in the shadow of the great Joe Davis, even when the legend had retired. Nevertheless he was the first world champion to emerge from Scotland and nobody will ever be able to take that away from him.
Early Years
As was the case with many young players at the time, it was billiards which was to be his first love as he picked up the game from a very early age and by the time he was 15, had won the Under-16 UK Billiards Championship.
Like the great Joe Davis however, Walter appreciated that it would be snooker which would capture the imagination of the public during the upcoming years and began to focus more on the game having turned professional in 1923.
World Championship – Pre-War Years
It was not to be until ten years later that Donaldson would make his debut in the World Snooker Championship though and despite winning his opening match, it was to prove forgettable as he was hammered 13-1 by Joe Davis in the semi-finals. Following this result he was not to return for another six years when he lost out 16-15 to eventual finalist Sidney Smith in the quarter-finals.
In 1940 Donaldson was back again but as seven years previously, could do little to stop Davis and succumbed to a 22-9 defeat. With the Second World War now taking hold, this was to be the last tournament staged for five years and the intervening years saw Donaldson serving on the front line as a Royal Signals Sergeant.
World Champion & Fred Davis Rivalry
When the Championship resumed in 1946, despite the break not much had changed as Donaldson again lost out to Davis, this time 21-10 in the first round as Joe marched towards his 15th World Championship title. Ultimately however this was to be his last as he soon announced his retirement from the competition and suddenly the rest of the field had a real opportunity to win the World Championship.
Donaldson was certainly among these, though having caused a shock to overcome Australian Horace Lindrum in the semi-finals, it was still expected that Joe's brother Fred would be the successor to his throne.
As it transpired however, Donaldson was up for the upset and eventually ran out an 82-63 winner to take the World Championship crown at last. His gritty, cautious style had perhaps caught a more free-flowing Davis by surprise and while many were not overly impressed, it could not be argued that his win was not deserved. One of the other reasons that Donaldson did not receive wider acclaim was that the great Joe Davis was still playing outside of the World Championship and having beaten Donaldson on two occasions shortly after the Scot's world victory, he was still regarded as the true World Champion.
Walter's meeting with Fred was in fact to be the first of eight successive finals between the two and in 1948 Davis was to have his revenge, knowing exactly what to expect from Donaldson this time and running out an 84-61 winner as a result.
Donaldson did manage to reclaim the title in 1950 following a surprising 51-46 victory, but this was to be the last of his major titles as Davis won in 1951 and 1952 before beating him for the next three years in the final of the World Matchplay Championship.
Retirement
At this point interest in snooker was seriously on the wane and a year later at the age of 47, Walter decided to hang up his cue for good, a decision symbolised by his now famous decision to dismantle his table and use the slate as paving stones for a garden path.
In 2012 Walter was inducted into the World Snooker Hall of Fame as recognition for his two World Championship victories.
Tournament Victories:
Major Titles (2)
| | |
| --- | --- |
| Event | Year |
| World Championship | 1947, 1950 |