Name: Greg Coniglio
DOB: September 30th, 1970
Birthplace: Manchester
Height: 5'8″
Marital Status: Single, (In a relationship)
First Pro Match: November 2006 (Masters Qualifying)
First Pro Ranking Match: January 2007 (China Open Qualifying)
Most Memorable Match: Joe Jogia 5-2 Ricky Walden (First Pro Ranking Match)
.
Playing Career
Greg first began playing snooker at the age of 10 and like most young players, had the ambition of turning professional one day. While he played to a high standard, making a highest competitive break of 127 and managing to record a 3-0 victory over the late Paul Hunter in a Leeds pro-am however, he eventually realised that he would not be good enough to make dream a reality.
Progression as a Referee
After playing in the amateur leagues for many years, his team-mates suggested to him that he should become a referee, but initially at least he ignored them. Eventually though he decided to give it a try and got in touch with local examiner Ron Hope who spotted his potential and pushed him to take his class 3 exam on 12th September 2001.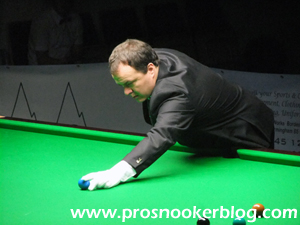 Greg at the 2010 EPTC4 event in Gloucester
Following this, he began to officiate matches for the North West Referees Association, as well as matches in his local leagues. He then boosted his experience further by working for the EASB (English Association for Snooker & Billiards) and in 2005/2006 was invited to work on the PIOS tour by World Snooker where he was assessed ahead of his professional debut at the Sheffield Snooker Academy in November 2006.
Ranking Events
His most memorable match was understandably his first professional ranking match in Prestatyn during the China Open in January 2007. He was initially there working the desk as an official to learn the ropes but to his surprise he was able to referee a 5-2 win for Joe Jogia against Ricky Walden and thankfully everything went to plan. Understandably he was delighted to have nailed his first big match and from there he he has rarely looked back.
Though this was a big moment however, the highlight of his career so far came in 2009 when he was able to referee at the World Championship qualifiers at the EIS in Sheffield. Although by his own admission Prestatyn is a venue close to his heart because that is where it all started for him, this was the World Championship and not only did he take charge of one of the preliminary matches, but he was also the man in the middle for three matches in rounds three and four.
Greg watches Adrian Gunnell during the 2011 World Championship qualifiers
Though he did not go on to officiate during the final stages at the Crucible in April 2009, he was able to spend five days behind the scenes working at the season-ending tournament, an experience that he thoroughly enjoyed. Greg was also heavily involved during the 2011 World Championship qualifiers at the EIS in Sheffield.
Trivia
Greg cites Ron Hope as the person who had the greatest influence on him during his early years, while in his professional career both Eirian Williams and Jan Verhaas have helped to guide him all the way.
The most embarrassing moment of his refereeing career so far came at one of the qualifiers at Prestatyn when he dropped the white on the floor after being asked to clean it by one of the players. He can be excused however on the basis that he was feeling ill at the time!
Greg cites the best thing about being a referee as being a part of World Snooker and working with both the top referees in the world, as well as the best players. As far as downsides are concerned there are few obvious ones, although he was forced to miss his cousin's wedding due to a clash of dates with a qualifying tournament.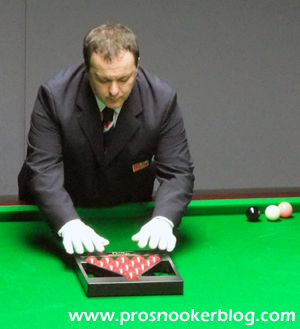 Greg in action during the 2011 World Championship qualifiers
His ambition in the game is to work for World Snooker for as long as he can and also to emulate some of the other top referees in the game.
Finally, when not donning the white gloves he can often be found at Old Trafford watching his beloved Manchester United, while also continuing to play snooker in his amateur leagues, notching up a high break of 65 during 2008/9. He also spends a lot of time travelling to see his girlfriend Michelle in Chatham, Kent whenever he can, as well as going to the cinema and eating out.
Many thanks to Greg for the extensive information provided.