Name: Leo Scullion
DOB: 10th April 1958

Nationality: Scottish
First Pro Match: 1999 Challenge Tour
147's Officiated: 1 (Mike Dunn, German Masters Qualifiers 2012)

Career Highlights: Officiating at the: 2011 China Open final, 2012 Haikou World Open Final, 2012 World Championship semi-finals, 2008 Grand Prix semi-finals, 2010 UK Championship semi-finals
Twitter: @leoscullion
Career Summary:
Scotland's Leo Scullion may have previously spent 20 years in the police service, or time behind the wheel of a taxi, but these days the Glaswegian can often be found beside a snooker table, officiating matches at the very top of the professional game.
While he first began officiating during the Challenge Tour more than a decade ago, it is only more recently that Leo has become a familiar face in front of the TV cameras. His TV début came at the 2001 Regal Scottish Masters in Glasgow as Stephen Lee whitewashed Patrick Wallace, while his first landmark match came at the 2006 UK Championship when former world champions Stephen Hendry and Mark Williams met in York.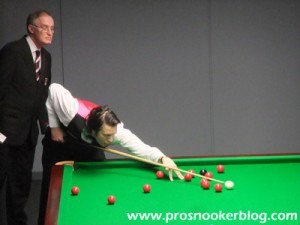 Leo watches Dominic Dale during the 2011 World Championship qualifiers
Leo continued to gain experience at the qualifiers but it was to be his involvement during the 2008 Grand Prix in his native Glasgow which appeared to be the springboard to further involvement during the game's biggest tournaments for Leo as he has since become a regular fixture during the TV stages of events.
2010
Leo refereed his first match at the Crucible Theatre in 2010 as a late substitute for Jan Verhaas on the opening morning as Mark Allen took on Tom Ford on table two. He had already been selected to referee in the competition that year but found his début arrived a little sooner than he had expected due to Jan's problems!
Leo subsequently went on to referee a controversial quarter-final between Ronnie O'Sullivan and Mark Selby which saw the three-time world champion dispute a decision made by Leo, incorrectly judging by the television replays that followed.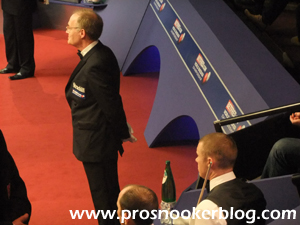 Leo at the 2011 World Championship
2010/11
During the 2010/11 season Leo was again to be selected for many of the season's major tournaments with the eventual result that he was chosen by the WPBSA to officiate his first major final at the 2011 China Open in Beijing, a match eventually won by Judd Trump.
Leo then went on to referee at the Crucible for a second successive season, taking charge of several dramatic matches including the 10-9 victories of Stephen Hendry and Mark Allen during the first round, as well as the quarter-final between eventual winner John Higgins and Ronnie O'Sullivan.
2011/12
In 2011/12 Leo continued to be a prominent figure, most notably being selected to officiate the first semi-final of the 2011 UK Championship final between Judd Trump and Ricky Walden.
He took charge of his second major final, again in China, at the 2012 Haikou World Open final between Mark Allen and Stephen Lee, before he was given the honour of officiating his first World Championship semi-final at the Crucible Theatre, between Ali Carter and Stephen Maguire.
Leo during his 2012 World Championship semi-final
Leo told World Snooker following the first session of the match:
"It was fabulous, absolutely brilliant; going out there in the one table situation is just so different, you've got so much room, it feels that you can really do your job, what a fantastic experience."
"I think for referees as well as the players the Crucible is the ultimate. I've refereed two finals now and a semi-final at the UK, but to be refereeing the semi-final at the Crucible is definitely the one."
"There's nothing to beat it, it's the world championship. The Crucible to snooker is like Wimbledon is to tennis or Hampden back home in Scotland for the national team or Wembley down here for international matches. There really is nothing to beat it."
Major Finals:

| | |
| --- | --- |
| Event | Year |
| China Open | 2011 |
| Haikou World Open | 2012 |
| Welsh Open | 2014 |
| UK Championship | 2012 |