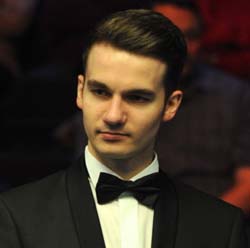 Name: Marcel Eckardt
DOB: 27th October 1989

Birthplace: Gera, Germany
Resides: Berlin, Germany
147's Officiated: 1 Judd Trump (2015 German Masters)

First Pro Match: 2010 EPTC (Bruges)

Career Highlights: Becoming the youngest referee to be promoted to the elite A-band

PSB Interview: Back to the Baize (January 2015)

Career Summary
Germany's Marcel Eckardt became a snooker fan at an early age and quickly worked his way up the refereeing ranks in the amateur game, before officiating at his first professional tournament in Bruges in 2010.
Since then, Marcel has gone on to take charge of matches at both full-ranking events and European Tour events, being promoted to snooker's elite 'A-band' of referees in 2013, joining the likes of Jan Verhaas, Eirian Williams and Brendan Moore, who had helped him to develop as a referee.
In 2014, Marcel took the decision to take a period of time away from snooker, as off the baize he relocated to Berlin to undertake professional studies, but he returned to the circuit in February 2015 at the German Masters, staged in his new home city.
Remarkably, on his return Marcel was to officiate his first maximum break in professional competition, made by Judd Trump during his quarter-final defeat to Mark Selby, while he was also selected to officiate the tournament final between Selby and Shaun Murphy.