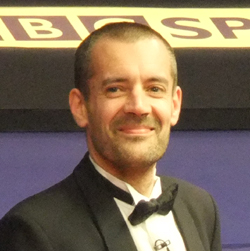 Name: Olivier Marteel
DOB: 10th May 1969

Nationality: Belgian
First Pro Tournament: Masters Qualifiers 2006

147's Officiated: 1

Career Highlights: Officiated Stephen Maguire v Michael Holt at the 2009 UK Championship, made his Crucible debut during the 2010 World Championship
Twitter: @BelgianProRef1
Career Summary
Belgium's leading referee, Olivier Marteel has been a qualified referee since 1994, though it was not until 2006 at the Masters qualifying tournament when he was to make his professional debut.
Since then he has gone on to officiate at the biggest venues in snooker, including the Crucible Theatre where he has taken charge of matches involving the likes of Neil Robertson and Martin Gould.
Olivier also officiated the 2009 European Open final between Tony Drago and Roy Stolk which was eventually won by the former in front of a capacity crowd.