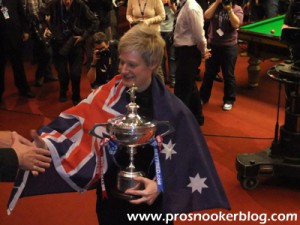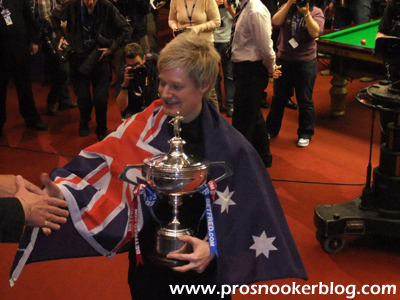 While the Australian Open qualifiers have been ongoing this week, there have been various other snippets of news filtering through concerning this tournament, the World Cup and more…
Australian Open to be televised by Eurosport, Wildcards confirmed
First things first, it was revealed by Eurosport commentator Dave Hendon on Twitter today that all seven days of the Australian Open will be screened live on Eurosport, as well as a highlights package later in the day. It goes without saying that this is good news for all despite the differences in time zones! In addition the Wuxi Classic will also be televised by Eurosport next month.
In other news, the two wildcard players for the tournament have been confirmed as brothers Steve and James Mifsud who will play their matches on the opening day of the competition. The two lowest ranked players from the qualifiers are Matt Selt and David Gilbert, though I am not sure which Mifsud either will face at this stage!
Looking at the various withdrawals from the tournament, it has been rumoured that Marco Fu has opted to miss the event due to his wedding while it is no secret that Brazil's Igor Figueiredo is currently struggling for funds. Steve Davis has specified personal reasons while Anthony Hamilton has a long-standing issue with his neck.
Vatnani's Visa
The final withdrawal was by Lucky Vatnani who as described by the man himself here has unfortunately encountered problems with obtaining a visa which have unfortunately ruined the start of his maiden professional season. Hopefully these will be resolved prior to the PTC2 event in Gloucester.
World Cup – Changes For Brazil, Eurosport to televise

The Brazilian team lining up at the World Cup in Thailand this year will be made up of Fabio Luersen and Noel Rodrigues after Itaro Santos announced his withdrawal from the competition.
The format for the event has also been confirmed now by World Snooker.
UPDATE: It has also been confirmed that Eurosport will televise the event in full.
Maguire/Burnett Case Closed
It has also been announced today that no further action will be taken by World Snooker in relation to the Stephen Maguire/Jamie Burnett saga dating back to their UK Championship match in 2008. This is good news for all concerned I think given the amount of time that has elapsed since the original incident now.