So it was a close final after all! Despite Ryan Day's gutsy comeback though it was to be John Higgins who once again won the Grand Prix, the fourth time he has done so. Click below to read how he did it…
John Higgins 9-7 Ryan Day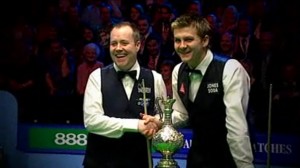 It was a great effort from Ryan Day tonight but in the end he just could not maintain his excellent form when it mattered the most and as so often is the case, John Higgins did exactly what he had to in order to take full advantage.
Resuming at 5-2 down, it appeared to vital for Ryan to make a good start to the evening session but everything seemed to go against him in the opening frame of the session. At one point John played a terrible shot on a red but the white landed in the one place on the table where it was safe, tight up on the blue snookering Ryan on all reds. He did the best that he could but failed to get it safe and left John in to make it 6-2. This shortly became 7-2, though this owed more to Ryan's mistake rather than luck as he missed a frameball red with the rest and allowed John to clear.
Staring down a barrel now, many players in their first BBC final might have crumbled but Ryan Day had no such thoughts as he embarked on a four frame winning streak. Having made it 7-3 to prevent the match being over by the interval, he then took the final frame before the break, clinging on having seen John waste a great chance to go just one away at 8-3.
7-4 it was though and Ryan looked to be getting his stride, taking the first frame after the interval in one visit with a break of 89. It was back to the nervy stuff in frame though and after both had spurned so many opportunities, it was Day who closed to within one frame at 7-6 for the first time since frame three this afternoon.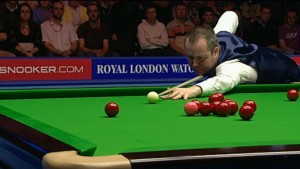 John though showed as he has done many times before that he is mentally tough enough to cope with such an onslaught and capitalised on an error from Day in the next to move just one frame from the match. Again though Day himself was not going to wilt as he thumped in a great long red before making an excellent break of 83 to keep it alive. He was rarely in position but pulled out some great pots, in many ways the story of his match.
And indeed that was to be his undoing in the end as having got in after Higgins had been unlucky when attempting to split the reds, Ryan simply could not keep in good position and though he potted some excellent balls to keep his break going, it was only a matter of time until he missed one. This gave Higgins the chance he needed to sneak in and wrap up a 9-7 win which he did flawlessly.
John fully deserved it today as although he did not perhaps score as heavily as he can do, his superior all-round game meant that he just had too much for Ryan. Now up to 19 ranking event titles, tying Stephen Hendry on four Grand Prix crowns, Higgins continues to show why he is regarded by many, including myself as one of the all-time greats in the game. In addition it is a much needed boost for his ranking which provisionally wasn't looking too good after his poor season last year, but now he is back up to number six and well positioned to move even higher.
Ryan meanwhile just didn't play great today for whatever reason. All week he has been the form player of the tournament but it just didn't happen today unfortunately. That being said, the fact that he didn't play at his best and came back from 7-2 down to make it 7-6 says a lot about his character and surely it is only a matter of time before he takes a title now. His break building is absolutely superb generally, he just needs improve the tactical side of his game and he will be a contender for every event he enters this season. Now up to third in the provisional rankings, it will be interesting to see if he can keep it up.
Check back tomorrow for my rankings watch feature to see how the week has affected everyone else.
John Higgins 9-7 Ryan Day
First Session: 77-39, 86(85)-47, 24-89(64), 90(57)-0, 73(52)-1, 4-119(37,82), 69(65)-21
Second Session: 79(62)-4, 63(41)-52(52), 8-69(69), 65(49)-74(47,27c), 0-89(89), 46(36)-61(39), 81(50)-11, 0-83(83), 74(53)-36