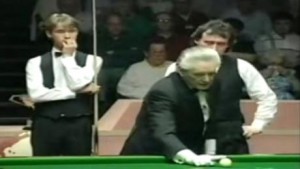 Sad news to report today (6th Jan) as former elite referee John Street passes away aged 77. Click below to read more, including some of the tributes left by those who knew him…
The news was broken by current referee Eirian Williams who on his forum had this to say:
"Sadly I have to announce the death of a good friend and a great Referee, John Street. John had been unwell for quite some time and had been hospitalised for the last few weeks. Amongst many others, John Refereed five World Championship and several Masters finals. I learned a lot from him. My deep condolences go out to his wife Jean and their daughters.
Rest in Peace John."
From a personal point of view I don't have too many specific memories of him as a referee, I'm just a bit too young unfortunately, but I remember him being around and my favourite incident is the one above where he enlists the help of Stephen Hendry and Jimmy White during their 1992 World final.
If any readers have any memories or stories that they wish to share, please feel free to leave a comment below.