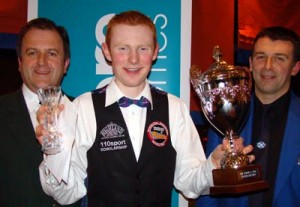 As the Welsh Open this week sees the stars of today battle it out for a major title, it is easy to forget that there are a number of talented young players currently plying their trade away from the main tour who could just be the stars of tomorrow. Here I take a look at just a few of the most promising prospects in the game…
Michael White (Wales)
Like current professional Daniel Wells, 17-year old Michael White is another young player who hails from the town of Neath in South Wales and if his junior record is anything to go by, he could go far in the game.
Credited as the youngest player ever to have made a century break (aged just 9), Michael was clearly a fine prospect from an early age. Nationally he is a champion at under-14, under-18 and under-21 level, as well as a runner-up at senior level and what is most impressive is his age  when winning these events. In 2003 when he took under-14 and under-18 glory he was just 12 years old and it was just two years later when he completed the set with under-21 and second place in the senior event.
More was to come on the international stage however as he became the youngest ever winner of the IBSF World Grand Prix in 2006, again aged just 14 which unfortunately meant that he was too young to join the main professional tour as there is a requirement that players must be aged 16 or over to compete at the highest level.
Indeed this was to be an even greater issue when he did graduate to the main tour a year later and he was forced to miss the qualifiers for the season opening Shanghai Masters tournament because they fell just days before his 16th birthday. Whether this affected him mentally for the rest of the season only he knows but he only managed to win four matches and lost his professional place at the end of the year. The season will have been a great experience for him though and I when he does return to the main tour he will know exactly what he has to do and no doubt be all the stronger for it.
When that will be remains to be seen as barring an appearance in the final of event three of the current PIOS season, he is down in only 21st place in the rankings and will have to do well if he is to finish in the all-important top eight and qualify via that route.
He is however looking strong at national level, winning both senior ranking events, under-19 and under-21 events. Whether he can top the national rankings or manage to qualify for the tour via another route, I suspect that it won't be much longer before he is back on the tour somehow and once he is, I expect him to stay there.
Anthony McGill (Scotland)
If ever there was an impossible task in snooker then it would probably be to successfully follow in the footsteps of Scottish legends like Stephen Hendry and John Higgins, but the youngster who looks best placed to do so is 18-year-old Anthony McGill.
Like another Scot Alan McManus, McGill hails from Glasgow and has enjoyed a successful junior career. He made his first century break aged just 10 since then he has gone on to make two 147 breaks in practice as well as a high break of 142 in competitive action and is more than capable of scoring consistently as consecutive breaks of125, 101, 56 & 127 in a tournament show.
His junior achievements so far include having represented Scottish junior teams at both under-14 and under-16 levels as well as becoming the youngest Scotsman to represent his country at the 2002 Nation's Cup. Since then he has become national champion once at under-14 level, three times and under-16 level and twice at under-19 level, as well as being the number one ranked player at the latter for the past two seasons.
Furthermore in 2006 he reached the final of the presitgious Junior Pot Black tournament at the Crucible before in 2008 he reached his biggest final yet, the European under-19's Championship before losing out 6-2 to Stephen Craigie. Despite this setback, he did play superbly well throughout the event, losing just two frames from the 23 he played in the group stages and making four century breaks including an excellent 140 throughout the course of the event.
Since then he has been competing largely in the PIOS as he seeks to make the step up to the main tour and with three events left he is well placed at 10th in the rankings, needing to finish in the top eight if he is to earn promotion via that route. Whatever happens, it appears increasingly likely that it is a case of when and not if he secures his professional status.
Sam Craigie (England)
You can be forgiven for thinking that you recognise the name, yes Sam is the younger brother of current main tour professional Stephen Craigie and all the signs are that he could be just as good, if not better than his older sibling.
England's national under-17 captain, Sam is currently rising through the junior ranks and is already showing a lot of promise, recently winning the third event of the EASB Premier Junior Tour competition, defeating the highly rated top seed Laim Highfield in the final.
His previous honours also include victory in the 2008 English under-16 Championship in Sheffield aged just 14 and becoming the youngest player to win a national under-21 tour event after taking the third event of the National Under-21 Premier Junior Tour in Stockport last year. He also played a significant role in captaining the England under-17 junior team to victory in both the Home Internationals and the International Challenge Cup, again aged just 14. Most impressively he managed to win all of his matches in the competition and take the high break prize with an impressive 74.
How good he will be remains to be see but he has impressed enough people to be offered a scholarship with top management group 110sport which also comes with expert tuition from former World Champion Terry Griffiths which can only help his game. It will be a few years yet before we see Sam on the professional tour, due to the age restriction if nothing else, but there are certainly encouraging signs at the moment.
Others?
While I have selected these three players for special praise there are many others too who I have not had the time to mention. The likes of Jack Lisowski, Michal Zielinski, Adam Duffy, Liam Highfield, Stuart Carrington, Robbie Williams and many more are talented young players and who knows, might make it onto the tour over the course of the next few seasons.
Any other suggestions of young players to watch out for over the next few seasons?