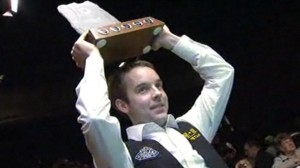 He's done it, with a sensational performance this evening Ali Carter has at last broken through and won his first ranking event title with a 9-5 win over Joe Swail, click below to read how he did it…
Allister Carter 9-5 Joe Swail
First Session: 9-81(40), 90(89)-0, 55(41)-44, 10-103(43,60), 16-83(49), 49-63(43), 18-66(40), 78(54)-0,
Second Session: 120(116) – 0, 141(109)-0, 72(61)-1, 91(91)-16, 73(67)-0, 65-54
Coming into the evening at 5-3 down it was anybody's game, Swail having played the better in the afternoon, but Carter probably having played the better during the rest of the week. Tonight though there was only one man in it as a terrific performance from Carter kept Joe frozen out of the action.
Indeed you got the feeling that it was not to be Joe's night from the start of the session as having fluked a red into the right centre, he could only watch as the white headed towards the opposite pocket. That was to be his last shot in the frame and with breaks of 116 and 109, Ali was level in no time. Compared to this afternoon Ali just looked so focused and his confidence was growing with every shot. Two more frames soon followed and without having done a great deal wrong, Joe was now looking at a 7-5 deficit at the interval.
Though he never gave up, Joe just had no answer for Ali's form and it was only really at 8-5 down that he had a real chance to win the frame and get one back. In the end though despite a miscue from Carter when in, he managed to clear the table and secure a well-deserved victory.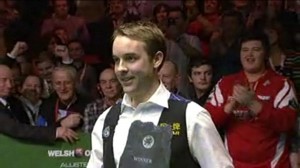 Ali has been knocking on the door for a while now, indeed he had reached three ranking-event semi-finals prior to this week, more than anybody else so you cannot say that this victory had not been coming. Now though he is top of the one-year rankings and deservedly so, other players may have won titles but none have coming close to matching Ali for consistency really. Whether he has what it takes to go on and go one better than last year at the Crucible remains to be seen but he has to be in with a real shout now…
For Joe it will be a disappointment I am sure but I can't help feeling that he will just be happy to have reached the final, something that not too many people would have predicted at the start of the week! As it is though he has all but secured his top 32 status for another season and with the semi-final jinx finally ended, perhaps he can keep up his form and go on to have a strong finish to the season. There was not a lot he did wrong tonight, Ali was simply too good this time.