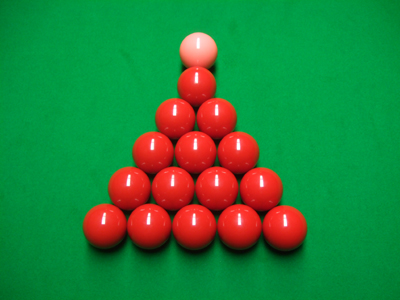 Having handed out virtual awards this time last year to snooker's finest, it only seemed fair to do it again this time around and so I bring you the 2009 Pro Snooker Awards as chosen by myself…
To view the 2008 awards, please click here and here.
Player of the Year: John Higgins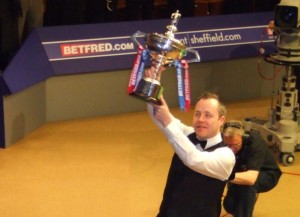 With two semi-finals, two finals and let's not forget a third World Championship title to show for his 2009 ranking campaign, as well as a huge lead at the top of the latest provisional rankings, it is hard to argue that John Higgins has not been the best player of the year.
Described by Shaun Murphy as having the strongest tactical game of anyone he has ever played before, John made the difficult task of producing his finest snooker under the most intense pressure look easy this season as he appeared to be the common link in all of the top matches of 2009.
This began at the Masters when he overcame Ding Junhui in a high-quality match to reach the semi-finals, before what for me was one of the matches of the year at the World Championship in Sheffield against Jamie Cope. At 12-10 down and struggling to hang on to his young opponent, Higgins looked set for a second consecutive last 16 exit at the Crucible but with breaks of 96 and 80, he managed to turn it around and emerge a 13-12 winner. His victory was made all the more dramatic by problems in the crowd which saw not one but two spectators in the arena require medical treatment. On both occasions the players had to return to their dressing rooms but John showed no ill effects as he booked his last eight place..
Having come through that John could have been forgiven for thinking that his next match could not have been any harder for him but with 2007 finalist Mark Selby in fine form, it was not to be. In fact Selby was to produce arguably the best performance from a loser in any snooker match that I have seen, making five centuries before he too lost out to Higgins in a decider. Shutting Mark out entirely with a break of 75, John again showed that when it really matters, he can be trusted to deliver more than most.
His subsequent victories over Mark Allen and Shaun Murphy were to seal a third world title but the drama was not to end there as defending his Grand Prix title in Aberdeen he was drawn against world number one Ronnie O'Sullivan in the last 16. Although the match was not quite a classic, it was compelling viewing all the same and went all the way to a deciding frame which was again won by Higgins, this time with a break of 94.
Moving into the semi-finals John looked a safe bet for the title but Australia's Neil Robertson had other ideas as the two played out a simply stunning match, the best over a 'short' format that I have seen in many a year. Although John eventually lost out in the deciding frame on the final black, again he had been at the heart of the drama and had put on a performance that would have beaten any other player that day.
There was still time for one more thriller too as he came up against O'Sullivan once again during the semi-finals of the year-ending UK Championship. Storming into an 8-2 lead it looked like victory would be only a matter of time but almost unbelievably, Ronnie was able to find his form and take six frames on the spin to draw level at 8-8. At this stage John looked like he was seriously struggling and when Ronnie missed a pink to give him a chance to take the match, it was hard to imagine him putting the last couple of hours out of his mind and managing to get over the line. John though is an all-time great and though he could not win it in one-visit, he did enough to eventually move through into yet another major final.
While he could not do enough to defeat Ding Junhui to claim another UK title, John had done more than enough to confirm his status as the year's best player in my eyes…
Young Player of the Year: Ding Junhui
For me a straight battle between China's top two players, 22-year-old Ding Junhui has done just enough to get my vote over the ever-improving Liang Wenbo in this category.
Coming into the World Championship Ding was in crisis having lost in the last 32 of his home event to countryman Xiao Guodong and needing to defeat Liang in the opening round at the Crucible to retain his place in the elite top 16. Having done little of note for a couple of years, some were even starting to write Ding off.
At 8-7 down the doubts were beginning to intensify, Ding looked down in the dumps and Liang seemingly could not miss. At this point however something changed and as Ding capitalised on an error from Liang with breaks of 111, 91 and 63 to come through a 10-7 winner, I remember wondering whether this could be a turning point for him.
Though he lost out to Stephen Hendry in the next round, just as in 2008, his attitude this time was much improved and he began 2009/10 with a strong run to the quarter-finals of the Shanghai Masters before going all the way to the final of the Grand Prix in Aberdeen. Though he could not take home the title on that occasion, he made no mistake in Telford as he defeated John Higgins to win the UK Championship for the second time and move himself up to number six in the provisional rankings.
Now with so much more experience than when he first broke through, it appears as though the real Ding is back…
Surprise of the Year: Peter Ebdon wins China Open
There are a number of credible candidates for this award, for example Joe Swail coming through to reach his first ever ranking event final in Wales, Stuart Pettman reaching his first ever semi-final in the China Open and Peter Lines reaching the quarter-finals of the UK Championship to name just a few.
For me however the biggest surprise was the victory of Peter Ebdon in Beijing because before that tournament he had displayed absolutely no form whatsoever and looked certain to lose his place among the top 16 at the end of the season. With victories over the likes of Stephen Hendry and finally John Higgins however, he showed that when he gets on a roll he still has the experience and determination to cause anyone a problem.
Comeback of the Year: Mark Selby 9-8 Jamie Cope
Admittedly with the advantage of being fresh in the memory, Mark Selby's comeback from 8-4 down to defeat Jamie Cope at the recent UK Championship was a stunning performance, particularly given his poor results heading into the event. Having suffered last 32 exits in both of the previous two events, a third would have left Mark outside of the top 16 provisionally and woefully short of both confidence and match practice heading into 2010.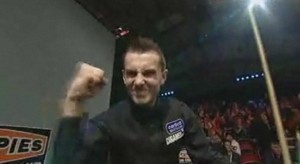 Staring down the barrel at 8-4 down however, Mark's response was to produce breaks of 115, 101, 73, 67, 57, 43, turning the tables completely and no doubt leaving Jamie wondering what he has to do to see off the top players on the biggest stage!
Other candidates for this award include Ronnie O'Sullivan's fightback against John Higgins in the same tournament, as well as the efforts of Neil Robertson and Mark Allen during their World Championship semi-finals back in April. As all three of these events ended in failure however, I cannot give them the award. Stephen Lee is another who is in contention following his World Championship victory over Judd Trump from 6-2 behind, while Stephen Hendry performed well to beat Marcus Campbell from 4-0 down in the Shanghai Masters, but for me it is Selby who takes the honours here…
Qualifying Win of the Year: Matt Selt 5-3 Fergal O'Brien
A harder category for me to judge than most given that aside from the World Championship qualifiers I have not been able to watch these myself, my choice based on what I have seen on paper at least is Matt Selt's Grand Prix victory against Fergal O'Brien.
Why? I think that the scorecard tells the story:
Fergal O'Brien 3-5 Matthew Selt
8-88(84), 87(87)-0, 113(113)-8, 93(93)-0, 25-92(88), 28-88(54), 21-118(81), 0-117(81)
To see a break of over 50 in all eight frames, including seven over 80, is exceptional and Fergal must have come away from the table wondering what he has to do to buy a win this season!
Other candidates that spring to mind in this category are again Stephen Lee's fightback against Judd Trump in Sheffield, Andy Hicks' great effort to see off Jimmy White in the same event and also Graeme Dott's fightback against Jimmy Robertson while struggling with a new cue.
Ultimately though it is Selt who gets my vote as he continues to climb up the rankings…
Break of the Year: Stephen Lee's 59 against Judd Trump
A controversial choice perhaps as there can't have been more than about 50 people who saw this break, but as one of the lucky few to be present at the English Institute for Sport in Sheffield I can honestly say that Stephen Lee's match-winning break against Judd Trump was probably the best that I have ever seen at a live snooker event.
You can read my account of it here.
Elsewhere there has been no shortage of candidates with Stephen Hendry's 147 at the Crucible showing that he still has the bottle required while John Higgins produced a terrific clearance during the early stages of his UK Championship final with Ding Junhui recently.
Shot of the Year: Mark Selby's brown at the Masters
Having seen thousands of shots played this season it is not always easy to remember the individual moments of brilliance that stand out, but strangely enough my choice for shot of the year is from its first major, the Wembley Masters.
At 3-1 down and faced with an awkward brown, Mark Selby managed to draw on his experience from pool to play a terrific shot cushion first to pot the brown and finish nicely on the blue. Under pressure this was top class and kept him right in the match when he could easily have been cut adrift…
Most Disappointing Player of the Year: Mark Selby
And yet despite that brown it is Mark who receives my vote for the most disappointing player of 2009 as he failed to repeat his success of 2007/8 and could not reach a ranking event semi-final, let alone add further silverware to his collection.
Quite why Mark has not been able to hit the heights of previous campaigns is hard to say. On some occasions he has simply come up against an opponent in inspired form, for example John Higgins at the World Championship, while at the Welsh Open and UK Championship he was understandably distracted having been served with a writ in the arena in Newport and then had his car stolen prior to his defeat to Ronnie O'Sullivan in Telford! Against Ken Doherty at the UK Championship it was apparent to me that Mark was suffering from the lack of tournaments at the moment as he looked very rusty, though this of course applies to many players on the professional circuit.
I have no doubt that Mark will be back at the sharp end of tournaments soon but 2009 has been a year to forget for the Jester from Leicester…
Part Two will follow over the next couple of days…