Yesterday I was down in Gloucester for day two of the EPTC4 at the Southwest Snooker Academy as Stephen Hendry, Matthew Stevens, Ryan Day and Stephen Maguire were all in action. Click below for a round-up of the day and some thoughts on the venue…
Strolling up to the Academy at around 12:30pm I was hoping to spot a familiar face to point me in the right direction and immediately heard the unmistakable voice of Janie Watkins who was outside with Kevin from The Snooker Forum and Matthew Stevens who had already beaten Martin O'Donnell 4-1 in one of the early matches. Having met Matthew (I have seen him a few times before as a young autograph hunter at the Crucible but not properly), we headed inside to catch up with the scores and I bumped into another Welshman, PTC6 winner Dominic Dale who was about to tackle Ryan Day out in the main arena.
Unfortunately for Dom, he was feeling somewhat under the weather following what must have been a dodgy meal the previous night and quickly fell 3-0 behind. I also probably hadn't helped his cause by telling him about a minute before he went on that female tennis player and favourite of Dom's Elena Dementieva had retired from the sport but that's another matter!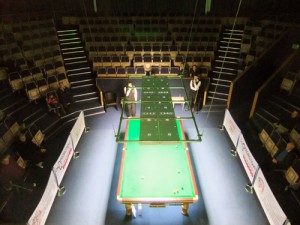 Dale v Day from the Players Lounge
As it turned out, Dom did start to play better as the match went on and took two frames to trail by just three frames to two, but eventually a relieved Day managed to finish him off and record his first win since the third PTC event of the season. In danger of falling out of the top 32 by the end of the season given his recent run of defeats, it was good to see Ryan back winning again and he then backed it up with another win over Barry Hawkins in the next round. Eventually though he was defeated by China's Liu Chuang who is on an impressive run having defeat Andrew Higginson in the previous round and now Shaun Murphy on Sunday morning to reach the last eight.
Having watched some of the Day/Dale match from up in the player's lounge I headed downstairs to have a look at the set-up downstairs and the matches in progress. On the far right table was a real grind between Stephen Maguire and veteran Tony Knowles, the former UK Champion Maguire eventually coming through a 4-2 winner. It was an interesting day for Stephen as in his second match against Marco Fu he fell 3-0 down before  apparently making a string of big breaks to come back and win 4-3. I was also told by Academy owner Paul Mount that at one stage he was on a break of around 80 having taken an extra red as a free ball early on before breaking down.
Andrew Higginson
Having checked out a few of the other matches I had a chat with Andrew Higginson who I had previously met at the Paul Hunter Open in Leeds as well as sampling one of the impressive curries on offer upstairs in the Players Lounge. I will talk about the venue in more depth later on but the on-site canteen is one of the many nice touches which makes the SWSA such an excellent facility.
I then popped down to watch the match between Stephen Hendry and Joe Perry on the main arena, two players struggling for form at the moment and in need of a good run to get some points on the board. Early on it was Joe who was the stronger player, moving into a 3-1 lead despite a very nice break from Hendry in frame two. Stephen then managed to make the most of a couple of opportunities to level with a couple of solid breaks before Joe took the match in a decider. What was most apparent to me is that while Hendry looked almost as good as ever when Joe left him in amongst the balls, he could not manage to create any opportunities for himself with a good long red for example. Invariably he would miss these and hand Joe a good opportunity to score. It was also noticeable that Hendry's break-off shots were poor as he seemed to leave a red to the left-centre pocket every time.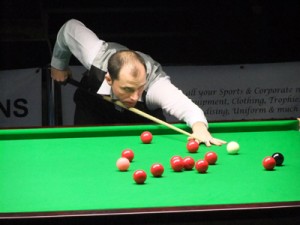 Joe Perry on his way to a 4-3 win over Hendry
A good result and a pretty solid performance from Joe though, he took advantage by winning his second round match for good measure before falling to Maguire late on.
Heading back up to the player's lounge the main focus turned to the attempts of Ryan and Matthew to get a stream up of the Manchester United v Tottenham football match up on a laptop but unfortunately they were to prove unsuccessful! Matthew was then called to play his third round match against Ken Doherty (a late winner against Daniel Wells earlier on in the day), in what was to be by all accounts a match of decent quality. Unfortunately for Matthew although he was able to take frame five having one one stage only been in a position to tie, he could not prevent Ken from taking the next frame with a strong break to secure the win.
Otherwise much of my day was spent talking to people and chatting about things such as this blog, tournaments, rankings and so on so unfortunately I cannot comment on as many matches as I had anticipated! Still though I enjoyed the day thoroughly and catching up with people such as referee Andy Yates who I have been emailing for a couple of years as well as colleague Greg Coniglio. I was also given a reprimand from Janie for tweeting photos of an empty media room when we were all upstairs stuffing our faces in the players lounge. Guilty as charged.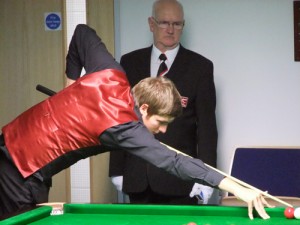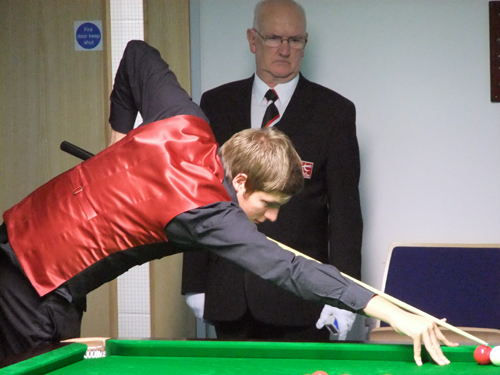 Daniel Wells, a deciding frame loser against Doherty
It was also very interesting to talk to the players such as Andrew Higginson, Mark Davis, Ben Woollaston, Matt Couch and so on, all of whom said some very nice things about the site which is massively appreciated. It was quite apparent to me that amongst both fans and players at the moment, people are at the moment struggling to find the very latest results from the PTC events in a clear format and this is something that I will take on board for the future. My approach has very much been to comment on the notable scores from the day in the knowledge that people can find the scores easily elsewhere on other sites, but in the future I will attempt to put the day's results up here too.
Moving onto another subject, who would be a snooker parent? In the evening I managed to catch up with Ben Woollaston and his mother who I had previously met at the Paul Hunter English Open over in Leeds last year. During his match with Leo Fernandez and also his following match with Matt Couch, Ben's mother understandably found it too much to bear and was following the livescores from the monitor on reception. Thankfully from their point of view Ben managed to get over the line in that match before defeating Matt Couch later on to qualify for Sunday's last 16. If you are reading I hope that you managed to get a room sorted out!
Another parent also being put through the mill was Gerard Greene's dad who I had met at the EISS back in March when Gerard found himself up against Rory McLeod in what was a real battle which went all the way to the end. Yesterday they met again and as in Sheffield it was Gerard who took the win to move into the last 16. I have sat through matches with players parents before and I can have nothing but sympathy for them because it must be such a nerve-wracking few hours. I am almost as bad with some of my favourite players who I'm not related to!
The Southwest Snooker Academy
I also couldn't let this report conclude without a word of thanks for Janie, Paul and Sarah who again made me feel extremely welcome at what is a first-rate venue. When other events are staged at the Academy in the future I would urge anyone in the area (or not, I'm not after all), to make the trip because aside from the top class snooker on offer, the efforts of everyone behind the project and the fine attention to detail means that the venue deserves success.
In fact what really sets the venue apart for me is not the fact that it has several tournament standard tables or anything like that, but instead the fact that it has been built specifically for snooker as opposed to being a venue where snooker just happens to be played. Owner Paul Mount is a long-time snooker enthusiast and the venue is filled with lots of little touches that you just wouldn't find at other places. For example the aforementioned canteen in the player's lounge means that they players don't have to drive somewhere for a meal between matches and also the ability to look down upon the main arena from there is also a nice move. Paul was also telling me about the work involved to ensure that the humidity levels in each room are just right to ensure that the tables are in an ideal condition for play, as well as on the technical side how the internet should have no trouble keeping the livescores up to date.
What I like most though is the fact that all over the venue there are photos of On-Q Promotions players, of events staged at the Academy and the speed at which these are updated. The Tony Drago v Jimmy White exhibition staged to mark the opening of the main arena took place just a couple of weeks ago and already photos from that event are up on the walls and on the television in reception. On the face of it you might think "so what?" but to me it is indicative of the attention to detail and the desire to raise the bar and be more than just a gymnasium with a snooker table in it.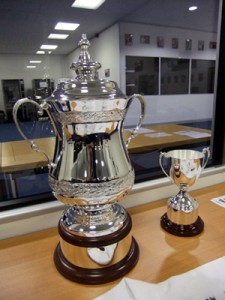 Trophies!
Due to the short notice and the late switch of venue to the SWSA the organisers were unfortunately given little time to promote the event and it has to be said that the crowd levels yesterday were not the greatest with just a handful of people present in the main arena as you will note from my photos. I am told however that ticket sales for today are well up on yesterday and as Janie pointed out, those there appear to be choosing to sit and watch in the pods so they can watch four matches at once if they wish, rather than staying in the arena. I'm sure that with more time to promote future events then the crowd levels will rise though.
So to conclude, it was a very enjoyable day and another excellent showcase for a venue that is going to be hosting a lot more snooker in the future.