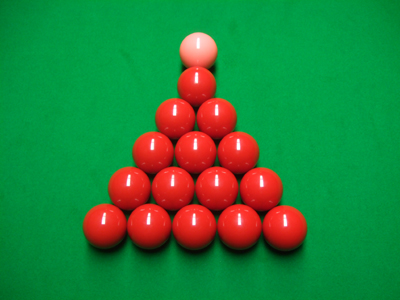 It is the end of another year and that can only mean one thing. Yes, it's the 2010 Pro Snooker Awards and part one poses me with some some difficult choices, particularly in the comeback of the year category…

To view the 2008 awards, please click here and here.
To view the 2009 awards, please click here and here.
Player of the Year: Neil Robertson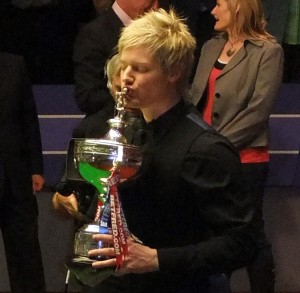 Having discussed the candidates for this award on my recent post there is not a great amount to add here other than that I agree fully with the 47.66% of you who voted for Neil Robertson as your player of 2010.
With two ranking event titles including the all-important Betfred.com World Championship as well as making his first competitive break of 147, 2010 was all about the Melbourne Machine as he established himself as one of the most formidable players in the game at the moment.
Although he has not managed to end the year as world number one following the victory of John Higgins at the recent UK Championship tournament, there is every chance that he will do so at the end of the season though he does have a significant amount of points to defend.
Other contenders here were the likes of Higgins, Mark Williams and Mark Selby but for me it is quite an easy decision in truth.
Young Player of the Year: Thanawat Thirapongpaiboon
While last season there was an obvious candidate for this award in UK Champion Ding Junhui, this year there is no such standout with the youngest ranking event winner of 2010 being the 28 year old Robertson. Indeed looking at the rankings there are few players ranked under 25 in the top 50  so candidates are quite thin on the ground!
As a result I am going to be a little bit unorthodox with my selection and go for the young Thai starlet with a name that would serve you well on Scrabble, Thanawat Thirapongpaiboon.
Whilst being far from being  household name, the 2010 Asian Championship semi-finalist has quietly had an impressive debut season on the professional circuit. He raised raised eyebrows in qualifying for the Shanghai Masters as he downed Justin Astley, Mark Joyce and Nigel Bond to reach the final qualifying round before losing out to Mark Davis in a deciding frame. Following that he went one better in the German Masters qualifiers as he defeated Patrick Wallace, Alfie Burden and Barry Hawkins to qualify for his first venue, losing just three frames along the way.
Finally, Thirapongpaiboon also became the youngest player to make a competitive maximum break earlier this season at the age of just 16 years and 312 days, easily smashing the record previously held by Scotland's Stephen Maguire.
A special mention for Judd Trump in this category who captured a PTC event this year as he continues his rise up the rankings, whilst Jamie Jones, Anthony McGill and Jack Lisowski all shone and will continue to do so in 2011 I am sure. 'Mighty Mouse' Zhang Anda too also cannot go without mention having qualified for the Crucible in such brilliant fashion and come so close to causing a sensational upset in the first round against Stephen Hendry.
Surprise of the Year: Davis Defeats Higgins at the Crucible
The obvious choice it may be, but it is the obvious choice for a reason as I am sure that very few people honestly saw Steve Davis rolling back the years and producing a performance like he did to knock out the defending champion and world number one in waiting at this year's World Championship.
Do it he did though and you can read my description of that match over on my previous 'Best Match' post.
Other candidates? Michael Holt coming from nowhere to win this season's final EPTC event was certainly a shock, as was the run of Jamie Burnett to the final of the Shanghai Masters back in September. Not many people would have expected Mark Joyce to reach the quarter-finals of the UK Championship recently with a win over Ali Carter along the way.
Comeback of the Year: John Higgins 10-9 Mark Williams
Have we ever had a year where we have been as spoilt for choice in this category as in 2010. In almost any other year the efforts of Neil Robertson against Martin Gould at the Crucible and Mark Selby against Ronnie O'Sullivan in the Masters would be the clear options here, but not so in my list.
Yes instead I have opted for the recent Higgins v Williams clash as John came back from 9-5 down and having needed a snooker in frame 17 to clinch an emotional 10-9 victory against his old rival.
Read how that match unfolded as described on Twitter.
Qualifying Win of the Year: Zhang Anda 10-9 Ricky Walden
Never an easy category to call having seen few of the qualifiers staged this season, I have therefore gone with one of the matches that I did see, Zhang Anda's stunning victory against Ricky Walden in the final qualifying round of this year's World Championship.
As described on this blog at the time:
At this point it was clear that the match to watch was that between Ricky Walden and Anda Zhang as surprisingly to me at least, Zhang had brought himself level at 5-5 and then 6-6 before going 7-6 up following frame thirteen.
Then came what looked like it might be a pivotal moment as having been placed in a horrible snooker behind the brown following an excellent shot from Zhang, Ricky unbelievably managed to fluke one and win the frame in one visit with a 62 break. The gasps from the crowd which included a shocked Ken Doherty as the red dropped in said all that needed to be said!
Not knowing too much of young Zhang I again expected him to wilt a little at this stage, understandably so having now lost two big frames to flukes from Ricky. What happened in the next frame however convinced me that he was not going to give this match away as although he needed a couple of chances to do so, he re-took the lead once again and demonstrated no signs of frustration given the events of the last frame.
Despite an in-off when on an initial break of 44, Ricky managed to bring himself level at 8-8 and at the time I remember another spectator at the back saying to me that Ricky would surely go on to finish him off now. As I replied to him though, every time I had said that already during the match, Zhang had come back brilliantly so it was impossible to predict.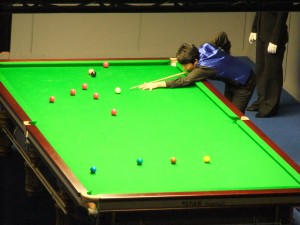 And how right that judgement was as what followed was quite simply an absolutely stunning couple of frames from the man nicknamed the Mighty Mouse. With the match reduced to in effect the best of three frames, Anda came to the table and produced a simply flawless total clearance of 134 to go back into the lead 9-8, a brilliant effort given the circumstances.
Given how the match had gone it looked like it was destined to come down to a decider and with Ricky in on 32 this seemed to be even more likely. Having run out of position, Ricky was soon back to the table and faced with a relatively straightforward red to the right-centre following a missed effort from distance from Zhang. Surprisingly however, Ricky was to miss and hand his opponent a chance to win the match. What followed was a hugely impressive break as while the balls were not especially awkward (barring one or two reds), given the occasion and the prize on offer, he remained incredibly composed, in control and like he had experience way beyond his years. He duly cleared the table with a stunning break of 103 to ensure that he would become the only player to qualify for the Crucible having started his campaign in the very first round.
As those of you who were following my updates on Twitter will have gathered, I was blown away by that performance. I have seen a fair few players over the last six years and to be honest I have not seen anything so impressive from a relative newcomer since I was there at the Crucible for Mark Allen's debut against Ken Doherty in 2007. One to watch.
As it would transpire, Zhang was to follow on from this result at the Crucible and give Stephen Hendry a real scare before going down 10-9, but his form since that tournament has been fairly unremarkable. He remains young though and with a temperament like he showed in that cubicle, should shine again.
Break of the Year: Graeme Dott's 47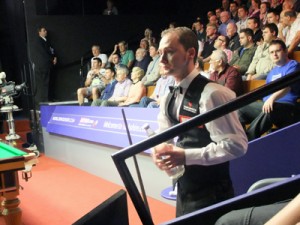 Yes you did read that right, 47 and not 147, although in many ways Ronnie O'Sullivan's 147 at the World Open will be the break of the year, given its unique conclusion.
But for me the break that stands out in my mind was the incredible run of 47 from Graeme Dott against Mark Selby at the Crucible during their semi-final clash this year. Even without taking into account the context as Graeme had just seen his 14-10 lead eroded to 14-13 with one frame to follow before the final mid-session interval, it was a break in which every shot appeared to be harder than the last, but pot after pot they went in and paved the way for what would be a crucial frame in the context of this match.
Shot of the Year: Mark Selby's red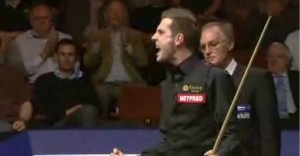 From the same match strangely enough, my shot of 2010 was a long red played from Mark Selby during frame 25 while the cue ball was positioned directly under the green which was on its spot.
Although the red was relatively closed to the pocket, to knock it in whilst hampered and get position on the black stuck out in my mind and is enough to give Mark this award for the second consecutive year.
Most Disappointing Player of the Year: Stephen Hendry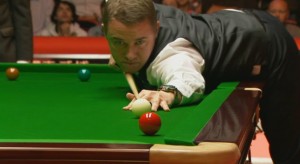 Whilst it gives me no pleasure to say it, for me the most disappointing player of 2010 has been Stephen Hendry as the game's greatest ever player continued his gradual decline with just one quarter-final to show from what has been a year to forget.
The issue of what is wrong with Stephen's game at the moment is probably one of the most-discussed topics on the various snooker forums on the internet at the moment and it is a subject which I am sure will continue to cause a fair bit of debate into 2011. Hopefully though he will be able to restore some of that lost confidence and remind everyone just how good he can be. With his ranking on the slide he will have to if he is to remain inside the top 16.
Other players to have struggled this year include Ryan Day, although the former world number 6 has started to look much better of late and I think is probably through the worst now. Liang Wenbo I feel has also been quite disappointing, particularly having moved up into the top 16 briefly at the end of last season.
Part Two will follow over the next couple of days…