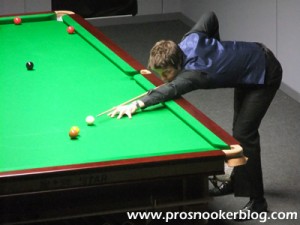 Today saw day one of the PTC finals event over in Ireland as the first four matches of the competition were played out away from the TV cameras. Click below for the day's results…
PTC Finals: Day One Results
Mark Davis 4-0 Joe Jogia
Matthew Stevens 4-2 Gerard Greene
Michael Holt 4-1 Marco Fu
Anthony Hamilton 4-2 Tom Ford
Ricky Walden 4-1 Liang Wenbo
Recovering well from his demoralising defeat at the final qualifying round for the World Championship last Saturday was Nottingham's Michael Holt who defeated Marco Fu 4-1 to book his place in the last 16. A good response from the Hitman, this in all likelihood makes sure of his position inside the top 48 at the end of the season and sees him through to a tie with Barry Pinches.
Also bouncing back in style were Mark Davis and Anthony Hamilton, both losers at the weekend but winners today with victories over Joe Jogia and Tom Ford. The most notable outcome from these matches in terms of the rankings is that Joe's defeat ends his hopes of pipping Stoke's Dave Harold in the race for a top 48 spot at the end of the season.
Finally, Matthew Stevens picked up where he left off against Fergal O'Brien on Sunday with a good win against Gerard Greene to consolidate his position inside the top 16 of the projected seedings. Next up for him will be a match with countryman Dominic Dale.