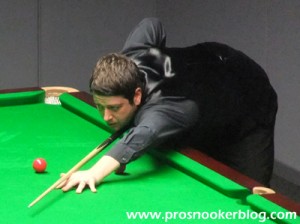 Welshman Matthew Stevens today became the final man to book his place in the winners group of this season's Championship League with a 3-0 victory against Liang Wenbo. And what a winners group it is going to be…
With the competition resuming this week for its seventh and final group, the standard remained high with six of the seven players involved having been involved in last week's PTC finals.
One of the men involved on the final day was semi-finalist Matthew Stevens and despite something a difficult commute from Dublin, it was he who came through knockout ties with Stephen Lee and then Liang Wenbo to progress to tomorrow's winners group. I did not see any of the matches from the group but with five century breaks including a group high of 134, it is easy to see why Stevens came out on top. That said, Marco Fu also scored five tons and failed to make the top four so clearly there was more to it than his scoring!
To read Matt's quotes from the event, please click here to visit the tournament's official website.
While he fell at the final hurdle, it is good to see Liang Wenbo winning matches again as he signed off what has been a nightmare season for him on a positive note. Down in 54th place on the one-year list with his points from the 2009 Shanghai Masters final soon to be removed from his two-year total, winning matches is something that Liang will have to do a lot of next season if he is to avoid a dramatic fall down the rankings…
Perhaps unsurprisingly given his run to the Dublin final on Sunday night, Martin Gould was not at the peak of his powers during this competition, finishing bottom with just two frames won.
So a look ahead to tomorrow's winners group and a reminder of who will be involved:
Mark Selby
Mark Williams
Shaun Murphy
Ali Carter
Ryan Day
Mark Allen
Matthew Stevens
Pick a winner from that lot! For the latest, Matchroom Sport's Twitter feed is probably a decent bet, as is the WWW Snooker website.