Somewhat belated following the climax of the 2011 World Championship, click below to read my final rankings round-up from the 2010/11 season as I look at the movers and shakers following the end of season revision…
The Top 16
IN
It will come as no surprise to you all that Judd Trump is now up inside the top 16 following both his China Open victory and run to the World Championship final earlier this month. Up 15 places from 24th place where he was following the Welsh Open earlier this year, to ninth now, Judd is set to rise even further next season with relatively few point to defend compared to those around him.
EDIT: As quite rightly pointed out in the comments, Matthew Stevens also leapt up into the top 16 courtesy of his strong performances to qualify for both the China Open and the World Championship tournaments this year.
OUT
Having moved back into the top 16 at the third mid-season revision however, Marco Fu falls straight back out following last 32 defeats to both Judd Trump and Martin Gould at the China Open and World Championship tournaments.
As a result Marco finds himself down seven places to 23rd and will begin next season needing results if he is to challenge for a place among the elite top 16 once again.
EDIT: Ricky Walden also drops out following his defeat to Rory McLeod at the Crucible.
17-32
No Change
Although there have been a few changes within this bracket, notably Marcus Campbell leaping up eight places to 24th as well as Gerard Greene dropping four to 32nd, there were no new entries to the top 32 following the season's final two events.
33-48
IN
Perhaps surprisingly, Norwich pro Barry Pinches moves nine places from 50th up to 41st despite having won just one match during the season's last two events, a 5-3 victory against Liam Highfield during the China Open. He moves up however as having lost both his openers at the same tournaments two years ago, Barry actually had fewer points to defend than anybody else on the tour during this cut-off!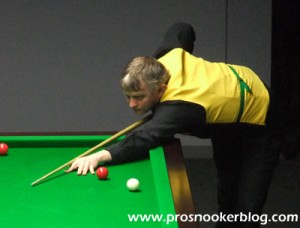 Jamie Jones meanwhile moves up five places to 47th, thanks largely to his fine comeback against Simon Bedford during the World Championship qualifiers during which he won each of the seven frames played during the second session.
OUT
Losing out however is Leeds' Peter Lines who lost his last four qualifying matches of the season and falls six places to his season starting position of 50th as a result. Having been the model of consistency since he reclaimed a place on the main tour in 2008, ironically since his quarter-final run at the 2009 UK Championship his form has not been so strong and he will have to improve next season as those points are removed from his total if he is to retain his place on the tour.
Also falling out of the top 48 is veteran Scot Alan McManus whose gradual decline continues, although he did at least win his World Championship opener to stop him from falling further than three places to 51st. With relatively few points to defend next season, if he can start the campaign well then I can see him moving back into the top 48 in time for the UK Championship.
49-64
IN
Up into the top 64 are Chinese trio Xiao Guodong, Liu Song and Liu Chuang who all enjoyed strong finishes to the season, in particular the two Liu's as each made the final qualifying round of the World Championship having started off in round one.
Xiao Guodong might not have gone as far during the World Championship but aided by his opening round win against Dermot McGlinchey at the China Open, he just earned enough points to edge out Bjorn Haneveer by just 25 points and move up one place into 64th.
OUT
As described above, narrowly losing his place among the top 64 was Belgian number one Bjorn Haneveer following a poor second half of the season during which he lost his opening match in four of the five ranking events held, the exception being the China Open. He has however managed to retain his place on the main tour by virtue of his strong early season performances during the Players Tour Championship.
It is a similar story for Matt Couch who despite losing his opening match at the World Championship qualifiers and at the same time his place in the top 64, has at least retained his place on the main tour thanks to his PTC ranking.
The same could not be said for Stuart Pettman however as having made the decision not to enter the tour next season come what may, was not himself during the season and eventually saw his current spell on the main tour ended by Alan McManus at the world qualifiers.