Today sees part two of my interview with Mark Joyce here at PSB as he discusses his preparations for the new season as well as the pros and cons of the ever-increasing snooker calendar…
Click here to view part one.
PSB: So moving on to the new season, obviously you are playing well having won last week, how happy are you with your preparations ahead of the new season?
MJ: Yeah I think I'm fresh, I've not really played a lot of snooker this year after what happened to my elbow which wrote off the end of last season so I'm coming into it raring to go this time.
I had a week away on holiday, have come back and practised really hard since. Obviously I didn't expect the result to come so quickly but I'm delighted with how I played last week and hopefully I can continue to improve at the first PTC.
PSB: Between now and then do you have any particularly plans or is it a case of just practising and getting your head down?
MJ: I have been practising for a bit with a lad over in Birmingham, Jordan Rimmer, he's just won the Midland Amateur Championships, he's only 16, is a decent player, got a lot of potential so I have been giving him a fair few games over the last few weeks. He has got a nice set-up at the club over where he plays.
Otherwise I have got a few games lined up, have got the table-fitters coming Tuesday to put my new cloth on and my coach is coming down for a day on the Wednesday. Then I have got Nigel Bond coming down on Thursday. I probably practice more with Nigel than anybody as we room together when we go abroad and stuff so I am quite close with Nigel.
PSB: Is that something that helps you a lot, match practice with professionals rather than practising on your own?
MJ: Yeah I like to mix it up, you can get into a bit of a rut practising so what I like to do is to have a mixture between playing on my own, playing players who are amateurs where you get quite a bit of table time and I can work on my break-building and things like that and they can pick the balls out for me!
Then I also like to arrange games with other professionals and test my game in that department. I think it's good to mix it up and also so I am not stuck at the club every day. I like to travel out at least once a week because you can get too much in your comfort zone in your own club and used to the way your table plays. Sometimes it is good to travel a bit and struggle on somebody else's table in comparison to how you would play on your table.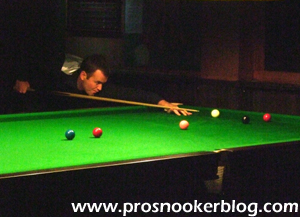 Mark practises at the Northern Snooker Centre back in 2009
PSB: And like you said to me in Gloucester, your table has been playing quite square because you have not had the cloth changed for a while…
MJ: Yeah I've not changed the cloth since last June. Normally I will get it changed at least twice a year but obviously with what happened I didn't see the value of having a new cloth on for the end of the season because it just would not have been used. I needs changing desperately now though so I am having that changed on Tuesday for the first PTC.
PSB: Have you got any targets for the new season. You have not got too many points coming off now…
MJ: Yeah the target is to win a PTC. I think with what I did at the UK and now winning the Pink Ribbon, although obviously that wasn't a ranking event and there were amateurs in it, it's a bit like the PTC where you can come up against amateurs. If you look at the players I beat to win the Pink Ribbon that could potentially be your seven matches in a PTC so there is no reason why I can't win a PTC.
PSB: Absolutely and there are players like Tom Ford who are around you in the rankings and were able to win them last season…
MJ: Yeah last year you had Marcus Campbell and Tom Ford which just shows the strength in depth and although I'm officially 42nd in the world in my own mind I do feel that I am a better player than that. I certainly feel that I am good enough to be in the top 32 so I have got to go out there and prove it, go out there and pot the balls.
I would also like to qualify for more venues. I love being out there, playing on the telly, the buzz at Telford in the UK's and that experience will stay with me so I want to have that experience more often.
Mark at the 2011 Pink Ribbon
PSB: And of course it would be special to make it to the Crucible for the first time…
MJ: Yeah I have been a bit unlucky a few times in the past. This year speaks for itself but last time I won a couple of good matches and came up against Jamie Cope and I probably wasn't quite mentally ready.
Obviously it is a big match to get to the Crucible but in the last year I feel that I have come on a lot mentally. I didn't turn up against Jamie that day but I feel more ready now to get to the venues and compete against the top players.
PSB: Does that just come with experience?
MJ: Yeah I think so, I think it's just belief as well, that run at the UK's gave me so much belief and although I was not able to build on that,  I have had two or three months out to really think about things and now I don't see why I should be frightened of anybody. I can play, I can score, ok perhaps not as good as the best but I can play solid snooker.
Hopefully I can continue to produce the kind of snooker I was playing at the weekend, try to improve on that and hopefully push on into the top 32 as soon as possible.
PSB: For those who have not seen you so much, how would you describe your game?
MJ: I think that during the last 12-18 months my game has come on a lot. I think you can point to the PTCs as during my first four seasons on the tour we had six to eight tournaments a year so in my career before last season I had probably played in about 24 tournaments. Last season however I probably played that many in just the one year so in terms of match-practice I think last season brought me on no end, particularly in the safety and tactical area.
Also the run at the UK gave me the confidence to think I can compete and beat anybody really and that sort of came through at the Pink Ribbon where whoever I played, Maguire or Higgins, I fancied beating them.
PSB: Yeah I guess you first came through at the Masters Qualifiers back in 2008 I think it was…
MJ: Yeah I have shown glimpses, I had a good week there, lost to Judd Trump in the final though my season tailed off from there really. It's very difficult though when you lose your match and you have to wait 6-8 weeks until the next one.
Now though I've had the Pink Ribbon last Sunday, I've got the PTC next week and then Australia the week afterwards so you haven't got time to think about it too much which is great.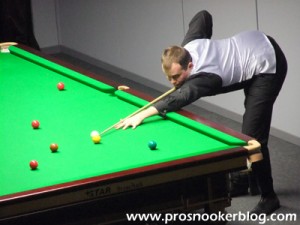 Mark at the 2011 World Championship qualifiers
PSB: On the subject of the increased amount of events on the tour at present, how do you think that will help the younger players on tour in particular?
MJ: I think that it takes a little bit of pressure off them, in a couple of ways. Obviously you have got a lot more tournaments, which is good and the rankings have been changed so you can move during the season, but also after the PTCs have finished around December-time, eight players are guaranteed their places aren't they? Like Jack Lisowski, he's safe by that time, he can relax a little bit and then he has qualified for a couple of venues.
PSB: How do you think that could have changed things for you, when you came onto the tour back in 2006 to have had so many ranking events back then?
MJ: I like to think that I would have been a little higher in the rankings by now, but it's hard to be too critical and look too much into the rankings when there were only 6-8 tournaments each season.
I think after this year you will have 40-odd events which will give a true reflection of the ranking list. In the past if you lost your opening match in the UK Championship, World Championship or both then it was a disaster. You could have five good tournaments, lose in the first round of the worlds and it became a bad season.
Now however there shouldn't be so much emphasis on the one tournament, especially with the PTCs so everyone has got a chance haven't they?
PSB: Looking at the PTCs, how have you found those? Do they add extra pressure from a financial point of view with the expense involved, particularly to mainland Europe?
MJ: I am very lucky really as I've had a good sponsor, since I was 19 to be honest so I'm probably not the best person to ask in that department because financial pressure doesn't affect me as much as some of the others in the players room. All my expenses are paid for me although I have to pay a percentage of my winnings back, but at least I know that I can afford to enter tournaments.
As it happened last season I had quite a good season financially, obviously with the UK where I got £21,500 with the highest break and everything so that took a lot of pressure off me.
But yeah things are tough, particularly with the European ones where you have got to win three matches to break even and it's not easy. That's probably the only downside of Barry Hearn's vision because unless you have backers or wealthy parents then it is tough for a lot of the amateurs to get out into Europe and play because you are throwing £500 away really.
From my point of view you have got to win three matches by the time you have converted the prize money back into sterling and paid taxes and everything. In effect you are paying £500 to buy a few ranking points really for the European PTCs.
That said the PTCs in England do offset that a little bit, it's not very far for me to go so my expenses are next to nothing really for the English ones, but you do suffer a little bit when you go abroad.
PSB: How did you find it from a travel point of view last season?
MJ: I think there were a couple of PTCs that were one week after another which was quite hard, going away on the Thursday, coming back on the Sunday, then heading back to the airport on the Thursday but you have got to just get on with it.
I think this year there are more tournaments abroad than there are in the UK and it is just something we are just going to have to get used to unfortunately. Barry Hearn has got this vision for the game to become more global so we have got to be prepared to do a hell of a lot more travelling.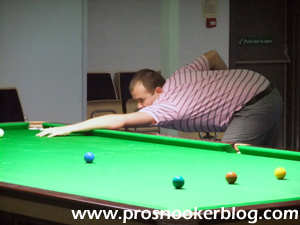 Mark at the 2011 Pink Ribbon
PSB: Overall would you say you are happy with the way the sport is going? Obviously it's on the up compared to how it was 18 months ago with more tournaments and everything…
MJ: Oh yeah you can't believe how close the vote was really when you look back, that he only got in by two votes. If the vote were to be done tomorrow then you can't see too many people voting against him!
He has had a fantastic first year in charge and the game can go from strength to strength really, there is no reason why not. His challenge is to create a circuit where players can play 52 weeks of the year, that's what he said in his letter to the players so we've got to be prepared to play a lot more snooker, but you can't fault it, that's our job at the end of the day, if you are a professional snooker player then you want to play snooker.
The travel is not all bad either, how many jobs are there where you get to go all around the world?
PSB: Is Australia one that would excite you?
MJ: Definitely. Obviously I would not fancy the journey, I don't think that anybody would, it will probably take a day and a half to get there but what a great experience, to play snooker in Australia. It would be great but we will cross that bridge when it comes, there are a couple of qualifiers before Australia first.
PSB: What are your interests outside of snooker, I know that you are a big football fan, in particular of Manchester United…
MJ: Yeah a big United fan, I try to get up to Old Trafford as much as I can though it's getting harder and harder with all of the tournaments on the calendar at the moment but every time I am free I try to get up there.
I also play a little bit of golf. Obviously I have had to suspend my membership this year with what has happened to my arm, I have found that it is getting a little bit more sore playing golf than playing snooker.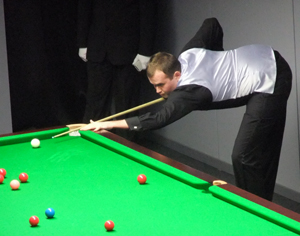 Mark at the 2011 World Championship qualifiers
PSB: A lot of snooker players seem to play golf, obviously there are techniques that are transferable between the two sports…
MJ: Yeah there are a lot of technical things that are the same in terms of having to keep your head still and different things but I've played golf since I was young anyway. I've got a nice course within a stone's throw so I joined there.
The main reason why I joined there really was because back in 2008 when I joined we had that much time between tournaments and such a long break in the summer that I just needed something to get away from the snooker club and switch off from the snooker.
Now the more tournaments I am playing in I'm not getting enough county golf in so it is costing me more and more every year. I used to get my money's worth but last year I got about a dozen games of golf in!
But I can't complain, I would prefer to be travelling and playing more tournaments than playing golf but it's nice to have there if I fancy a day off from the snooker. It's a great way to just switch off and enjoy yourself.
PSB: Finally, are there any events that you would particularly like to qualify for next season such as the Shootout or obviously the Crucible?
MJ: I think the Shoot Out I should hopefully be safe for after the first cut-off! I was disappointed to miss that this year though as it happens I wouldn't have been able to qualify for it anyway because I had dropped out of the 64 but I wouldn't have been able to play in it anyway with my injury.
Obviously I've watched it on the telly, Nigel won it, happy for him because I play with him and he is my closest friend on the tour and it looked great fun so that will be something that I will look forward to playing in.
That's just a bit of fun but on a more serious note really I just want to have the right attitude whether it's the PTC or qualifying for Australia or qualifying for the World Championship.
My attitude this season is just to go into each match and think I can win the tournament, whether I win it or lose, that looks after itself doesn't it? Just want to go into each frame, each shot and give my best every match.
Snooker is not just a game where you can click a button and go through the gears, you can't go into the World Championship and think I am going to play better snooker, it doesn't work like that. It's nice but the right attitude is like John Higgins, every tournament he enters, he tries to win.
PSB: Yeah he impressed me last week because he was playing amateurs and was leading comfortably but would still play on needing snookers which I found incredible.
MJ: Yeah I think that is the attitude that you have got to have, whether you are playing in the Pink Ribbon or a PTC or a local pro-am tournament. Any tournament you have just got to go in with the attitude that I am going to win it.
Thank you to Mark for taking the time out to chat and best of luck to him for the rest of the season.