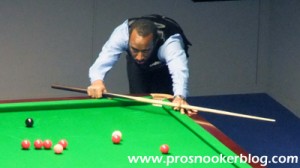 Day three from the Academy has been particularly noteworthy for a couple of withdrawals as both Steve Davis and Anthony Hamilton have opted out of the tournament for unspecified reasons. Meanwhile more information has come to light on the rankings situation I referred to yesterday as I can now 99% confirm that my projected seedings list is accurate…
Day Three Results
Matthew Selt 5-1 Adrian Gunnell
Mark Joyce 5-3 Jimmy Robertson
Rory McLeod 5-3 Jimmy White
Jamie Burnett 5-3 Andrew Norman
Mike Dunn 5-3 Rod Lawler
Joe Jogia 2-5 Yu Delu
Tom Ford 5-3 Jack Lisowski
Michael Holt 5-1 Kurt Maflin
Fergal O'Brien 5-1 Sam Craigie
Tian Pengfei w/o Anthony Hamilton
Jamie Jones 4-5 Ben Woollaston
Tony Drago 1-5 Scott MacKenzie
Nigel Bond 5-3 Li Yan
Liam Highfield w/o Steve Davis
Dave Harold 4-5 David Gilbert
Barry Pinches 5-3 Matt Couch
Rankings Update
Further to yesterday's post, sources have revealed more information on the rankings system for the following year which if correct, confirms that my projected list as it stands is now correct and addresses all previous issues in relation to starter points. As I understand it:
Starter points for 2010/11 will be those of Igor Figueiredo, eg 8325
All newcomers to the tour including those who re-qualified via the Q School or were handed wildcards will see their 2010/11 points upgraded to starter points. This is except James Wattana who earned more than the starter points in 2010/11.
Players such as Simon Bedford and David Morris who were also on tour in 2009/10 will keep the points that they earned in that season, even if lower than the starter points.
I also understand that as per my projected seedings list, the points to be removed at the first cut-off will be those from the 2009 Shanghai Masters and the 2009 Grand Prix.
Should there be any further bits of news or changes there then I will keep you posted…
UPDATE: It has since emerged that there is some confusion regarding a few players who were on tour in 2009/10, were then relegated and are now back on the tour this season. Will they receive the starter points as would have happened in previous years, or do they now retain the points that they earned back then?
Match Reports
First things first, two withdrawals to report today as Anthony Hamilton and Steve Davis both pulled out of the competiton, giving walkovers to Tian Pengfei and Liam Highfield, two players now just one match from Australia having come from the first round. As far as reasons are concerned, Anthony is currently suffering from a long-standing neck complaint while Steve has cited 'personal reasons' over at WorldSnooker.com.
Of the matches that were played during this morning and this afternoon, 5-3 seemed to be the most common scoreline as no fewer than five matches were won by that scoreline. Those through included Mark Joyce, Rory McLeod, Jamie Burnett, Tom Ford and Mike Dunn, all overcoming their lower ranked opponents including Jimmy White who lost the final three frames of his match against McLeod.
As far as upsets were concerned, at the time of writing only Joe Jogia of the seeded players has actually lost his match, 5-2 against the impressive Yu Delu. A surprising result given Joe's impressive result at the PTC last week, Yu now moves on to a tie with Ryan Day tomorrow.
Evening Session
First man through this evening was Scotland's Scott MacKenzie as he easily saw off the challenge posed by veteran opponent Tony Drago, coming through a 5-1 winner. It has been an impressive week so far for a player returning to the tour for the first time since the 2008/9 season and standing between him and a place in Australia now is former world champion Ken Doherty. For Drago though it is his third opening round defeat in a row and means that he slips outside of the top 48 on my latest projected seedings list…
Elsewhere tonight saw a series of hard fought matches, the next to finish being that between Ben Woollaston and Jamie Jones which saw Jamie repeatedly edge ahead only to see Ben immediately draw level. As is so often the case when that happens, it was Ben who then managed to come through when it really mattered and take the decider to book his place in the final qualifying round. Ben now plays the out of form Liang Wenbo tomorrow.
Also coming through a decider was David Gilbert, a man who can hardly stop winning at the moment as he added Dave Harold to his list of scalps. His reward is a tie with Mark King tomorrow as the former top 16 player hopes to get some valuable points on the board.
In the other two matches, Nigel Bond came through 5-3 against Li Yan while Barry Pinches won a tight match with Matt Couch (who celebrates his birthday on Thursday), by the same score.
As an aside, information has also come to light as to why Lucky Vatnani was unable to compete in the event. Unfortunately it is another example of visa problems, explained by the man himself here.