Ok so we are not quite down to the last 16 yet but we are getting there as the bottom half of the draw at the time of writing are mid-way through the second round. Click below for a summary of the action so far today as well as a look at yesterday's results…
To view the latest results please click here.
To view the latest projected seedings please click here.
Following yesterday's exodus of top seeded players it looked like today we might see a continuation of that theme as John Higgins appeared to be badly out of sorts in trailing amateur qualifier Mitchell Mann 3-0 in their first round match. As the reigning world champion has proved so often in the past however, he can never be written off and having pulled one back and then from the moment he made a break of 131 in frame five there was an inescapable feeling that it was not going to be Mitchell's day.
John duly added frames six and seven to set up a tie with Joe Perry, the event one finalist having survived a fright at the hands of James McGouran. At the time of writing it looks as though it will be Higgins who will come through, leading Joe 3-1.
Another player to come back from 3-0 behind today was Tony Drago in the most unlikely circumstances against Martin Gould. the key moment looked to come during frame two when Tony having amassed a small lead appeared to be distracted by somebody sat in the 'crowd' (in reality there are only three or four people in there), before eventually going on to lose the frame on the final black.
Tony was clearly incensed at this point, knocking the black with his cue while it was still moving following a poor safety shot before throwing his cue and chalk to the table and storming out of the exit door. The drama was not yet over however as on his return he continued to argue with the spectator from his chair before going over to continue the discussion with him. Referee Greg Coniglio told Tony to calm down and as Martin added the next frame to lead 3-0 there only looked to be one winner.
Incredibly however Tony was to play an excellent fourth frame, winning it in two scoring visits before somehow recovering his poise to take the match 4-3. Martin will be sick to have lost that with a top 16 place up for grabs at the next cut-off but for Tony it will have no doubt been a sweet win and atonement in part for the 3-0 lead he himself lost to Fergal O'Brien at the PTC2 event. As for the argument with a spectator, watching amateur player Sean O'Sullivan later said on Twitter that somewhat bizarrely the person involved was actually former player Patsy Fagan, while Michael Wasley who was watching Judd Trump playing in another booth asked me what the shouting and banging was about!
UPDATE: Patsy Fagan has since tweeted: "I thought snooker was a gentleman's sport until the display I witnessed yesterday! Aggressive and intimidating behaviour – what a disgrace!"
On the subject of Judd, he looks to be in ominous form, wins against Sam Harvey and Shahrem Changezi putting him into tonight's third round as he looks to become the first player to win two PTC events in the same season. He is now in action against PTC2 semi-finalist Xiao Guodong, the Chinese youngster having taken the opening frame.
Moving on, Stephen Hendry recorded arguably his most impressive PTC win to date this afternoon, a 4-0 success against the talented Liam Highfield which he began with a break of 125. In his second match Hendry is currently up against On Q player Andrew Norman and leads 3-2 in what has been something of a scrap. It could have been so different however as Hendry won the first having needed a snooker as Andrew sent the cue ball in-off having potted the penultimate red, leaving a free ball and the opportunity for Hendry to clear and win it by a single point. The fourth frame was also to prove dramatic as leading 2-1, Norman potted a brilliant final pink en route to forcing a re-spotted black, only to again go in-off and allow Hendry to level at 2-2.
Elsewhere following a performance during this week's Premier League that drew criticism in some quarters, Jimmy White has recorded strong wins so far today against Simon Bedford and Mike Dunn, the latter commenting on Twitter that the whirlwind was hitting it great. The real test comes now however as the six-time world finalist takes on John Higgins.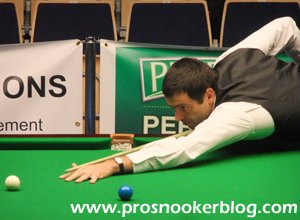 What of Ronnie O'Sullivan? The PTC1 winner began the day strongly with a 4-1 victory against the in-form David Gilbert but was to lose his second match against former world champion Graeme Dott by the same scoreline. Graeme now awaits the winner of the Hendry/Norman clash as he looks to make it through to finals day.
Summarising the other highlights, Craig Steadman recorded a good win against PTC2 semi-finalist Fergal O'Brien but could not repeat that result against Barry Hawkins in the second round. Barry has experienced a tricky start to the season but having also seen off Aditya Mehta is getting some important points on the board here.
Scottish duo Jamie Burnett and Marcus Campbell both remain in the hunt while Mark Selby is through to the third round having seen off Ryan Day and Luca Brecel so far. He currently leads amateur player Gary Wilson in his last match of the day, Wilson having already defeated Peter Ebdon and Nigel Bond to make it to this stage.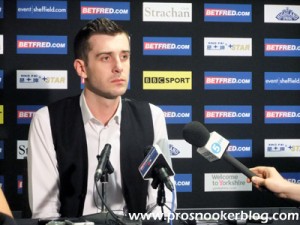 Looking back at yesterday's results more briefly, among those to impress were Ken Doherty and Stephen Lee, both winning three matches to make it through to Sunday, while Stephen Maguire avoided the fate of many top ten players by joining them in the last 16.
Of those taking advantage were Alan McManus and Joe Jogia, both through impressively to the final day while Ben Woollaston consolidated his position inside the provisional top 64 by defeating Rod Lawler, Kurt Maflin and Andrew Higginson to progress.
Young Scot Anthony McGill continued to show that he is on the way back to form following a difficult six months by also making it through to the last 16. He will meet Michael Holt who among others saw off six-time world champion Steve Davis yesterday.
All shaping up nicely for another final Sheffield Sunday…