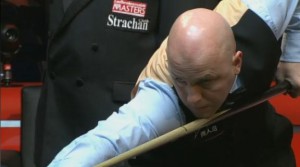 After yesterday's clean sweep for the seeded players in the wildcard round, today proved to be a more fruitful day for the lower ranked players as three were able to progress. Click below for a round-up of the day's action and of course, the updated projected seedings…
It has been a tough year so far for former top 16 regular Mark King but today saw him overcome a split tip on his cue and a re-spotted black to oust defending champion Ali Carter from the tournament at the first hurdle.
A close match throughout, the crucial frame probably proved to be the eighth as leading by 4-3 and 31 points, Ali was favourite to come through but a tremendous long pot on what was eventually a re-spotted black took the match to a decider which again Mark would come back to snatch.
As well as being an impressive win in itself, Mark has also given his chances of retaining his place inside the top 32 at the first mid-season rankings cut-off a significant boost. Today's win lifts him above both Ryan Day and Ken Doherty who are both already out of the tournament with two PTCs to come before the cut-off from which every point will be important.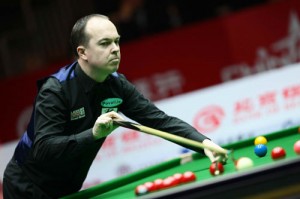 Next up for Mark will be fellow top 32 chaser Fergal O'Brien who today won a predictably hard-fought encounter with Peter Ebdon 5-3 to progress into the last 16. As readers of my preview on Sunday will have been aware, I had fancied Fergal to spring an upset here against an opponent who now looks almost certain to drop out of the top 16 seeds at the time of the October revision and still fancy his chances of a run deep into the competition.
Elsewhere in the top quarter, Ronnie O'Sullivan produced an impressive display against old rival James Wattana to progress 5-1 with two century breaks but perhaps surprisingly found himself outdone by the man who he will face next, Anthony Hamilton who made three!
That said, Anthony has also been a tremendous scorer as demonstrated by the fact that he sits 12th on the all-time list of century break makers and showed similar scoring power to see off Neil Robertson at the same stage of last season's German Masters. Bad news though for today's defeated opponent Stephen Maguire whose indifferent run since reaching the final of the Welsh Open in February continues.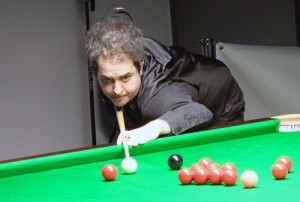 In the other quarter it was a day for the seeds as all four were able to come through, though Dominic Dale came incredibly close to changing that. Indeed Dominic at one stage led Shaun Murphy 4-1 thanks to an opening frame 128 and some excellent safety player, but by all accounts from that point was not the same player, notably missing a brown off the spot in frame eight with a chance to seal victory.
The man who Dominic saw off in the 2007 final of this event Ryan Day was also to suffer defeat today, this time against Mark Allen while Jamie Cope repeated his PTC3 win against Jack Lisowski to keep his hopes alive of retaining a place inside the top 16 at the October cut-off.
Finally, provisional world number one Mark Selby came through a protracted match with Nigel Bond to keep his bid for a maiden ranking title in China alive.