Friday from the PTC6 event in Poland as the top half of the draw was played down to the last 16 today and in the meantime the key rankings issues to be resolved prior to Monday's cut-off have become a little clearer. Click below for a summary of the day's events…
Martin Gould began today knowing that Mark Davis would require at least three wins if he were to stand any chance of snatching a place in the top 16 at his expense, with a match of his own against Liu Chuang in which to add more points to his own tally.
That match however was not to go quite to plan for Martin as the talented Chinese youngster shaded a deciding frame to give Mark an opportunity to leapfrog the Pinner Potter if he could make it through to Sunday's last 16 stage.
Early on this looked unlikely as Mark fell 2-0 and 3-1 down to Welsh amateur Gareth Allen and was poised to fall at the first hurdle himself as he had a week ago against Andrew Norman in Sheffield. Impressively however, Mark battled back to clinch the match 4-3 and in doing so keep his hopes alive of a place at the Masters.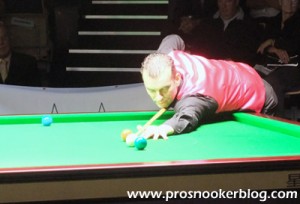 It was not to be however as in the next round he was paired against former world finalist Nigel Bond who was to eventually win the last two frames of a tight contest to move into the last 32 and in doing so confirm that Mark would move up into the top 16 at the cut-off.
It goes without saying that Mark will be bitterly disappointed but congratulations to Martin who having played consistently well now for a period of 18 months or so, more than deserves his place in the top 16 and a début at the Masters in January. No doubt the exciting brand of snooker that he brings to the table will entertain the crowds at the new venue, while he will now have no need to qualify for either the UK Championship or German Masters. With few points to come off his total between now and the end of the season, who is to say that Martin now cannot rise further up the rankings still?
Defeats for Mark and Martin today also confirmed that experienced duo Stephen Lee and Matthew Stevens will also make a return to the Masters tournament and be ranked among the world's top 16 at the first cut-off. Matthew does not play his opening match in Poland until tomorrow but Stephen has already made it through to Sunday's last 16 with victories against Phan Quoc Binh, last week's winner Andrew Higginson and talented youngster Stephen Craigie.
The highest ranked player through to join him so far is Judd Trump who strengthened his grip on a top eight place with wins against Rafal Gorecki, Tian Pengfei and Alfie Burden today. Judd's toughest match was to be his second against China's Tian which he won in a dramatic deciding frame while his most spectacular performance came against Alfie in the third round as he recorded breaks of 135, 113 and 105 on his way to victory. Incidentally Alfie had already made the highest break of the day during one of his previous matches, a tremendous 143 as he secured his place at the top 64.
The battle for the top 32 took a surprise twist today as Rory McLeod lost his opening match 4-3 to Chinese amateur Chen Zhe having at one stage led 3-0. coming into the match Rory needed just two wins to secure a place among the top 32 seeds at the cut-off for the first time but having now lost he can finish no higher than 32nd. This means that Ken Doherty should just about hang onto his top 32 status unless Anthony Hamilton can make it through to the final.
There were also important results today insofar as the race for the top 48 is concerned as both Mark Joyce and Barry Pinches lost their opening matches, as was the case last week to confirm that they will slip out of the top 48 now. Their fall only serves to demonstrate how tight this section of the rankings is at the moment as this time a week ago the pair sat in 45th and 46th positions.
Taking advantage of their defeats today however were Steve Davis, Alan McManus and Dave Harold, all of whom have strengthened their position inside that bracket with victories today. Most impressive was Steve Davis who without the use of his own cue for at least one of his matches was able to make it through to the last 16 today, notably defeating Barry Hawkins 4-3 at the last 64 stage.
Barring a run to the final from Peter Lines or the title for Anthony McGill, even if he loses his opening match against amateur Sam Harvey tomorrow then Joe Jogia, the man currently sitting in 48th position, looks good to stay there.
After the Masters the biggest rankings battle at this cut-off is probably that for the top 64 with Shootout places up for grabs and Michael White gave his hopes a boost today with an opening round victory against countryman Alex Taubman. His subsequent defeat to Liang Wenbo however means that Joe Swail is not out of the running as he gets his tournament underway tomorrow.
Others to do well today were Mark King and Jack Lisowski who made it through to the last 16, Mark eventually ending the run of Chen Zhe while Jack saw off Australian Open champion Stuart Bingham in the second round.