Though it actually happened a few weeks ago under the new rolling rankings system, this week's seedings revision and the confirmation that of the world's top 16 for the season's upcoming tournaments only served to underline the fact that Scotland's Stephen Hendry will not be among those players. While many are questioning what Stephen must do to regain his place among the elite however, could his top 32 place be in jeopardy?
At the Crucible Theatre back in April as Stephen waited on the result of the last 16 match between Ding Junhui and Stuart Bingham to see if he would be able to remain among the world's top 16 for the start of this season, speculation was rife as to whether the seven-times world champion would announce his retirement from the sport which he has graced professionally since 1985.
As it happened Ding would win that match 13-12, having at one point trailed 12-9 and the following day Stephen announced his decision to continue, stating that 'certainly staying in the top 16 was a big incentive in my decision'. He indicated that we would be entering this season's PTC events and during the summer declared his goal to be to return to the world's top eight at some stage.
Fighting talk indeed, but even back at the Crucible in April it was apparent that although the Scot had done enough to just retain his top 16 place at the end of last season, barring a significant upturn in fortunes on the table, it looked to be only a matter of time until he fell out of the elite bracket, most likely as has transpired at the first cut-off this season.
There are two key reasons for this, the first being the fact that despite not threatening to win a title during the 2009/10 season, six opening round wins out of six saw Stephen finish ninth on that year's one-year ranking list. With those points set to be deducted during the current season, Hendry was always likely to suffer relative to those in and around him in the rankings.
The second reason however is ultimately down to the fact that his results on the table have not been good enough for some time now, particularly at the PTC events which from the outside looking in I rather suspect Stephen is not particularly keen to commit to at this stage of his career.
So what does this mean for his ranking exactly?
As is evident here, Stephen is currently sat 21st in the rankings following the first mid-season revision to the seedings, his lowest position since the 1987-88 season. Perhaps more interesting however is the fact that on my latest projected list with points from the 2009 UK Championship already deducted, Stephen is down a further two places with PTC6 finalist Ricky Walden breathing down his neck in 24th.
At first glance while Stephen is now (provisionally at least), nearly 4,000 points off the top 16, he nevertheless looks to be comfortable inside the top 32, approximately 6,000 points clear of Rory McLeod in 33rd place.
On closer inspection however, Stephen still has 9,200 points to be removed from his tally between now and May, more than anyone else currently below 11th placed Mark Allen and way in excess of many players around him. Ricky Walden for example has just 2,530 to be deducted during the same time frame, Dominic Dale has just 2,390 and 34th placed Anthony Hamilton has just 2,680. Others in and around him do have 5,000-6,000 to come off, barely half of Hendry.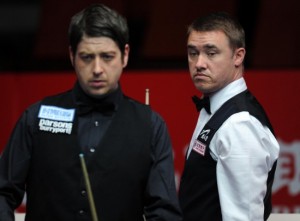 Furthermore last season saw Stephen finish 25th on the one-year list, while this year at this early stage he is currently as low as 42nd.
But of course, while this does not make good reading, the situation is still of course in Stephen's hands. If he can string a few wins together in ranking competition then he will at least be in a position to steady the ship.
But can he?
In theory now Stephen is ranked outside of the top 16, his opening round fixtures should be easier, coming against players ranked outside of the top 32. For all of his struggles recently, Hendry has maintained a strong record against players ranked below him, only to fall at the last 16 hurdle when paired with those up inside the top eight. As he showed against Martin Gould in Australia, against Ali Carter in Brazil and against Matthew Stevens in Beijing, Hendry can still play snooker to a tremendously high standard.
The problem however has been maintaining this standard, not just throughout the duration of a tournament, but even during the course of a match. Willie Thorne remarked in his new book (full review to follow soon), that one of his problems during his playing career was that mentally he was not able to clear the doubts in his head if he were to lose a frame and that appears to be something that applies equally to Stephen at present.
Another point to note is that while he has maintained a winning record against qualifiers at the last 32 stage of the major ranking tournaments, when competing in cubicles he has not found victories as easy to come by, losing to the likes of Anthony McGill, Kyren Wilson, Bjorn Haneveer and Anthony Hamilton away from the TV cameras during the past year or so.
Other places such as Ken Doherty have found life at the qualifiers very tough to adapt to having fallen outside of the top tier after a number of years at the top and he himself found himself ranked outside of the top 32 following a disastrous 2008/9 campaign.
That said, you would have to imagine that Stephen's UK Championship qualifier will be held on the main arena at the South West Snooker Academy in Gloucester and as he has done consistently throughout his remarkable career, perhaps with what is on the line Stephen will be able to produce when it really matters to get some important points on the board. You can never write off a player as great as Hendry after all.
But what if he cannot? Would Stephen wish to continue if he were to fall outside of the top 32, or even if he were to remain in and around that bracket as will surely be inevitable if he continues to struggle during the PTC events?
Ultimately I do not know Stephen well so while I would suspect that this would not be enough to sustain his motivation in the long-term, I cannot answer that question. I do however believe that Stephen still has a lot to offer snooker, indeed it was only this year that he was able to compile his tenth competitive 147 break and was competing at the last 16 stage of the World Championship.
Perhaps he could draw inspiration from the run of Steve Davis at the weekend as the 54-year-old reached the semi-finals of the PTC6 event in Poland, though they are of course different people. It does though show what can be done and that while Stephen is never going to be as consistent as he once was, there may just be tournaments where everything comes together and he can roll back the years.
Unlikely to reclaim a place inside the top 16 during the rest of this season though, we are going to learn a lot about just how much motivation Stephen has left within him during the upcoming months…