Ronnie O'Sullivan has become the first man to win two PTC events during the same season this evening with a 4-2 victory against Welshman Matthew Stevens. An important result for O'Sullivan, it lifts him back above Mark Davis in the projected seedings and into the all important top sixteen places…
As he has done for much of the tournament, Ronnie O'Sullivan was imperious form during tonight's final and was two frames to the good in under 20 minutes. The next two frames were shared between the players before a tremendous total clearance of 127 from Matthew pulled him back into contention at 2-3.
It was however to prove in vain as a miss on 13 in frame six was punished by O'Sullivan who never looked like missing during what would his the match-winning break.
As explained above, as well as being another professional title for the three-time world champion, the result is one that secures him an additional 2,000 ranking points, moving him up into the top 16 of the projected seedings ahead of the next cut-off. There might be a lot of events and a lot of time to come before that revision in January but as was the case at the start of this season, it does not do him any harm at all to make a fast start.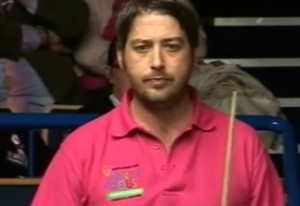 For Matthew meanwhile a place in the final represents his best run in a PTC to date and like Ronnie gives him a useful haul of ranking points as he looks to consolidate his place inside the top 16. At the Premier League recently Matthew actually indicated that his target is to push on for a return to the top eight and if he can maintain this form then he will surely have every chance.
Looking back at the event as a whole, what will stand out for me were the performances of On Q Promotions trio Michael White, Jamie Jones and amateur Kyren Wilson, all of whom made it to the final day and in Michael's case, as far as the semi-finals. For me one of the finest young break-builders in the game at the moment, it has taken Michael some time to break through having turned professional for the first time at the age of 16 but there are signs now that he is beginning to make an impact.
The same is the case for Jamie Jones as having been something of a yo-yo player as far as his tour position is concerned, he has been one of the primary beneficiaries of the PTC series, consistently reaching the latter stages during each of the last two seasons to move himself up to 38th in the latest projected seedings. Can he now repeat this form at a major tournament?
Kyren Wilson meanwhile is another player whom I have been very impressed with and following his quarter-final run this weekend is now in the mix to regain his place on the main tour next season via the PTC list. There is a long way to go however and it will be interesting to see whether he too can repeat this form.
Elsewhere other stories include another good event for a flu-ridden Steve Davis who performed well before losing a tough encounter with Graeme Dott last night, while Stephen Hendry also showed signs of improvement in recording a 4-0 win against Stephen Lee. There was also a good run from the improving Liu Chuang while Li Yan and Liang Wenbo also reached the final day.
Looking ahead, we now have a week off before the snooker circus moves on to Killarney for PTC8. Who will be our next winner I wonder…