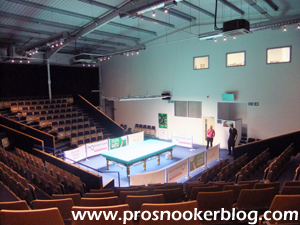 Today is the day, after three tense days of snooker, today's final qualifying round will see the likes of Stephen Hendry, Peter Ebdon and Ken Doherty battle for a place at the venue while Steve Davis will also continue his quest for a place at the Barbican Centre. Click below for all of the gossip…
Click here to view the tournament drawsheet
Click here to view the latest scores
Click here to view the latest projected seedings
10:24: At the venue early this morning to type up a few quotes from yesterday, had an interesting trip in today with Mark King's dad who was talking about the early days of Steve Davis and also how highly he rates Grove youngster Zhang Anda who of course made a debut at the Crucible back in 2010.
The players are also arriving, Ken Doherty and Dominic Dale ready for their afternoon matches, Ken prompting a fairly random discussion about 1990′s boybands while Ivan is also here from World Snooker in readiness for the Hendry match.
Interestingly I have learned that at the venue stage at the Barbican there will not be a dividing wall between the two tables, interesting given the generally negative reaction from some of the players here at the qualifiers to the lack of partitions between the tables. Thoughts?
13:18: Just spent a couple of hours typing up yesterday's interviews which you can view here, hope that you enjoy!
Meanwhile the matches are now well underway, Stephen Hendry currently leading 2-1 against Gerard Greene in the most high profile match of the day. Pre-match he was notably keeping himself to himself, playing on his phone in a quiet spot until the players were called in at 12pm.
Michaela Tabb
Elsewhere Tom Ford has made a fabulous start to lead Xiao Guodong 4-0, a surprising scoreline given Xiao's 6-0 win against Mike Dunn yesterday. Mark Davis meanwhile leads 3-1 at the interval, though Michael White was able to keep himself in the match by taking the final frame before the break.
A good start also for Scotland's Marcus Campbell, currently leading 3-0 against Michael White while Dominic Dale, Matt Selt, Steve Davis and Rory McLeod are also ahead.
14:18: Just been to watch a frame of the McLeod/Hawkins match, Barry seems to be struggling with his long game while Rory is playing well, just made a good solid break to go 4-1 in front.
Meanwhile on the next table, Tom Ford was to become the first man through to the venue with a brilliant 6-0 win against Xiao Guodong, himself a 6-0 winner yesterday against Mike Dunn. I had a quick chat with Tom afterwards:
"I thought that it was going to be a tough match because Guodong is a good player but for some reason I just seemed to play well, I don't know why because I've had a new cue recently and I have been swapping it and changing it, but in the last couple of days I have gone back to my old one so I'm probably going to stick with it until the end of the season and then go to the new one."
"I've had it since I was about 19 but the wood is a bit weak so I have got a new one, nice cue but I've not got enough time during the season to get used to it. I changed it about two weeks before the PTC in Ireland, struggled really, won two matches but didn't feel comfortable with it so every time I have gone into the club I have had one frame with the new one, one with the old one, I don't know where I am."
Tom Ford
"So far I am happy with the season so far in the major events, not in the PTC's because I've struggled in those but I've managed to get into the top 32 at the first seedings cut-off which is always something to be happy about."
"Between now and the end of the season, top 16 is two many points but just to get into the mid-20′s, low-20′s and then work on that next season."
"I'm stil working with Steve Feeney, he's put me on line because I was way out before, that's all going good, social life is going good, no party lifestyle anymore."
14:40: Stephen Hendry now two clear again at 4-2, while Mark Davis is closing in on an impressive win against Michael White, currently 5-2 up and 51 ahead in frame eight…
17:32: Busy times in the media centre as the players have come thick and fast as the matches have come to a conclusion. Next through after Tom Ford was Mark Davis who completed a 6-2 win against Michael White to book a tie with Ding Junhui at the venue. Following his match he popped into the media centre for a chat about his match, the tour structure and also the reasons behind his improved results during the past couple of seasons.
It was a similar story as Rory McLeod and Dominic Dale came through after their impressive victories against Barry Hawkins and Nigel Bond respectively, both coming through for a chat, Dominic as you would expect in good spirits and offering his insight on a number of pertinent topics at the moment.
Steve Davis
The highlight of the day though came following the 6-2 win of Steve Davis against Andrew Higginson as he gave a typically enlightening interview about all manner of subjects, before then giving me 20 minutes for PSB which I hope to have on the blog in the coming weeks.
Also through to York were Marcus Campbell, Matt Selt and Stephen Hendry, the latter coming through a real scrap with Gerard Greene, but having got the job done I'm sure that he will be happy nonetheless. As I was interviewing Steve Davis, Hendry came over and shook him by the end to say well done which was a nice moment. If I am going to have an interview hijacked by anyone then I couldn't wish for a better culprit!
Apologies for the lack of regular updates today, hopefully one day I will be able to clone myself so that I can take photos, interview and blog at the same time! I hope though that you will enjoy some of these interviews over the coming weeks.
Interesting evening session in prospect with the likes of Doherty and Ebdon involved. Looking forward to it…
19:52: Back from a spot of food and already Ryan Day is 3-0 up and halfway to a place in York against Scotland's Jamie Burnett, while Li Yan has moved into a surprise 2-0 lead against Irish veteran Fergal O'Brien. Will he become the first of this season's tour newcomers to crack the top 64, provisionally at least?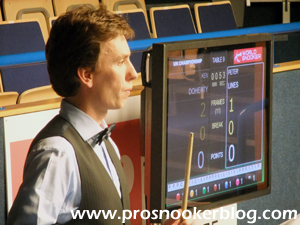 Ken Doherty
Joe Perry and Adrian Gunnell have shared the first two frames while Joe Jogia leads the struggling Jamie Cope 2-0…
21:08: Just out from watching frame four of the match between Ken Doherty and Peter Lines in the arena, cagey start but eventually Peter left Ken a chance from which he made an nice break to move 3-1 ahead at the interval.
Coming out of the arena I was greeted with the sight of Ryan Day in the press room, a 6-0 winner over Jamie Burnett in no time, another who is not the greatest fan of the PTC tournaments and also spoke at length about the lack of partitions both here and at the venue. Again, I will hopefully be able to get those up onto the blog over the coming days.
22:16: Second man through to the venue tonight is Li Yan who has just won the last three frames of his match against Fergal O'Brien in impressive style to qualify for the first major tournament of his professional career. Having made it onto the tour via the Q School this season it is no mean feat not only to qualify from the very first round but also to now break into the world's provisional top 64 for the first time.
I caught the final two frames of the match as Li made a terrific break of 121 to lead 5-2 before drilling in a long red early in frame eight from which he would go on to make a nicely taken half-century, highlighted by a fabulous red dropped into the left-centre. Fergal had a chance to get back into the frame but Li was not to be denied, wrapping up victory shortly after.
Li Yan
Following his win he came into the press room with countrymen Xiao Guodong and Tian Pengfei who were obviously delighted for him. As Tony Drago cracked a few jokes and everyone laughed, there was a little clenched fist from Li which showed what it meant. I called Xiao over to show him that Li was now into the top 64 provisionally and he translated it for Li which was nice to see1 Shaun Murphy next for him.
Also through a winner is Ricky Walden, 6-2 against Jamie Jones to set up a tie with Stephen Lee at the venue.
22:38 Drama between Ken Doherty and Peter Lines as frame six comes down to the final black with the scores level at 59-59. The frame was eventually settled as Ken missed the black, handing the frame to Peter in a manner reminiscent of his match against Matthew Stevens at the 2006 World Championship as the second session of that match finished 8-8.
Will that rattle Ken?
22:46: Next through are Rob Milkins and Joe Jogia, both 6-3 winners in quick succession against Peter Ebdon and Jamie Cope respectively. Both have swung by the press room for photos and are understandably chuffed to be through to York. Robert is currently giving an interview to BBC Gloucestershire and explaining as he did to PSB yesterday that he was under far more pressure yesterday given the points at stake.
Rob Milkins fields the questions
Paul Mount is down here congratulating Rob on his victory, must be special for him as one of the original On Q gang.
Ken Doherty moves 5-3 clear…
23:36: We have a decider on our hands between Ken Doherty and Peter Lines as the former spurned two golden chances to win the match, one on a red with a rest which proved to be his last shot of the frame. Ken really under the cosh now…
00:57: Wow, what a night! I will report fully tomorrow as I have to drive home as I return back to the day job tomorrow but turn back for a report on an agonising loss for Ken together with what was a stunning clearance from Marco Fu to win at the death. Incredible.
Thursday: Looking back at the final few hours, I was lucky enough to watch the climax of the match between Ken Doherty and Peter Lines in the media centre with Janie Watkins, Tony Drago, Paul Mount and others. What a finish it was too as both struggled to get over the line, but having spurned those chances in frame ten it looked less and less likely to be Ken's day as the frame progressed. As Tony Drago said at the time, the game doesn't forgive you and it was Peter who would eventually secure a return to the venue stages of the UK Championship at the expense of the three-time former finalist.
Ken was understandably gutted, wondering how he lost that match as he picked his coat up (having had Tony Drago sat on it for two hours!), and headed for the exit door. Full credit to Peter though who was naturally delighted and probably relieved as much as anything.
Marco Fu after his victory
The drama was not yet over however as the match between Anthony Hamilton and Marco Fu moved into a decider. The early initiative went to Hamilton who after Marco had potted the opening red, notched a break of 55 to leave himself a heavy favourite to continue his strong start to the season.
What followed however was perhaps the best break of the week as having been given four points following a foul from Hamilton, stepped up to compile what was under the circumstances a terrific clearance to win on the black and move into the final round. It was far from straight-forward either as a number of the balls would have been awkward to win any frame, let alone a decider. The two shots that stood out for me though were a yellow cueing from under the cushion which he had to drop in to hold for a second yellow into the opposite pocket, before the final black which he took across the table up into the green pocket.
Before the black had even dropped Anthony who had been right behind the shot was clapping and said 'great clearance' as Marco clenched his fist with delight. Marco then posed for a few photos (by now it was 1am!), before he was shocked to learn from Tony Drago that the Maltese player had spent the earlier part of the season learning how to play with the rest with Terry Griffiths! It was that kind of night.
Overall then a tremendous finish to four great days and a final day twist was well worth getting home at 4:51am for!
As you may have gathered, I have had a great time this weekend and have plenty more photos and quotes to follow, but all in good time! Stay tuned for more including my reflections on the tournament and what were the main highlights for me…